Location
Whole Foods Market Rooftop Plaza
525 North Lamar Boulevard
Austin, TX 78703
Description
PRESENT COMPANY proudly presents the third annual Shakespeare at the Market: Twelfth Night!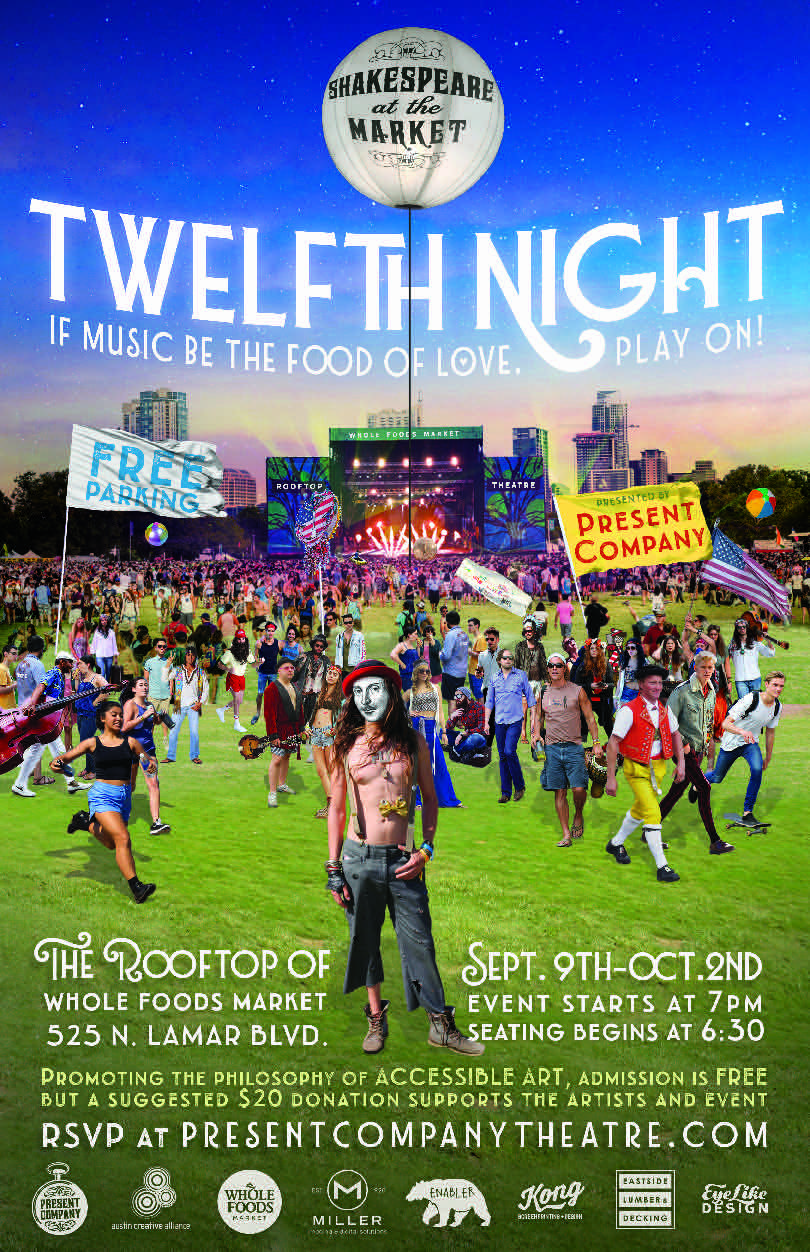 IF MUSIC BE THE FOOD OF LOVE, PLAY ON!
Present Company proudly presents the 3rd annual Shakespeare at the Market: Twelfth Night.
Running September 9th- October 2nd on the rooftop of the downtown Austin Whole Foods Market.
Rooftop theatre. Live music. Groovy Vibes.
Picnics, blankets and chairs encouraged.
Seating begins at 6:30, the event kicks off at 7pm.
All ages welcome.


Promoting the philosophy of Accessible Art, SHAKESPEARE AT THE MARKET is FREE. A suggested $20 donation supports the artists and event. RSVPs encouraged.
FREE & PLENTIFUL parking at Whole Foods Market, 525 N. Lamar Blvd.
VISIT WWW.PRESENTCOMPANYTHEATRE.COM for more info.
#ShakesAtTheMarket #PlayON
Directed by Joseph Garlock, and featuring the talents of Judd Farris, Michael Ferstenfeld, Amelia Turner, Rene Fulton, Omid Ghorashi, Mateo Barrera, Kriston Woodreaux, Toby Minor, Keith Paxton, Anne Hulsman, Kevin Moxley, Corinna Browning, and Nathan Daniel Ford. Lighting Design by Patrick Anthony. Costumes by Emily Jean Gilardi. Original music compositions by Joseph Garlock. Fight Choreography by Joseph Garlock and Toby Minor.
Performances:
Friday September 9th
Saturday September 10th
Sunday September 11th
Friday September 16th
Saturday September 17th
Sunday September 18th
Friday September 23rd
Saturday September 24th
Sunday September 25th
Thursday September 29th
Friday September 30th
Saturday October 1st
Sunday October 2nd
Generously Sponsored by Whole Foods Market, Austin Creative Alliance, Eastside Lumber & Decking, MILLER Imaging & Digital Solutions, Enabler LLC, Kong Screenprinting, Eye Like Design, and YOU.