Description
Join us on 20 February for the
first

ever Shaken to Awaken Inspiring Talks Event in London!

There will be awesome 4 speakers sharing their empowering stories to inspire change.

We really hope you can join us, tickets are limited so book asap to guarantee yours, and don't forget to share the event with your friends and family so they don't miss out!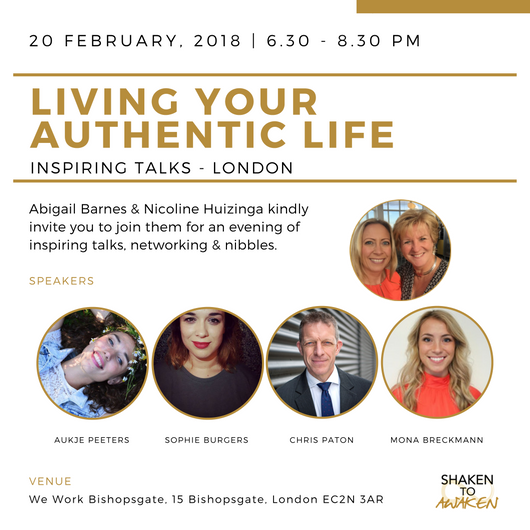 WHAT IS SHAKEN TO AWAKEN?
Shaken to Awaken was started by two friends Abigail Barnes & Nicoline Huizinga in September 2017.
It is a movement with a mission to share 1 million transformational stories from around the world by 2025.
Through a Global Series of Inspirational Talks & and an Online Community, you will be able to join in the conversation about authentic living.
Speakers (both at the events & online) will share their story to inspire and empower others to take their leap of faith because it's never too late to try something new.
If they can do it then you can too!
Shaken to Awaken is connecting like-minded people ready to live their truth, united in the belief that now is their time to live.
INSPIRATION | CONNECTION | LEGACY
CLICK HERE join the Shaken to Awaken Tribe
CLICK HERE follow us on Instagram
QUESTIONS:
Got a question drop us an email and let's chat events@shakentoawaken.com
Want to be a sponsor or a speaker, we'd love to hear from you.
By registering for this event, you accept our terms and conditions (including limitations and exclusions of liability) available on our website.
---
EVENT SPONSORS
Cornerstone Office Search - We are an office space consultancy here to help you find your first or next workplace. A small and completely independent team, we like to think of ourselves as a little bit different at Cornerstone, working to secure your future to find out more contact us on 0203 855 0077. www.cornerstoneofficesearch.com
Pimble - Experts in digital commerce, discover what we can do for you and your business, with our amazing teams of e-commerce and digital marketing professionals. www.pimble.com
We Work - Is the platform for creators. We provide the space, community and services you need to create your life's work. To learn more about WeWork's community and memberships in London, call us at 0203 695 4926 or email us at joinuslondon@wework.com
More coming soon..if you want to be a sponsor drop us an email, we'd love to share the info with you!
---
SOME TESTIMONIALS:
"Thank you from the bottom of my heart, I enjoyed being with this amazing group of people and experiencing the connection and intense conversations"
"We loved this event for being real and authentic, and speakers sharing inspiring, extraordinary stories of ordinary people and beautiful exchanges during the networking part of the event"
"Thank you so much for connecting me with so many amazing people at your event. I feel so privileged to part of this movement and I can't wait to see this message spreading!"
"Such excellent and inspiring stories you shared! Since starting my own company they've become so important. Loved the connection and inspiring exchanges!"
"Now 28 days since your Amsterdam launch. Being one of the 40 who attended was such a privilege. Sept 19 was my jump off the cliff and fly. My gratitude for giving me a nudge to start my own company!"
"Feeling alive now to really do what I love as me! Never too old to fly your own way."
"A memorable event with beautiful people and amazing conversations."
"I loved the people who attended: each and every one felt like a close friend afterwards."
"Thank you so much for last night. It's such a pleasure to be part of this movement!"
"Thank you for an inspiring event. The stories motivated me to continue on my journey. I love the initiative!"
"What a great event and what a great idea to organize this, as there are so many people with an inspiring story to share!"
"Thank you from the bottom of my heart. I feel inspired and connected and enjoyed the experience with these beautiful people very much!"
"What an event. Amazing testimonies that left you challenged to live your life to its full potential."
"I feel so motivated to grow my new business venture! Out with the old stuff, in with the new."
"After the event, I just sent out the link to my book to my entire network! I just jumped and am building my wings on the way down!"
"Thanks for the great initiative and the great experience!"
"Today, I'm starting to share my journey to becoming an entrepreneur, hoping to inspire somebody along the way."