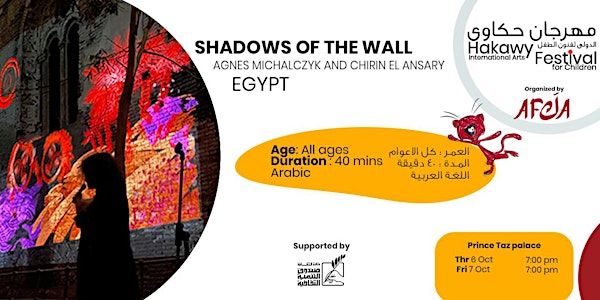 Shadows of the Wall - ظل الحيطة | Hakawy 2022
an anthology story telling performance uncovers stories of Al Khalifa of historic Cairo with captivating Tagtool Visuals projection.
When and where
Location
Prince Taz Palace Haret Al Soufeya El-Darb El-Ahmar, Cairo Governorate Egypt
About this event
Duration: 1 hr.
Age Group : All ages
Language: Arabic
Weaving together layers of legend, history, myths and the pulse of the streets in the heart of Cairo. In Chirine El Ansary's words and Tagtool visuals by Agnes Michalczyk, we follow the stories of the amazing women of Khalifa district, of present and past, the story of the place that has never been told before in the magical setting of Fatima Khatoun.
المدة: ساعة واحدة
الفئة العمرية: جميع الأعمار
اللغة: اللغة العربية
ننسج معًا لطبقات من الأساطير والتاريخ ونبض الشوارع في قلب القاهرة. من خلال كلمات شيرين الأنصاري ومرئيات تاغتول بقلم أجنس ميتشالز:يك ، تحكي قصص نساء مذهلات من منطقة الخليفة من الحاضر و طيات الماضي ، لنحكي قصة مكان لم يسمع به من قبل في المكان السحري لقصر الأمير طاز