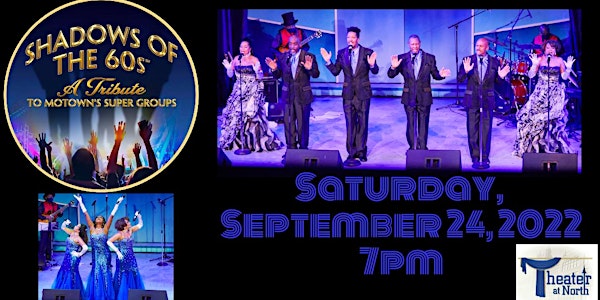 Shadows of the 60s: A Tribute to Motown
Location
The Theater at North
1539 North Main Avenue
Scranton, PA 18508
Join us for an incredible evening of an unforgettable Motown experience on Saturday, September 24, 2022 at 7pm at The Theater at North!
About this event
"Shadows of the 60s: A Tribute to Motown" pays homage to the tremendous legacy of Motown's Super Groups in a salute to the legendary stars of Motown including The Supremes, The Four Tops, and The Temptations.
This highly interactive and visually stunning production performs the hits that span several decades. Featuring top industry musicians and singers dressed in exquisitely designed costumes with dazzling choreography.
Each singer and musician was chosen because they embody the spirit, style, and excitement of the original artists in concert. Close your eyes and you will hear the magic of Motown, open them and you will see and feel the experience of attending a live Motown concert circa 1964!
Shadows of the 60s is truly a concert for everyone!
Tickets are $45-$50 and can be purchased online at www.thetheateratnorth.org or in person at the box office: Tuesdays 11am-2pm, Wednesdays, 11am-2pm, Thursdays 3pm-6pm, and on the night of the show starting at 5pm.