The mid-Atlantic's premiere camping music festival just one-hour north of Baltimore. More than 20 bands on 2 stages over 2 nights.
About this event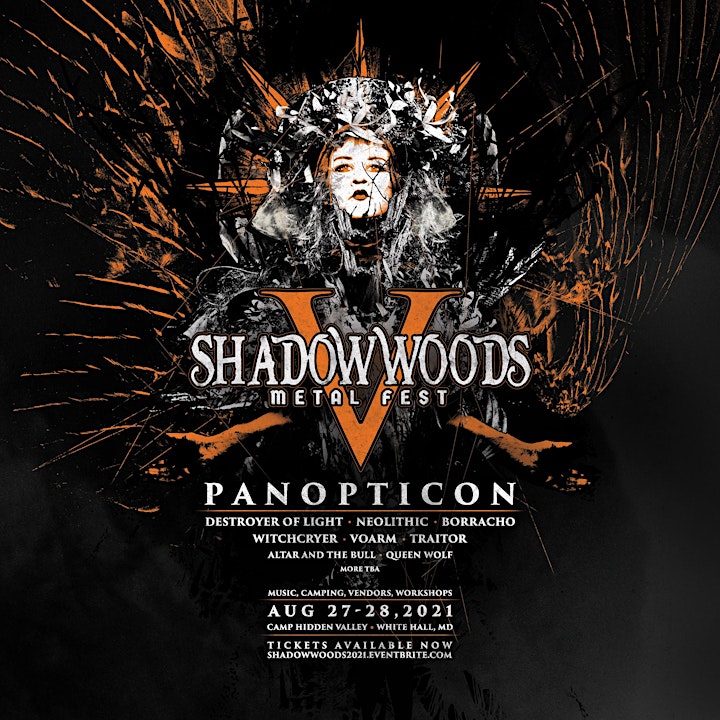 COVID-19 Statement:
ABOUT COVID…
Masking, hand washing, and physical distancing protocols will be in effect during the fest. At this time we are asking that every participant be fully vaccinated two weeks prior (by August 13) and show your vaccination card upon entry. we are working with an organization to have rapid COVID testing available onsite for a low fee at entry. If you test positive for COVID or have any indicative symptoms such as a fever, coughing, chills, extreme fatigue, etc., we ask that you STAY HOME or leave the fest immediately. even if it is last minute. Everyone will be required to sign the typical camp liability waiver that we have used every year, but it will also include additional language related to COVID. We will be following all the federal and local recommended protocols and guidelines for COVID safety. All this is subject to change based on the current situation with the pandemic.
Panopticon, Destroyer of Light, Neolithic, Borracho, Witchcryer, Voarm, Traitor, Altar and The Bull, and Queen Wolf with another 9-10 more to be announced.
IMPORTANT STUFF!
HERE IS SOME BASIC INFO ON WHAT WILL HAPPEN IN 2021:
Thanks so much for your support for Shadow Woods Productions events over the years. You are loved so much, we brought this damn festival back. Let's do this!!!!
The camping event will be on August 27-28, 2021. Bands will perform Friday night and all day Saturday.
There may be a Thursday night event at a brick and mortar venue at a location TBA. Tickets for that will be sold at a later date. If you come to town early, that will be a great way to warm up for the fest!
TICKETS:
On sale now. IT IS POSSIBLE WE MAY NOT HAVE SALES AT THE GATE SO GET TICKETS IN ADVANCE.
LODGING:
CAMPING - Camping pass (1 per person). You must provide your own camping gear.
CABINS -
MOST CABIN OPTIONS ARE SOLD OUT NOW.
Cabin lodging is extremely limited. Don't wait to choose this option if it is something you want! All cabins have electrical outlets and lighting. You should bring your own linens, blankets, pillows and towels. The cabin price is for the ENTIRE WEEKEND. These group cabin options will be sold to ONE person. It is up to the buyer to choose who they will be sharing their space with. Single cabin beds will be sold individually, if you want to be with friends, make sure to select Cabin A or B. The names of all occupants will be registered AT THE DOOR.
PRIVATE BUNGALOW: (2 available) private bath and a queen bed (max occupancy 2)
TWO QUEEN BEDS: (2 available) two queen beds; shared bath house (max occupancy 4)
FOUR QUEEN BEDS: (2 available) four queen beds; shared bath house (max occupancy 8)
These beds are sold individually.
CABIN A SINGLE BED: (14 single beds available) All gender cabin with 7 bunk beds. Shared bath house.
CABIN B SINGLE BED: (14 single beds available) All gender cabin with 7 bunk beds. Shared bath house.
OTHER STUFF YOU NEED TO KNOW:
AGE: As in the past, the event is 21 and up.
BOOZE: No outside alcohol will be permitted. NONE. There will be an alcohol vendor on site.
SMOKES: Pick up your butts.
TRASH: Leave no trace! Pack it all out!
FOOD: There will be food vendors on site including vegan. You may also bring your own food and cook with propane stoves only. Don't bring in any glass containers.
FIRE: No individual campfires. NONE. There are several bonfires that will be great gathering spots throughout the camp.
KIDS: Children will be allowed with a parent or legal guardian only and on a case-by-case basis, as in the past. Message us at Shadow.Woods.LLC@gmail.com if you have a metal-kid in the making.
LIABILITY: Everyone staying overnight at the camp must sign a liability waiver. This is a natural environment. Enter at your own risk. Avoid wildlife.
These are the basics. If you have been to the fest before you are familiar with our rules.
For the best experience, get to know some veteran attendees and have your questions answered by experts on the Facebook group FRIENDS OF SWMF.
Photos courtesy Ryan Copeland and Deer Creek Preserve Events.