Description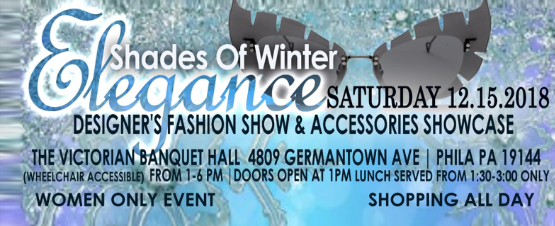 ---
We cordially invite you to the Shades of Winter Elegance Designer's Fashion Show & Accessories Showcase! This fashion show will feature clothing from the following designers:
Gwendolyn Dawan / Lubna's Originals / Fatimah Abdullah / ImpeccableYou! by Sieedah
Tickets are $25 online and $35 at the door // Call for VIP Runway seating at $40 per.
Wear your fashionable shades! Shopping all day! We look forward to seeing you there!
**Lunch will be served from 1:30 pm to 3:00 pm only**
For more information call:
Fatimah Abdullah (832) 385-0152,
fatimahabdullah75@gmail.com
Lubna Muhammad (609) 502-7793