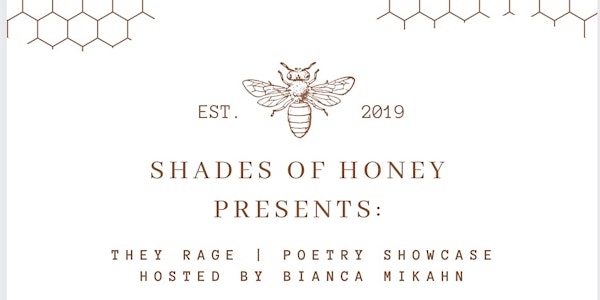 Shades of Honey x Union Hall x Matter is Minimum Poetry Showcase
"Shades" will be working in collaboration with Summer Taylor, Shammai Mading, & Union Hall Denver to platform a curated Poetry Showcase.
When and where
Location
UNION HALL DENVER 1750 Wewatta Street, Suite 144 Located inside The Coloradan Denver, CO 80202
Refund Policy
Contact the organizer to request a refund.
Eventbrite's fee is nonrefundable.
About this event
Shades of Honey was born in 2019 after noticing the lack of space for Black and Brown people in general, but more specifically centered around artistry. Art allows us to be in critical dialogue with the institutions, societal norms and perceptions that we face and should be used as a gateway to understanding, compassion and radical humanism. Shades of Honey has been a healing space for the Black, Brown and Indigenous community and a space for allies to learn through the power of narrative and art. "Shades", as it is affectionately dubbed by members in the community, is intent on centering BIPOC voices in film, spoken word, visual art, dance, song and the other myriad of ways the community shows up in an artistic facet. Shades of Honey continues to grow, and the community continues to heal. Shades and its leaders are committed to creating space and radically transforming our communities.
"Shades" will be working in collaboration with Summer Taylor, Shammai Mading, & Union Hall Denver to platform a curated Poetry Showcase around the theme of anger. Shades of Honey honors, recognizes and is resolved to holding the space for women and femmes to display their complex navigations around anger and rage as a tool for the full reclamation of space, place, voice and humanity.
They Rage | Photographed by Summer Taylor (she/her) & Facilitated by Shammai Mading (she/her) :
"They Rage is an ongoing multidisciplinary project organized by facilitator Shammai Mading and photographer Summer Taylor. Initially conceptualized as a thesis project, They Rage was inspired largely by Audre Lorde's 1981 speech, "The Uses of Anger: Women Responding to Racism", as well as work by Patricia Hill Collins, Patrisse Cullors, Deborah J. Cohan, Barbara Ransby and the ongoing collective work of black feminist theorists. They Rage aims to examine the ubiquitous nature of anger, while understanding the complexities of processing this emotion in relation to individual's backgrounds and experiences."
___________________________________________________________________________
6-830pm
ALL BLACK ATTIRE
1750 Wewatta St Unit 144, Denver, CO 80202 | LOCATED INSIDE THE COLORADAN
Please join us for an evening of food, drinks, and emotion through the vein of poetry. Please review the norms for the space and the requested attire.