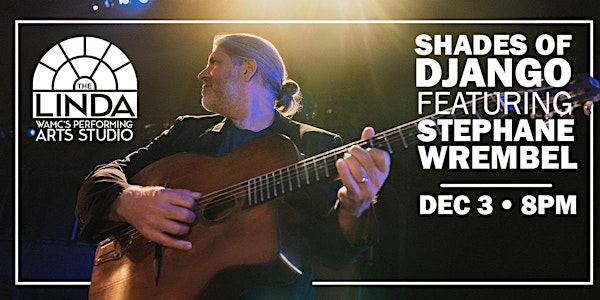 Shades of Django featuring Stephane Wrembel.
Django Reinhardt guitar master Stephane Wrembel returns to The Linda.
When and where
Location
The Linda WAMC's Performing Arts Studio 339 Central Avenue Albany, NY 12206
Refund Policy
Contact the organizer to request a refund.
About this event
Stephane is treating the audience at the Linda to his specialty program, Shades of Django, as they prepare to go into the studio.
Stephane Wrembel is one of the most highly regarded guitarists in the world specializing in the style of legendary composer/guitarist Django Reinhardt; he learned his craft among the Gypsies at campsites in the French countryside. He has had a remarkable career, touring the world, while releasing 16 albums under his name and the nom de plume, The Django Experiment. His original compositions have been featured in Woody Allen's Vicki Cristina Barcelona ("Big Brother") and Midnight in Paris ("Bistro Fada"). He contributed the original score for Rifkin's Festival (starring Wallace Shawn, Gina Gershon and Christophe Waltz) released on January 28, 2022. In October of 2019, Wrembel released the highly regarded Django L'Impressionniste, featuring 17 of Reinhardt's preludes for solo guitar, followed by a book of his transcriptions in April of 2021. Since 2003, Wrembel has produced the Django a Gogo Festival, bringing together some of the finest musicians in the world to celebrate the Sinti guitar style to perform in prestigious venues such as Carnegie Hall and The Town Hall. His program, Django New Orleans, sold out 8 shows at Dizzy's Club at Jazz at Lincoln Center in November of 2021. His new program, Shades of Django, will be presented in PACs around the country in the fall of 2022, including 2 nights in the Rose Theater at Jazz at Lincoln Center.
Wrembel's band includes:
Stephane Wrembel, guitar
Josh Kaye, guitar
Dylan Perrillo, bass
Nick Anderson, drums
Nick Driscoll, clarinet/tenor sax
Adrien Chevalier, violin
Sarah King, vocals
Quotes:
"Perhaps the most creative improviser in Gypsy jazz today, Mr. Wrembel plays the guitar with a rich and colorful lyricism." – New York Times
"Stephane Wrembel just might be the greatest acoustic guitarist alive."—The Aquarian
"For North Americans, Stephane Wrembel represents the living face of gypsy jazz."--New York Observer
"...a true gypsy guitar master. His band of accomplished artists unveiled a seemingly effortless, unspoken musical thread, and shared an untouchable virtuoso mastery of an underappreciated genre of jazz. Wrembel's clear passion, superb tonality and stunning finger work make the most mind-blowing guitar lines appear elementary...A wonderful celebration of pure musical spirit." –Music Connection
"The mind-bendingly rapid melodies Stephane provided to the set's final song were an exclamation point for an audience that was enthralled for 60 minutes of unforgettable music."—Parklife DC
MORE INFO:
www.stephanewrembel.com
https://www.facebook.com/StephaneWrembel/
https://www.youtube.com/c/StephaneWrembelOfficial
https://www.instagram.com/stephanewrembel/