Description
SHADES OF BUBLÉ: A Three-Man Tribute to Michael Bublé celebrates the continuing career of multiple Grammy Award-winning recording artist Michael Bublé by performing his incredible catalog of music while adding the sensational three-part harmony sound made popular by those famous "guy-groups" from the 1950s and '60s. Since debuting at a sold-out concert in April 2015, this trio has entertained tens of thousands at theatrical concerts across the USA, gala events, and headline performances onboard luxury cruise ships.
Delivering a set list comprised only of songs recorded or performed live by Michael Bublé, this world-class act honors – but doesn't imitate – the sophistication, retro style, and high-energy fun that Bublé himself brings to his concerts while engaging new fans with thrilling new vocal arrangements. Audiences worldwide have complimented the group's professionalism, musicality, choreography, arrangements, and dashing good looks ... but what engages concertgoers most is the fun, energy, and excitement that gets everyone clapping and singing along to their favorite songs.

BYOC- Bring Your Own Chair. Children age 12 & under are granted free entry to The Freeman Stage for all General Admission performances and must be accompanied by an adult.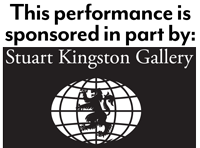 What's the refund policy?

The Freeman Stage at Bayside is an outdoor venue and inclement weather may result in the cancellation of events. All ticket sales are final, nontransferable and nonrefundable, even in cases of inclement weather, unless the area is officially closed due to public safety reasons. Umbrellas of any size are prohibited. For the most updated information, visit our website (freemanstage.org), Facebook page (facebook.com/freemanstage), Twitter feed (twitter.com/freemanstage) or call The Freeman Stage Box Office (302-436-3015). Events are subject to change without notice.
Beware of third party ticket vendors.
Only those tickets purchased directly through freemanstage.org (through our ticket vendor Eventbrite) or the Eventbrite App will be supported and/or honored for performances held at The Freeman Stage at Bayside. Individual reselling of tickets is also prohibited.
House & Ticket Policies: https://freemanstage.org/visit/venue-policies
Need help? We're here for you!
Call The Freeman Stage Box Office at 302-436-3015 or email info@freemanfoundation.org
Seating Map illustration for this performance