Description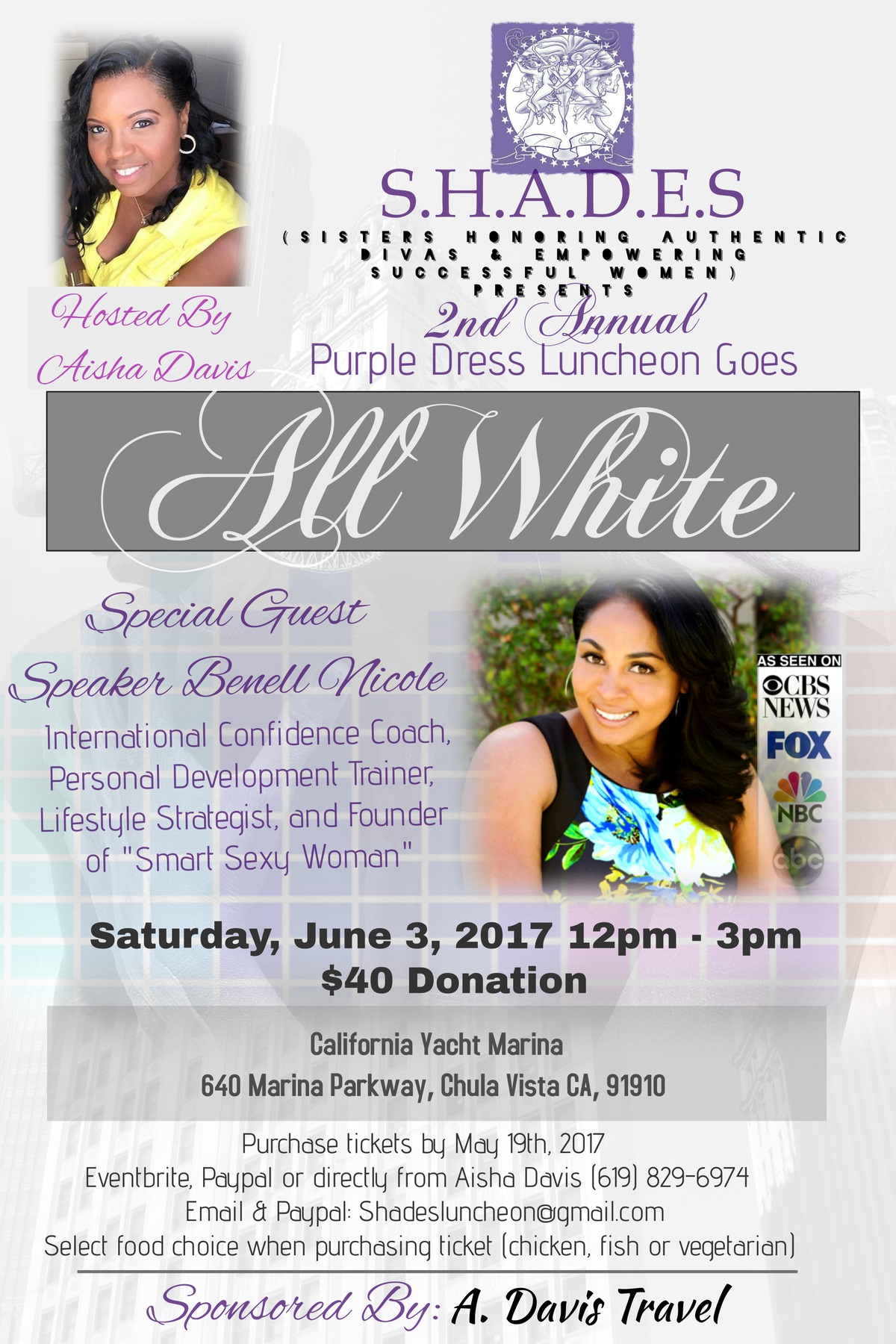 ****THIS WAS A SOLD OUT EVENT LAST YEAR, SO GET YOUR TICKETS NOW!
This S.H.A.D.E.S Purple Dress Luncheon goes ALL WHITE is to empower and encourage the women in attendance. Oprah Winfrey once said, "The only way to know what to do in life, is to pay attention to the life you are living right now." We can collectively do so much more if we just believe in ourselves and support one another; whether it be in our personal life, social life, workplace or simply fulfilling our goals and aspirations.
The guest speaker is Benell Nicole and she is the Founder of "Smart Sexy Woman". She is an International Confidence Coach, Personal Development Trainer and Lifestyle Strategist best known for her breakthrough seminars I'M ENOUGH...! CONFIDENCE CLEANSE™ and I MATTER! FOR GIRLS.
Two of her mottos are "Be fearless. Be smart. Be sexy. Be you! " and "The Audacity to fearlessly be you". She has been on CBS, FOX, NBC and ABC and is based in Los Angeles.
I also have 3 other surprise speakers that will be very brief, yet powerful.
Paul Decory Matthis - Author of Blk Maxim and CEO, Apostle Manufacturing Co. "The Worlds MOST Innovative Grooming Company"
"At the end of the night, go look yourself in the mirror and be RUTHLESSLY objective"! - Paul Matthis
This is actually a male who typically wouldn't be invited to an all-woman luncheon, but he has a dynamic story to tell and I believe we women need to hear it as well
Tinesia Conwright - Founder of DETOUR Empowers (Depositing Empowerment Through Outreach & Urban Redevelopment)
We must motivate, inspire and encourage our youth and this Detour is a great start for my daughter and many other teens lives she touched.

Sasha Campbell-Garbutt - Author, MetaSpeaker, Intrinsic Wellness Guide
CEO, Life & Light Wellness, LLC #radiatelovenow
We will have lunch (PLEASE CHOSE CHICKEN, FISH OR VEGETARIAN WHEN PURCHASING YOUR TICKET), network, great giveaways from Tiffany & Co, etc. I will also raffle off a Tiffany's necklace where some of the proceeds will be donated to the non-profit DETOUR Empowers to assist with the April 22nd Fancy Teen Expo.
I have a couple of other surprises I can't reveal and the day will end with a group photo taken by my photographer.
It will be a great event and we are going to look amazing in all shades of White.
If you would like to be a vendor please contact me directly. It will be an amazing event that you don't want to miss.
Vendor information: Contact: Aisha Davis @ 619-829-6974
Purchase tickets on Eventbrite, Paypal or directly from me Aisha Davis @ 619-829-6974
Paypal: Shadesluncheon@gmail.com
PLEASE CHOOSE CHICKEN, FISH OR VEGETARIAN WHEN PURCHASING YOUR TICKET
FAQs
What's the refund policy?
Unfortunately, there will be no refunds
Do I have to bring my printed ticket to the event?
Yes