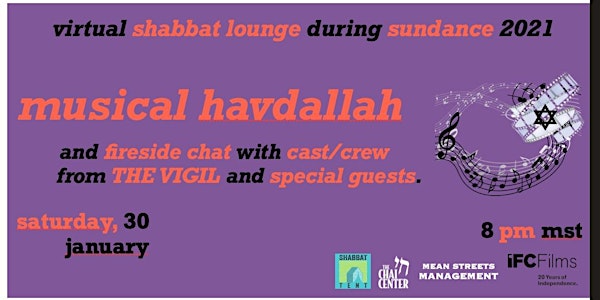 Shabbat Lounge Virtual Havdallah w/ Special Guests, Cast/Crew of THE VIGIL
Join us for our annual Shabbat Lounge Musical Havdallah with special guests, VIRTUAL this year, to celebrate the start of Sundance 2021!
Refund Policy
Contact the organizer to request a refund.
About this event
You are invited to join us for our annual Shabbat Lounge during Sundance, Saturday Night Party - VIRTUAL THIS YEAR!
Come enjoy, sing and dance, whereever you are, during our Musical Havdallah, followed by an exclusive Fireside Chat with special guests, including Cast and Crew from THE VIGIL (TIFF 2019), the "Jewish Horror Movie" that IFC Midnight will release on February 26th.
The Producers of THE VIGIL are also EP's of WILD INDIAN which will premiere at Sundance 2021, and stars Jesse Eisenberg (RESISTANCE, VIVARIUM, THE ART OF SELF DEFENSE, THE SOCIAL NETWORK).
SATURDAY NIGHT SCHEDULE:
7PM PST / 8PM MST / 9PM CST / 10PM EST: SATURDAY NIGHT, POST-SHABBAT HAVDALLAH CONCERT 
(Comp admission with RSVP) 
Join Rabbi Yonah and Rachel Bookstein for a LIVE Havdallah service, that will also be streamed on FB LIVE.
After Havdallah, the event will be private on zoom and only accessible to those registered. The entire event will be recorded on zoom**. Join us until around 930pm MST.
Following Havdallah we will welcome special guests including:
Cast and Crew of THE VIGIL, the "Jewish Horror Movie" that world premiered at the 2019 Toronto International Film Festival, was acquired by Blumhouse, and recently acquired by IFC Midnight, and will be released on February 26th.
Join the Jewish filmmakers (who also EP'd Sundance 2021 World Premiere, WILD INDIAN) and cast members to talk about balancing Jewish life in Hollywood, making a Jewish horror movie, and the affect of COVID on their release strategy.
We will pay tribute to the late Lynn Cohen (z'l), the legendary stage and screen actress who passed away in February 2020. One of Lynn's last roles was in THE VIGIL, and her credits include Steven Spielberg's MUNICH, THE HUNGER GAMES, DAMAGES, and THE MARVELOUS MRS. MEISEL.
WHAT ABOUT SUNDANCE SHABBAT DINNER?
While we would love to be together this upcoming Friday night, at the opening weekend of Sundance, in Park City, and enjoy our 13th annual Shabbat Dinner during Sundance with you, we had to cancel our on-the-ground Shabbat Lounge.
We are excited to partner with Kosher restaurants in Los Angeles and New York who offer a beautiful and delicious, catered Shabbat Dinner, and Challah Bakeries who can offer homemade Challah, for pickup or delivery. Please follow the links to order! Also please indicate in your RSVP and we will send out more info.
LOS ANGELES residents:
For Shabbat Dinner, you can order from one of the following:
NEW YORK CITY residents:
OUTSIDE LOS ANGELES and NEW YORK:
SHABBAT LOUNGE during Sundance* is a space for nourishment of the body and soul, and is open to all. We provide a unique space and opportunity for festival goers to connect, unplug and refresh! 
PAST HONORARY DINNER HOST COMMITTEE:
Vaughan & Nick Meyer, Craig Emanuel, Suzanne Felson, Kenny Deutsch, Dan Adler, Suzanne and Willie Mercer, Frankfurt Kurnit Klein & Selz, Marian Koltai-Levine, Victoria Cook, Josh Kaplan, Rachel & Yonah Bookstein, Esther & Mendel Schwartz, Devori & Yehudi Steiger, Tamar Simon
PAST LOUNGE SPONSORS:
Vaughan & Nick Meyer, Stephanie & David Schwartz, EJF Philanthropies, Suzanne Felson, Shabbat Tent, Jconnect, Chai Center, Chabad Park City, Alevy Family Foundation, GT Kombucha, Mean Streets Management
JEWISH & ISRAELI FILM FESTIVAL PARTNERS, ET AL:
Israel Film Center at the Marlene Meyerson JCC Manhattan
Atlanta Jewish Film Festival
Austin Jewish Film Festival
Berkshire Jewish Film Festival
Jewish Film Festival Berlin & Brandenburg
Boston Jewish Film, Carmel Jewish Film Festival
Chicago Festival of Israeli Cinema
Mayerson JCC Jewish & Israeli Film Festival in Cincinnati
Denver Jewish Film Festival
Harrisburg Jewish Film Festival
Honolulu Jewish Film Festival
Indianapolis Jewish and Israeli Film Festival
Jerusalem Film Archive (jfc.org.il)
Jerusalem Jewish Film Festival
Long Beach Jewish Film Festival
Los Angeles Jewish Film Festival
The Israel Film Festival in Los Angeles
Louisville Jewish Film Festival
Nagle Family Jewish Film Festival
Nashville Jewish Film Festival
New Orleans Jewish Film Festival and JCC
Orlando JCC Central Florida
Gershman Philadelphia Jewish Film Festival
Riverside Jewish Film Festival
Jewish Film Institute - San Francisco Jewish Film Festival
Sacramento Jewish Film Festival
Santa Cruz Jewish Film Festival
Sao Paulo Jewish Film Festival
Spokane Jewish Cultural Film Festival
St. Louis Jewish Film Festival
Utah Jewish Film Festival and United Jewish Federation of Utah
Vancouver Jewish Film Festival Film Festival
Wilmington Jewish FILM Festival - NC
Bobsleigh Skeleton Israel Olympic Sports Federation (BSI)
ABOUT SHABBAT LOUNGE
SHABBAT LOUNGE is presented by Shabbat Tent and The Chai Center. Shabbat Lounge is a project of JConnect, a 501c(3) US non-profit organization working on strengthening human connections and mindfulness through unplugging events at film and music festivals.
Interested in being a Sundance Shabbat Sponsor or Partner for Sundance 2022?
For more info about Sundance Shabbat 2022, please email Tamar Simon: tamar@meanstreetsmanagement.com.
For more information about Shabbat Tent, please visit shabbattent.org.
For more information about The Chai Center, please visit www.chaicenter.org.
*Not affiliated with or endorsed by the Sundance Film Festival®
 ** Please note, when logging into zoom, attendees will be asked to agree to a recording consent.
FAQs
How can I contact the organizer with any questions?