Description
Join the Toco Hills Jewish community for a Shabbat Block Party Kiddush Luncheon!
No cost; please consider being an event sponsor on any level!
Event Sponsors (As of 10/23)
Partner ($54+)
Arlene Appelrouth
Levi & Aliza Afrah
Cliff & Laurie Alsberg
Rae Bellman
Larry & Eleanor Bogart
Dr. Yaakov & Kim Berendt
Mira Bergen
Anonymous
Rabbi Yehuda & Devora Borooson
Michael & Betsy Cenker
David & Hallie Chasen
Jeff & Faith Cohen
Harriet Cortell
Dr. David & Sheila Elkon
Henry & Roslyn Falk
Bev Fermon
Yacov & Rochelle Friedman
Joey & Kay Fink
Aaron & Reemon Fisher
Rabbi Dov & Rivka Foxbrunner
Rabbi Gavin & Michelle Frank
Arthur & Janne Friedman
Nachi & Jennifer Friedman
Raanon & Erica Gal
Jeffrey and Channah Garfinkel
Moshe & Michelle Goldfeder
Randy & Caroline Gold
Bill & Paula Gris
Sybil Goldstein
Adina Hirsch
Simone Iteld
Dr. David & Tova Isaacs
Robert & Shoshana Jeter
Darren & Marci Joel
Neil & Marcy Kalnitz
Martin & Marcia Karon
Dave & Andrea Katzman
Deena Koniver
Yechezkel & Odelia Khalili
Davi & Renee Kutner
Ben & Shayna Krohn
Rabbi Ely & Malka Landman
Chelsea Lefland
Jeff & Renee Levene
Dr. Allen & Judy Lipis
Neal & Gail Mandelbaum
Sandra Meltzer
Rabbi Yale & Rickelle New
Yossi & Jill Ovadia
Fishel & Jean Paley
David & Evi Reznick
Peter & Missy Rivner
Rabbi Israel & Susan Robinson
Cheryl Rubin
Allan and Roberta Scher
David & Elizabeth Schoen
Yehonatan and Malka Schwarzmer
Edan & Miriam Shapiro
Rabbi Zvi & Chana Shapiro
Alan & Wendy Solon
Rabbi Adam Starr & Talya Gorsetman
Barry & Betsy Starr
Aaron & Samantha Stein
Marty Stub & Terry Eden
Michael & Mindy Tannenbaum
Rabbi Yitzchok & Russy Tendler
Eric Wiesen
Dr. Josh & Michelle Winer
Patron ($180+)
Dr. Jack & Zoya Arbiser
Dr. Jay & Mindy Cinnamon
Dr. Eli & Adi Feen
Rabbi Ilan D. & Miriam Feldman
Drs. Eric & Nicole Fier
Nataly & Seth Fleishman IHO Rabbi Yale New

Yisrael & Chava Herscovici
Noach and Kayla Levin and Jennifer Walker IHO the birth of Rivka Bayla
Charles & Leslie Lowenstein
Hillel Glazer & Ellie Schainker
Rick & Robin Halpern
Dr. Rafael Harpaz & Dr. Elizabeth Herman
Josh & Sari Joel
Hunter & Stacey McGhee
Anonymous
Avraham Samber
Dr. Nison & Helene Shleifer
Harold & Shoshana Stiefel
Dr. Moshe & Emily Zaghi
Advocate ($360+)
Jack & Pam Williams IHO parents Tom Williams & Simone Williams of blessed memory, and Fran and David Salsburg
Leader ($540+)
Adam & Robyn Grossblatt in Honor of Donny's Bar Mitzva
Steward ($1000+): includes reserved table
Anonymous
Pillar ($1800+): includes reserved table
Innovator ($2500+): includes reserved table
Anonymous in honor of Congregation Beth Jacob for everything it has done for our community in the past and continues to do.
Friends of the Young Israel of Toco Hills in honor of the Toco Hills Community
Visionary ($3600+): includes 2 reserved tables
Gold Sponsor ($5400+): includes 2 reserved tables
---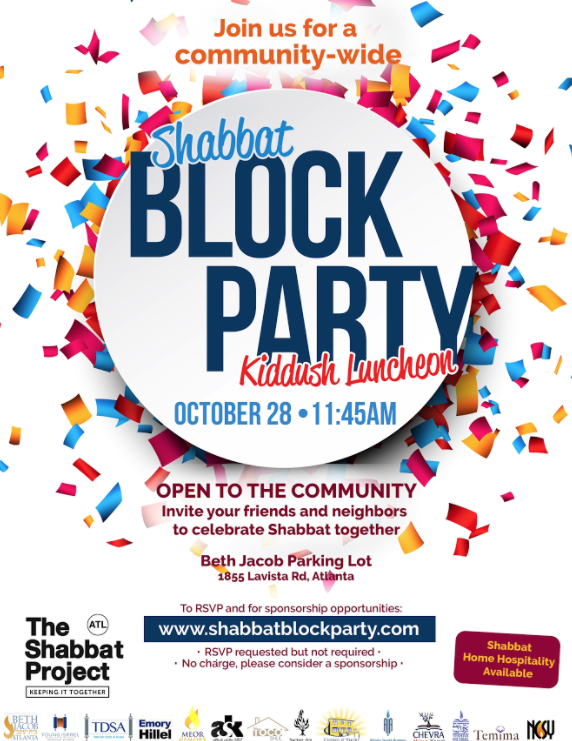 ---
Commercial Sponsors
Booker Promotions
Julie's Kosher Catering
Kosher Gourmet
Spicy Peach
---
Be a volunteer!
This event is part of the world-wide Shabbat Project initiative. For other Atlanta events, see: http://atlanta.theshabbosprojectusa.org/
Frequently Asked Questions

Q. Is this a stand-up Kiddush or sit-down lunch?

A. We will have table and chair seating for over 700 guests, so there should be plenty of room for everyone. Bring your entire family and your guests!
Q. Can we count on the Shabbat Block Party for our Shabbos lunch?
A. A wide array of Shabbos lunch foods will be served, from challah rolls and salads to vegetarian and chicken dishes. Thanks to a slew of business and private sponsors, we hope to ensure everyone enjoys a satisfying Shabbos meal.

Q. What should I do with all the money I set aside to go food shopping for Shabbos?

A. That's easy - Buy a "share" in the Shabbat Block Party! (www.shabbatblockparty.com)