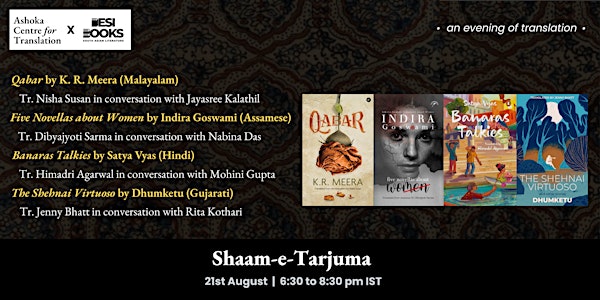 Shaam-e-Tarjuma | An Evening of Translation
Ashoka Centre for Translation and Desi Books collaborate to present a celebration of translation
About this event
The Ashoka Centre for Translation and Desi Books collaborate to celebrate an evening of translation, Shaam-e-Tarjuma, featuring narratives across languages and following the trajectories of their translators — linguistic, literary, and more. The evening will feature four short panels on four books, with their translators in conversation with other writer-translators from the same source languages.
This event also marks the publication of Satya Vyas' Banaras Talkies in English, translated by Ashoka alumna Himadri Agarwal and supported by the translation initiatives of the Ashoka Centre for Translation.
Qabar by K. R. Meera (Malayalam)
Translator Nisha Susan in conversation with Jayasree Kalathil
Nisha Susan is a writer and journalist. She is one of the two commissioning editors of Yahoo! Originals and also one of the founder-editors of the feminist online magazine, The Ladies Finger. She was Features Editor at Tehelka magazine and has written for Vogue, Elle, Outlook, Hindustan Times, among others.
Jayasree Kalathil is a writer, translator, mental health researcher, and activist. Two of her translations of Malayalam works, The Diary of a Malayali Madman and Moustache, won the Crossword Book Award and the JCB Prize for Literature, respectively, in 2020.
Five Novellas about Women by Indira Goswami (Assamese)
Translator Dibyajyoti Sarma in conversation with Nabina Das
Dibyajyoti Sarma is a writer, poet, editor, and translator based in Delhi. He also runs the independent publishing venture, Red River. He has published three volumes of poetry, Glimpses of a Personal History (2004), Pages From An Unfinished Autobiography (2014) and Book of Prayers for the Nonbeliever (2018).
Nabina Das is a poet and writer based in Hyderabad. Author of three poetry volumes and two fiction books, she has also co-edited a collection of poems featuring forty Indian poets under the age of 40 writing on (post)globalisation (Poetrywala, 2016).
Banaras Talkies by Satya Vyas (Hindi)
Translator Himadri Agarwal in conversation with Mohini Gupta
Himadri Agarwal graduated with a BA and a diploma in Advanced Research in English and Creative Writing from Ashoka University, after which she worked at Yoda Press as an Editorial Assistant. She is an incoming PhD student at the University of Maryland. Her previous translation, Three Stories by Rashid Jahan, was published by Bee Books, Kolkata, in 2020.
Mohini Gupta is currently a research scholar in language politics at the University of Oxford. She founded the multilingual digital collective Mother Tongue Twisters. Mohini was the Charles Wallace India Trust Translator-Writer Fellow in 2017 for creative writing and translation, hosted by Literature Across Frontiers. Her English-Hindi translations have been published by Tulika Publishers.
The Shehnai Virtuoso and Other Stories by Dhumketu (Gujarati)
Translator Jenny Bhatt in conversation with Rita Kothari
Jenny Bhatt is a writer, translator, and book critic. She is the founder of Desi Books and teaches creative writing at Writing Workshops Dallas and PEN America. Her story collection, Each of Us Killers, won a 2020 Foreword INDIES award. Her literary translation, Ratno Dholi: Dhumketu's Best Short Stories, was shortlisted for the 2021 PFC-VoW Book Awards. One of her short stories was included in The Best American Mystery and Suspense 2021. Her nonfiction has been published in NPR, The Washington Post, BBC Culture, The Atlantic, and more. The US edition of her Dhumketu translation, The Shehnai Virtuoso and Other Stories, is out now.
Rita Kothari is a multilingual scholar and translator whose work spans across different disciplines. Her questions emerge from observations of regions and communities in the western part of the Indian subcontinent—Gujarat, Kutch, and Sindh. Kothari has translated extensively from Gujarati and Sindhi into English, and occasionally vice versa. Her latest work, Uneasy Translations: Self, Experience and Indian Literature, is forthcoming.