Event Information
Location
OpenX Technologies, Inc.
888 East Walnut Street
Pasadena, CA 91101
Description
SGVLUG is turning 20 and the entire Southern California Linux community is invited to share in the celebration with fun, food, and prizes! Whether you're a new or a veteran user, there's something for everyone as we reflect on what we've accomplished together and envision where we're going -- all powered by our favorite operating system.
Registration is free, but capped at 100 tickets. Please RSVP by Nov 14th at 12pm. Contact Lan (l.dang at ymail dot com) if you have questions or issues with your RSVPs. If you RSVP for more than one person, please email Lan with the names of the others. We do not require Eventbrite tickets; we will be checking you in by name.

Food and drinks will be provided, graciously sponsored by our venue host OpenX. We wil have a cake to celebrate our anniversary, sponsored by Supplyframe/Hackaday. Promotional material and some raffle prizes courtesy of Red Hat. The majority of the raffle prizes were sponsored by Tux-Lab. Vim Adventures game provided by Vim Adventures (Doron Linder).
We have some great things planned for a night of fun:
Community project demos
Steam games
Linux Jeopardy!
Raffle Prizes
Schedule:
We will have a gaming area with a Steam gaming consoles and people are free to bring laptops to play Steam games. We will also be playing a collaborative game of Vim Adventures. We will have a booth area where people can promote their groups (OpenSuse, Red Hat, Unleash Kids, Ubuntu) and show off their projects. We will use the main area for announcements, raffles, and Linux Jeopardy.

4pm - Open doors. People check in at registration and validate their parking. Sign guestbook, get raffle ticket(s), get wristband if they want to drink beer/wine.

4:30pm - Welcoming remarks, acknowledgements of sponsors. We will talk about the history of the club and invite people to reminisce. This will be followed by Linux Jeopardy and then the first round of raffles, which will be for small prizes.
6:30-ish - We will present our 20th anniversary cake and cut it.
8pm - Another round of raffles for cooler prizes like mugs, arduino cases, a mousepad, and steam game codes.
9pm - Third round of raffles for larger prizes like books,shirts, tote bag, and the grand prize of the LinHES system.
Clean up will probably begin around 9:30 or 10pm
Parking instructions: Parking is free if you follow these instructions. Please park in the parking structure with the OpenX logo. Pull a ticket and bring it with you to the party to be validated at the check-in desk. If you fail to get your ticket validated or park in the wrong structure, you'll have to pay for parking. See map below.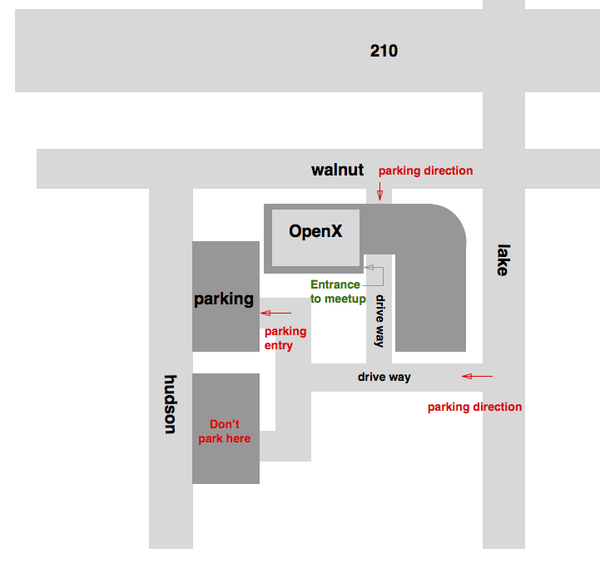 Date and Time
Location
OpenX Technologies, Inc.
888 East Walnut Street
Pasadena, CA 91101