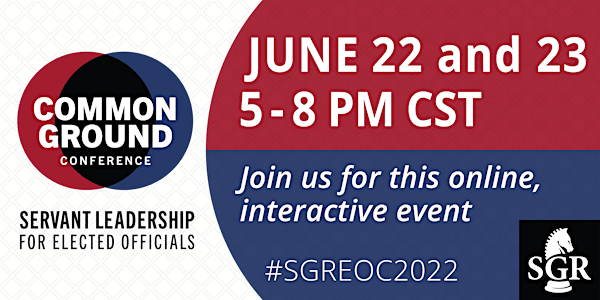 SGR's Common Ground Conference - Servant Leadership for Elected Officials
Sales Have Ended
Registrations are closed
So sorry, registration for this event is now closed. Please contact kristindearmond@governmentresource.com for more information on last minute registrations.
Join us for this online, interactive event!
About this event
Building upon the momentum of SGR's Servant Leaders' Conference, SGR is excited to present its second annual Common Ground Conference - Servant Leadership for Elected Officials, June 22nd and 23rd. Specifically geared with Elected Officials in mind, this on-line conference is a must for all City leaders, whether elected or appointed, as well as advisory board and planning commission members. Aspiring executives will also find this conference invaluable in learning how to best meet the nuances and demands of leadership with the heart of a servant leader. SGR's 2022 Common Ground conference is one you don't want to miss.
Set for 5 pm to 8 pm, Wednesday and Thursday, June 22nd and 23rd, this virtual conference will feature world-class state and community leaders alongside successful entrepreneurs who effectively navigate labyrinths of challenges to help their communities and businesses continually emerge vibrant and effective.
Click here for more information and the agenda!
Registration closes on June 21, 2022 at 12:00 PM (CST).
For more information or questions about how to register, please contact SGR's Event Manager, Kristin DeArmond - kristindearmond@governmentresource.com