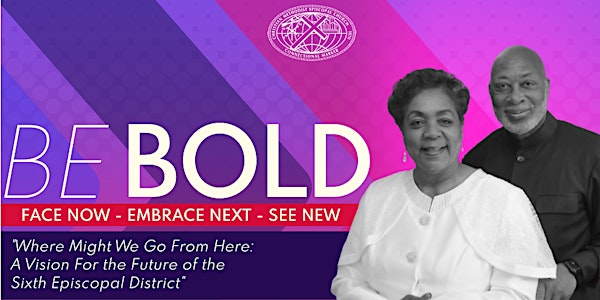 (SGR) Sixth District Winter Gathering 2021
(SGR) Sixth District Winter Gathering 2021
When and where
Location
Warner Robins CME Church 200 Coleman Boulevard Warner Robins, GA 31088
Refund Policy
Contact the organizer to request a refund.
Eventbrite's fee is nonrefundable.
About this event
Sixth District Winter Gathering 2022
The 2022 Winter Gathering will be held Friday, December 9 beginning at 7:00 PM, and Saturday, December 10 beginning at 8:20 AM at Warner Robins CME Church, 200 Othal H Lakey Cir., Warner Robins, GA 31088. The host pastor is Reverend Dr. Lindsey P. Napier, Sr.; and the host presiding elder is Reverend Dr. Jane E. Thomas.
Presiding Elders, Joint Board Chairs, and Regional Treasurers are to meet with Bishop Brown on Friday, December 9 at 1:00 PM in the Warner Robins Church Conference Room.
Everyone must register to attend the Winter Gathering. Registration is $50 per person, except for children and youth under 18 is FREE. The general meeting session for pastors and adults will be hybrid; that is, they will be available through Zoom platform. Registration for the Zoom meeting is also $50 per person.
It is important that you register in the correct Region. If your Presiding Elder's name is not listed, you are in the wrong Region. Please exit that portal and select the appropriate Region. It is equally important that you select the appropriate Presiding Elder for your District.
Georgia North Region Atlanta Rome District Reverend Dr. Jerry D. Woodfork, Sr.
Augusta Sparta District Reverend Dr. Timothy R. Green, Jr.
Elberton Gainesville District Reverend Frederick Braddock, Sr
Central Georgia Region Fort Valley Savannah District Reverend Dr. Jane E. Thomas
Macon Barnesville District Reverend Dr. Donald R. Jordan
West Georgia Region North Columbus LaGrange District Reverend Dr. Curtis L. West, Jr.
South Columbus Cordele District Reverend Lavisha Williams
South Georgia Region Albany Thomasville District Reverend Dr. Lindsey P. Napier, Sr.
Moultrie McRae Brunswick District Reverend Dr. Andre Loyd
Reminders as you register:
❖ Your email address, can only be used and associated with one person only. If you use your email address for a second person, the first user is canceled out. Each registrant must have an individual email address.
❖ Registration is $50.00 when paying your Elder directly; $54.87 if you pay through Eventbrite, and there is no cost for children and youth (ages 17 and under).
❖ If you paid $50.00 to your Elder, please remember to select Enter promo code and enter PaidElder22WG, and hit APPLY. This is the first step after hitting Tickets on the first page. Once the Joint Board Member has confirmed your payment with your Elder, you will receive a link for admission if joining virtually. If you are attending in person, you must check in with the Joint Board at the registration table. If you are not registered, or if your Elder has not confirmed your payment, you will not be admitted until you register on-site.
Zoom is available to pastors and lay only. Zoom is not available to the children and youth, nor to the 45 churches selected for the Strategic Plan Roll-out. Those meetings are in person only.
Visitors to the Sixth District joining via Zoom: VIS + Your Name Sixth District Members
o GA North Region Clergy ex. GNR CLE Rev. Dr. Jack Doe
o GA North Region Laity ex. GNR LAY Jean Doe
o Central GA Region Clergy ex. CGR CLE Rev. Dr. Jack Doe
o Central GA Region Laity ex. CGR LAY Jean Doe
o South GA Region Clergy ex. SGR CLE Rev. Dr. Jack Doe
o South GA Region Laity ex. SGR LAY Jean Doe
o West GA Region Clergy ex. WGR CLE Rev. Dr. Jack Doe
o West GA Region Laity ex. WGR LAY Jean Doe
❖ If you have questions about your registration, please contact your Region's Joint Board Member/Representative:
GA North Region Paige Perry spaige.perry@gmail.com
Central GA Region Reverend Angela Wootson wootsonad540@att.net
South GA Region Monica Harbert monicaharbert@gmail.com
West GA Region Valerie Alexander valeriewalexander@gmail.com
❖ If you have technical problems with registration, please contact Paul Davis at (706) 393-0258 or Que Jacobs at (478) 442-3360.
Should you have other questions or concerns, feel free to contact me at 6thDistrict@thecmechurch.org.
We look forward to seeing you at the Winter Gathering!
Shalom,
Pansy R. Washington
Executive Coordinator
Sixth Episcopal District