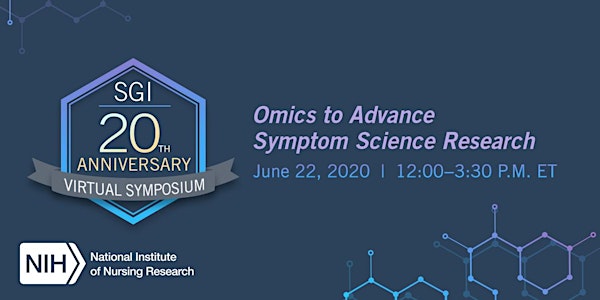 SGI 20th Anniversary Symposium: Omics to Advance Symptom Science Research
SGI 20th Anniversary Symposium
About this event
Based on NIH guidance to limit spread of COVID-19, the SGI 20th Anniversary Symposium will be held virtually via videocast.
On June 22 from 12:00-3:30 p.m. ET, NINR's Division of Intramural Research (DIR) will hold a virtual symposium to mark a milestone anniversary — celebrating 20 years of its Summer Genetics Institute (SGI). Please join us to examine how omics methodologies are improving symptom measurement and characterization. We will explore how this research is guiding approaches to biobehavioral interventional methods. This event is free of charge, but registration is required. For more information about this event, visit the NINR event page.
Objectives:
Address how omics methodology has advanced symptom science research.
Define approaches to developing biobehavioral interventions that modify symptoms.
Feature interdisciplinary and innovative research that has impacted nursing research and practice.
*Registration for Continuing Education Units (CEUs) has closed.
About SGI:
The SGI provides nurse scientists with a foundation in molecular genetics appropriate for use in research and clinical practice. Nearly 450 SGI graduates are making a difference in communities across the country — building programs of nursing research in genetics, disseminating the results of genetics-related research in peer-reviewed scientific publications and at scientific conferences, and integrating genetics content in nursing school curricula and nursing practice.
To request reasonable accommodations, please contact precious.enyidah@nih.gov at least five days before the event. Real-time captioning will be available via videocast by pressing the CC icon on the video player.