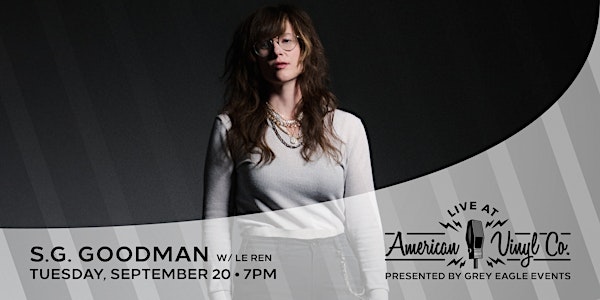 S.G. Goodman {at American Vinyl Co.}
Presented by Grey Eagle Events
Location
American Vinyl Co.
217 Coxe Ave
STE C
Asheville, NC 28801
The Grey Eagle presents S.G. Goodman at American Vinyl Co on Tuesday September 20th at 7pm. All ages show and doors open at 6pm.
About this event
"No one escapes the marks left behind when it comes to love or the absence of it," says singer-songwriter S.G. Goodman, describing the inspiration behind her sophomore album Teeth Marks. "Not only are we the ones who bear its indentations, but we're also the ones responsible for placing them on ourselves and others."
When the Kentucky native released her debut album, Old Time Feeling, she was rightly coined an "untamed rock n roll truth-teller" by Rolling Stone. The roots-inflected rock n' roll record saw Goodman lending her gritty, haunting vocals to narrate the dual perspectives of her upbringing as the daughter of a crop farmer, and a queer woman coming out in a rural town.
Now with Teeth Marks, co-produced by Drew Vandenberg (Faye Webster, Drive-By Truckers, Of Montreal) in Athens, Georgia, she picks up the threads of Old Time Feeling. But where her critically acclaimed, Jim James-produced debut zeroed in on the South, reframing misconceptions in slough water-soaked tones, her latest album pulses with downtown Velvet Underground electricity, shifting its focus inward - though never losing Goodman's searing and universal point of view. Teeth Marks is what you might get if Flannery O'Connor and Lou Reed went on a road trip.
Drawing influences from the aforementioned Velvets, as well as Pavement, Karen Dalton, and Chad VanGaalen, Goodman brings 11 powerful vignettes to life, with a sound that ventures deeper into indie rock and punk territory than she ever has before. Though Teeth Marks is a love album, Goodman doesn't aim her focus on romantic relationships alone. Instead, she analyzes the way love between communities, families, and even one's self can be influenced by trauma that lingers in the body. Teeth Marks is about what love actually is, love's psychological and physical imprint, its light, and its darkness. It's a record about the love we have or don't have for each other, and perhaps, more significantly, the love we have or don't have for ourselves.
Le Ren's close-to-the-bone, heartbreak folk songs seem, at first, to tap into a shared musical memory. A melody swirls forward and you're just sure it's known to the back of your mind; was it in from a movie you saw, some classic mid-60s setpiece? Maybe it's something you heard as a kid, in the backseat of your mom's Cutlass, or the shotgun seat of your own. But before you can zero in through the fog, your heart is torn apart by her voice — rich, direct and mellifluous — steering you through these slowburn tunes about real-life loss.
"Discussing songwriting feels the same as when someone asks about your tattoo," says Lauren Spear, 26, the sole voice and songwriter behind Montreal's Le Ren. "You're putting it out there, showing it in public right on your arm. Then, when someone asks you 'Hey, what's that tattoo mean?,' you're shocked to have to explain it, as it is a choice that feels essential for a particular moment."
Two years ago, Spear's ex-boyfriend was killed in a car accident. Since then, she has been struggling with the immeasurable weight of being the sole keeper of their shared memories and in response, translated a sliver of that experience into music. Her EP, Morning & Melancholia, is a mediation on mourning, memory and how to live with the ellipses you're forever left with in the wake of loss.
The way Le Ren is able to look tragedy directly in its eyes and never let her voice so much as quiver is owed to a few things. Raised on rural Bowen Island, British Columbia, the isolated lifestyle allows for a certain independent dedication to craft that is evident in her performances. Spear has studied folk and bluegrass going back to her early teens, partaking in workshops and festivals all over North America. You can hear in her acumen the gorgeous folk formalism of Canadian heroes Kate and Anna McGerrigle. But it's not all rigor and acuity that makes Le Ren's music so stunning. She was also raised on The Holy Trinity of songwriters John Prine, Neil Young and Bob Dylan, and their curious, deadpan and cosmic approach to life's most brutal swipes also feed Le Ren's sensibilities. Her lyrical couplets are as simply put as they are devastating. "So here we are at the end of all things // I guess I learned too late // that love can't be the only reason to stay," she sings on the closer "Love Can't Be the Only Reason To Stay". It's gut wrenching, but sure-footed. And you can almost hear the slight smile on one side of her mouth as she sings, the knowing smile of someone who knows real pain, knows there's surely more to come, but who also knows it doesn't erase life's humorous, enduring beauty.