Description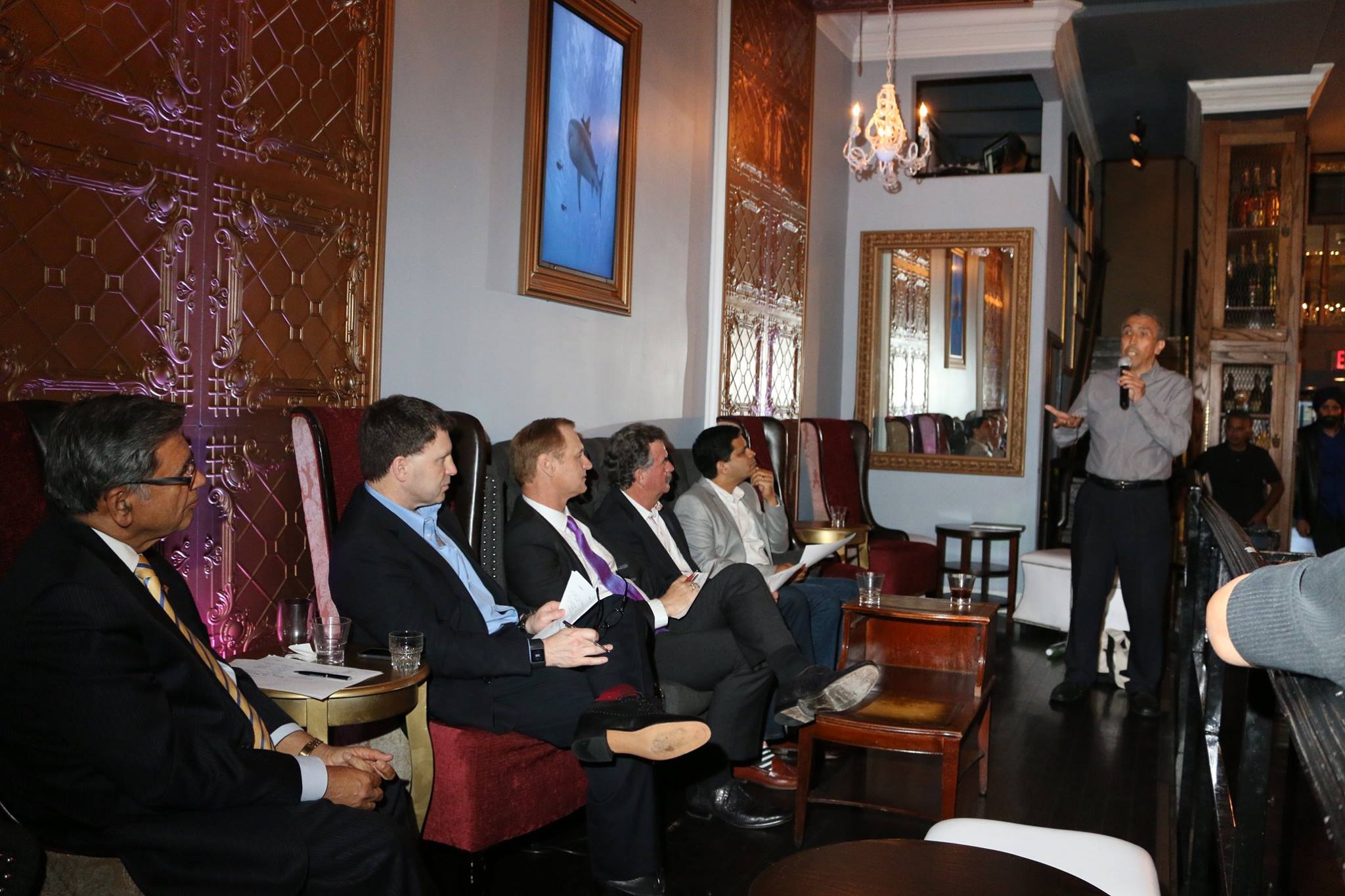 Pictured above from a prior Pitch Globally event : Silicon Valley legends (from left), Vish Mishra (Clearstone VC and longterm President of TIECON); Roger Royse, Owner of large Tech Law Firm, Royse Law; Bill Sautter (Galaxy VC and first US employee of Business Objects which SAP acquired for $ 8 b), Roger King (Founder Bay Angels). See the video at:
https://www.youtube.com/watch?v=orp1b1CN2HA
Watch some experts and mentors speak about Silicon Valley Mindset :
https://www.youtube.com/watch?v=OqYIMdC2mi0&t=134s
SF' Pitch Globally Sharktank Style has established the reputation of bringing Silicon Valley to LA(especially when 80% of all funding in LA happens in SV), by having prominent SV representatives like billionaire/philanthropist Naveen Jain,(one of his cos is "Moon Express, the only company to have permission from the US government to leave earth orbit and land on the moon"--Business Insider ), legendary super-connector Max Shapiro, large Tech Law Firm owner Roger Royse, Founder of www.techfuturesgroup.org (which distributes govt funding to startups) Gerry Baranano, Manny Fernandez, Founder of Dreamfunded etc. to our events in LA. Our distinguished investor network in LA includes Dr Lance Eliot (USC Incubator)whose former students at USC has gone on to startup companies like Box& Pandora, Garrett Gilbertson—BLD Capital/Band of Angels/ Tech Coast Angels, EB Shonnard –private investor, DrJack Torobin --private investor, Dr Daniel Hader, SV&La Jolla based N3 Incubator and many others. Some of them will be on the Panel on the 22nd as well.
Join us at 5.30 pm on Wednesday the 22nd of August at Wework 8Fine Arts Building, 11 West 7th Street, Los Angeles, CA 90017and Pitch to a Panel of Silicon Valley Super-connectors and Network with interesting people.
Agenda:
5.45-6.15 pm: Registration& Networking
6.15—7.30 pm: Startups Pitch to the Panel; brief Q&A after every pitch. Winner declared at the end of the event.
7.30- 7.45 pm: Investor Huddle.
7.45-8 pm. Networking. Plug&Play, the most active investor in Silicon Valley, has invited all the Pitching entrepreneurs from this event to attend their rooftop private reception at their LA offices few blocks from our event. So we will make sure whoever has a valid Pitch ticket get into this exclusive event.
8.15- 10 pm: After-Party at the Rooftop Bar of the nearby Standard Hotel.

Prize: The winner gets a 30 minute session with one of the panelists. Also, gets invited to Pitch in Silicon Valley in front of leading Angel funds.
So secure a spot at this leading Silicon Valley Pitch & Networking event. Any questions, feel free to email Donavon@pitch or globally.media or startups@pitchglobally.com
This is a Pitch Globally & Pitch Globally Media(www.pitchgloballymedia.com event. Please join www.meetup.com/pitchglobally and www.meetup.com/pitchgloballyLA
Refund Policy: Credit may be given to a future event at the discretion of the organizer