Description
in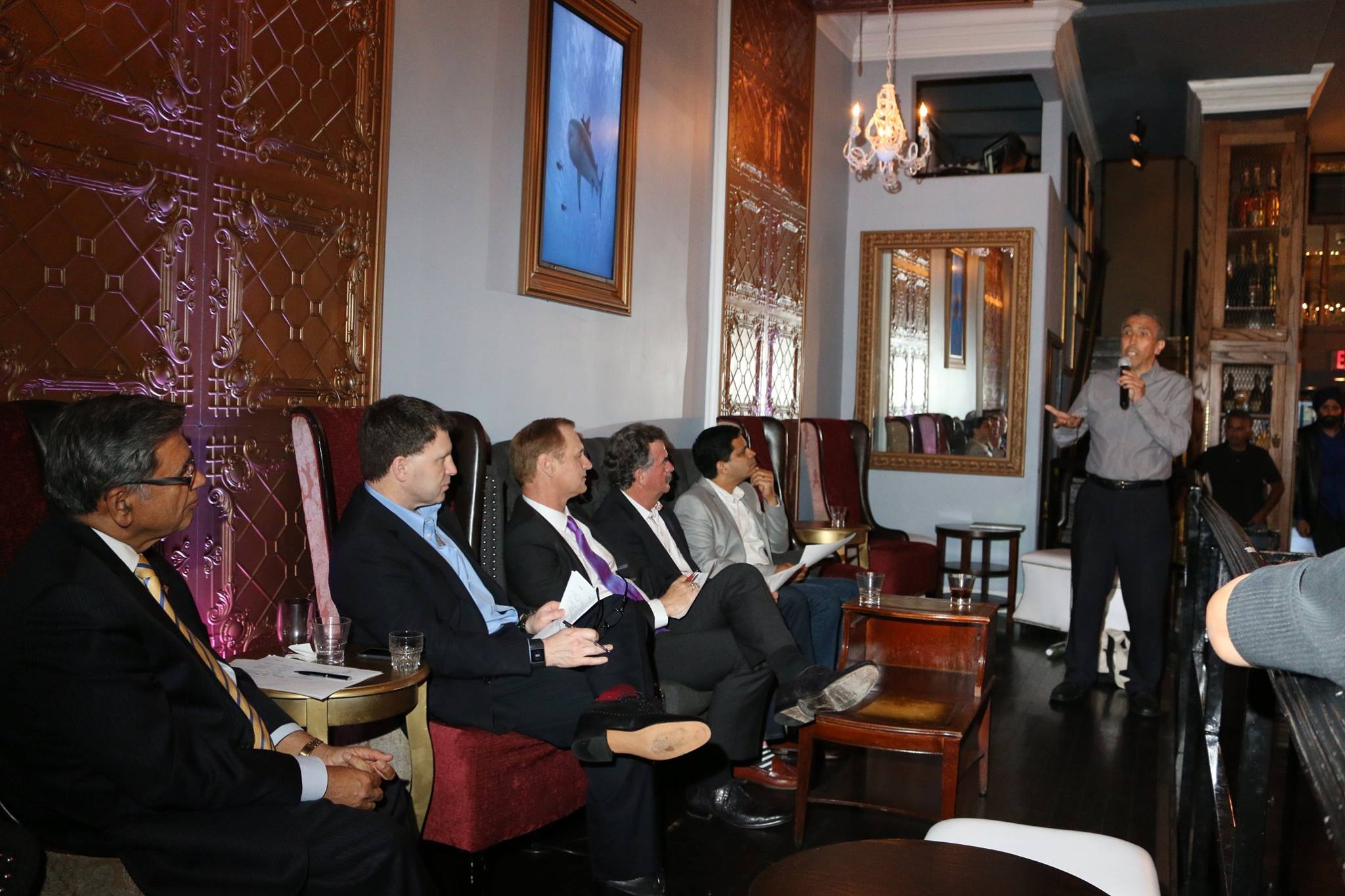 Pictured above from a prior Pitch Globally event : Silicon Valley legends (from left), Vish Mishra (Clearstone VC and longterm President of TIECON); Roger Royse, Owner of large Tech Law Firm, Royse Law; Bill Sautter (Galaxy VC and first US employee of Business Objects which SAP acquired for $ 8 b), Roger King (Founder Bay Angels). See the video at: https://www.youtube.com/watch?v=orp1b1CN2HA
SF' Pitch Globally Sharktank Style has established the reputation of bringing Silicon Valley to LA(especially when 80% of all funding in LA happens in SV), by having prominent SV representatives like billionaire/philanthropist Naveen Jain,(one of his cos is "Moon Express, the only company to have permission from the US government to leave earth orbit and land on the moon"--Business Insider ), legendary super-connector Max Shapiro, large Tech Law Firm owner Roger Royse, Founder of www.techfuturesgroup.org (which distributes govt funding to startups) Gerry Baranano, Manny Fernandez, Founder of Dreamfunded, Jim Simmons of Simmons Goodspeed VC, Fred Cohen, President of Keiretsu Forum, Pebble Beach Chapter etc. to our events in LA.
Watch this video to know more about LA events : https://www.youtube.com/watch?v=wBpvGUCunn4&t=15s
Our distinguished investor network in LA includes Dr Lance Eliot (USC Incubator) whose former students at USC has gone on to startup companies like Box& Pandora, DrJack Torobin --private investor, Dr Daniel Hader&Fred Davies, SV&La Jolla based N3 Incubator, Ken Ezra, private investor, Smita Bagla, President of TIE SOCal, Frank Grant, MD of Interstate Ventures, Robon Rowe, Founder of Hollywood Ventures, Alex Mojtahedi, MD of Plug&Play and many others.
Panelists include:
Gerry Baranano, Founder Tech Futures Group( Govt funded organization to help startups fundraise for free) in Silicon Valley.
Dr Daniel Hader, Managing Director, Nex Cubed ( along with them sister organization, Sway Ventures, --both located in La Jolla and SF) they have actively invested in several startups which pitches with Pitch Globally
Gene Swank, the co-founder and managing director of Propellant Labs Incubator. He is a serial entrepreneur who took $100 and bootstrapped it into a multi-million dollar global business by leveraging a cult like social media following. He is an angel investor, a contributor to Forbes, is a mentor for a variety of companies from computer vision to a professional sports league and is a respected thought leader in wireless technology.
Dan Kirk, the CEO of Omni Group Strategies, an international investment, and technology company that focuses on bringing emerging tech to market. Omni Group invests primarily in Commercial Real Estate, CleanTech, NanoTech, Telecommunications, and smart city ventures.
David Gell who is a tech executive and serial entrepreneur with 25 years leadership success in mobile wireless, telecommunications and consumer electronics. He has held technical and executive leadership positions at Hewlett Packard, Ystopnow (co-founded), Solectek Corporation, Cygnus Broadband (co-founded), WiLAN Labs, Olympus Sky and VIE Technologies. Mr. Gell has led teams responsible for developing and launching more than 30 products and services and he has over 65 patents issued and pending.
Join us at 5.30 pm on Tuesday the 16th of October 2018 at Spaces, 4660, La Jolla Village Drive, San Deigo and Pitch to a Panel of Silicon Valley Super-connectors and Network with interesting people.
Agenda:
5.45-6.15 pm: Registration& Networking
6.15- 6.25 : Keynote by prominent Silicon Valley investor Fred Cohen, also Pebble Beach Chapter President of Keiretsu Forum, world's largest network of investors. He will also connect with some more investors from SV using his platform, Angel to Exit.
6.25—7.30 pm: Startups Pitch to the Panel; brief Q&A after every pitch. Winner declared at the end of the event.
7.30- 7.45 pm: Investor Huddle.
7.45-8: 30 pm. Networking.
Prize: The winner gets a 30 minute session with one of the panelists. Also, gets invited to Pitch in Silicon Valley in front of leading Angels.
So secure a spot at this leading Silicon Valley Pitch & Networking event. Any questions, feel free to email startups@pitchglobally.com
This is a joint Pitch Globally&Propellant Labs event. Please join www.meetup.com/pitchglobally and www.meetup.com/pitchgloballyLA
Propellant Labs is fuel for startups. We are a global online incubator helping founders develop and grow their startups. No equity is required but there is a nominal monthly fee to participate. Join today to gain access to our world-class team with ties to investors and entrepreneurs in Silicon Valley, Southern California and across the globe.

Refund Policy: Credit may be given to a future event at the discretion of the organizer