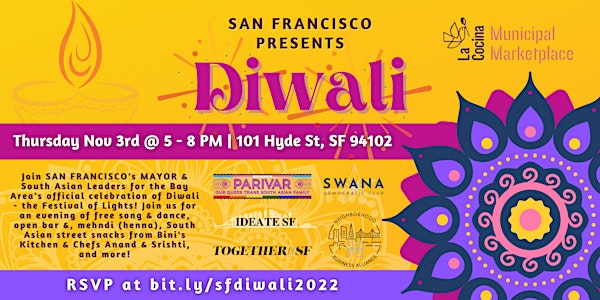 SF's Official Diwali 2022 Celebration at La Cocina Municipal Marketplace
Join SF's Mayor & South Asian Leaders to celebrate Diwali, with music, open bar & food, mehndi (henna) artists, & official Diya lighting
When and where
Location
La Cocina Municipal Marketplace 101 Hyde Street San Francisco, CA 94102
About this event
Diwali, a festival of lights, is a celebration of life's blessings by Hindus, Jains, Sikhs and Buddhist people around the world. It's also a reminder that in the San Francisco Bay Area, we are better together than divided, and we must each do our part in service to others.
We're excited to host Diwali 2022 at La Cocina Marketplace. Join us for an evening of community, culture & cuisine with Mayor London Breed, City Attorney David Chiu, State Senator Scott Wiener, local South Asian elected and community leaders, and community organizations including SWANA Democratic Club, Parivar Bay Area, Neighborhood Business Alliance, Ideate SF, and Together SF. We'll have mendhi (henna) artists, open bar, music and South Asian cuisine from La Cocina graduate Bini's Kitchen—so come ready to meet both familiar and new faces and celebrate with us.
Please RSVP here, and feel free to pass along to friends and colleagues. Hope to see you there!
About the La Cocina Municipal Marketplace
Located in San Francisco's Tenderloin neighborhood, the La Cocina Municipal Marketplace offers economic opportunity for seven working-class women-of-color and immigrant women entrepreneurs, an accessible space with delicious and affordable food for Tenderloin residents, and an innovative model for conscious, community-led development in inner cities. Much like La Cocina's incubator kitchen, the Marketplace offers a path for low-income entrepreneurs that lowers the barriers to entry, mitigates risk via a shared cost of maintenance, increases equity in business ownership, and creates more assets for the owners, enabling them to pass on lower costs to consumers and make cities more livable.