Description

Parents, Alumni, and Friends of Georgetown University, please join the Walsh School of Foreign Service for a happy hour in the Macondo Room at Americas River Oaks in Houston and be our guest for select drinks and appetizers.
Professor Sinan Ciddi will give a 10 minute overview about Defeating the Islamic State: US Policy and Regional Actors. The Syrian Civil War is a multi-faceted issue, which has torn apart the country, impoverished and displaced its population, and provided space for ideological extremism to flourish across a wide geography. The Islamic State presents a set of regional, even global security concerns which directly impact the national security calculations and worries of the United States. What is being done to address this and is there a end in sight with what can be refereed to as 'good' outcomes?
If you are in a career transition or preparing for one in the future, SFS Graduate Career Center Director Anne Steen will be available to discuss ​how Georgetown's resources can help you leverage your experience and your Hoya connections. Join us for a discussion of where to find and how to use these resources as you think about your next career transition.
Looking forward to seeing you there!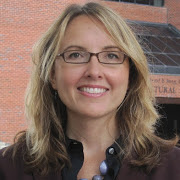 Eleanor Jones
Director of Alumni Engagement
Walsh School of Foreign Service