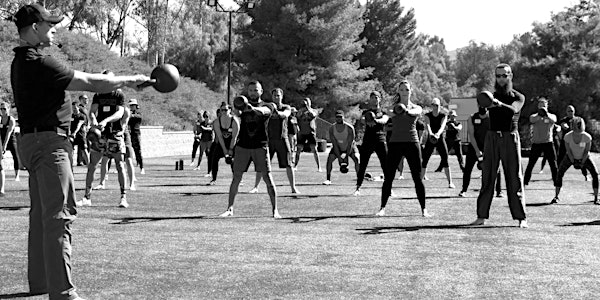 SFG I StrongFirst Kettlebell Instructor Certification—Mexico City, Mexico
Welcome to the gold standard in kettlebell education—and the #1 certification for strength and conditioning professionals.
When and where
Location
TBA Mexico City Ciudad de México, CMX 03600 Mexico
About this event
INSTRUCTOR
Fabio Zonin, StrongFirst Certified Master Instructor
EVENT COORDINATOR
Yoana Teran, StrongFirst Certified Senior Instructor
SCHEDULE
9-5pm Friday and Saturday
8-4pm Sunday
*Check-in begins at 8:30am on Friday
CONTACT
This workshop is organized and licensed by Yoana Teran. Email all registration and other questions to yoanasnideman@yahoo.com
Registration Cancellation by Participant—Carefully read the policy for each registration price on the checkout page.
3-Installment Payment Plan—This option is available for a limited time for select registrations. Carefully read the details on the checkout page. *Promo Codes cannot be applied with payment plan option.

SFG I StrongFirst Kettlebell Instructor
SFG—"G" for girya, or kettlebell—is StrongFirst's flagship certification. While strength is the focus of our school at large, SFG pursues broader "extreme fitness" and resilience with strength at its foundation. Like every StrongFirst instructor certification—kettlebell, barbell, bodyweight—SFG strongly stands on its own—while all perfectly fit together into a system.
Is the SFG I instructor certification right for you?
Only if you select at least one of the options below:
A coach who will accept nothing but the best training methods
A warfighter seeking a PT method that can be described in Hemingway's words: "Keenness of edge…simplicity of action"
An athlete ready to take his or her performance to an all-new level
A personal development fanatic
A hard living type looking for your next challenge
Only those with grit and attention to detail need apply.
Visit our SFG Kettlebell Instructor Certification page for more details.
Read the SFG I Certification requirements.

STAY SHARP. STAY STRONGFIRST CERTIFIED.
Take advantage of the Unified Recertification and renew your current instructor credentials—included with your registration. Testing will be completed during the weekend.