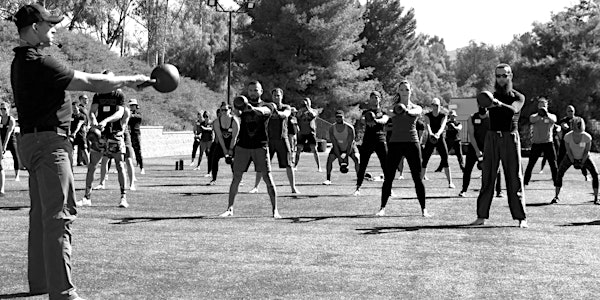 SFG I StrongFirst Kettlebell Instructor Certification—Darmstadt, Germany
Welcome to the gold standard in kettlebell education—and the #1 certification for strength and conditioning professionals.
When and where
Location
BlackBox Darmstadt CrossFit BERGSTRASSE Daimlerweg 2 64293 Darmstadt Germany
Refund Policy
Contact the organizer to request a refund.
About this event
INSTRUCTOR
Pavel Macek, StrongFirst Certified Master Instructor
SCHEDULE
8-6pm Friday and Saturday
8-4pm Sunday
CONTACT
This certification is organized and licensed by Sven Rieger. All registration and other questions: please email sven0r@gmx.de.
Registration Cancellation by Participant—Carefully read the policy for each registration price on the checkout page.
LEITENDER INSTRUCTOR
Pavel Macek, StrongFirst Certified Master Instructor
ZEITPLAN
Freitag und Samstag, 8:00-18:00 Uhr
Sonntag, 8:00-16:00 Uhr
KONTAKT
Diese Zertifizierung wird von Sven Rieger organisiert und lizensiert. Bei allen Fragen zur Anmeldung oder sonstigen Fragen schriebe bitte eine Email an: sven0r@gmx.de.
Stornierung der Anmeldung durch den Teilnehmer - Bitte lies die Richtlinien für jeden Anmeldepreis auf der Buchungsseite sorgfältig durch.

SFG I StrongFirst Kettlebell Instructor Certification
SFG—"G" for girya, or kettlebell—is StrongFirst's flagship certification. While strength is the focus of our school at large, SFG pursues broader "extreme fitness" and resilience with strength at its foundation. Like every StrongFirst instructor certification—kettlebell, barbell, bodyweight—SFG strongly stands on its own—while all perfectly fit together into a system.
Is the SFG I instructor certification right for you?
Only if you select at least one of the options below:
A coach who will accept nothing but the best training methods
A warfighter seeking a PT method that can be described in Hemingway's words: "Keenness of edge…simplicity of action"
An athlete ready to take his or her performance to an all-new level
A personal development fanatic
A hard living type looking for your next challenge
Only those with grit and attention to detail need apply.
Visit our SFG Kettlebell Instructor Certification page for more details.
Read the SFG I Certification requirements.
SFG I StrongFirst Kettlebell Instructor Zertifizierung
SFG - "G" für Girya oder Kettlebell - ist das Flaggschiff der StrongFirst Zertifizierungen. Während Kraft der Schwerpunkt unserer Schule im Großen und Ganzen ist, strebt SFG eine breitere "Extrem-Fitness" und Widerstandsfähigkeit an, mit Kraft als Grundlage dafür. Wie jede StrongFirst Instruktor Zertifizierung - ob Kettlebell, Langhantel oder Körpergewicht - steht SFG stark auf eigenen Beinen, während alle perfekt zusammen in ein System passen.
Ist die SFG I Instructor Zertifizierung das richtige für dich?
Nur wenn du dich in mindestens einer der folgenden Kategorien siehst:
Ein Trainer, der nur die besten Trainingsmethoden akzeptiert.
Ein Soldat, der eine Trainingsmethode sucht, die mit Hemingways Worten beschrieben werden kann: "Eifriger Scharfsinn ... Einfachheit des Handelns"
Ein Sportler, der bereit ist, seine Leistung auf ein völlig neues Level zu bringen.
Ein Verfechter persönlicher Weiterentwicklung.
Ein hart gesottener Mensch, der nach seiner nächsten Herausforderung sucht.
Bewirb dich nur, wenn du Mut und Liebe zum Detail hast.
Weitere Informationen findest du hier: SFG Kettlebell Instructor Zertifizierung
Informiere dich über die Anforderungen der SFG I Zertifizierung.

STAY SHARP. STAY STRONGFIRST CERTIFIED.
Take advantage of the Unified Recertification and renew your current instructor credentials—included with your registration. Testing will be completed during the weekend.
BLEIBE AM BALL. BEHALTE DEINE STRONGFIRST ZERTIFIZIERUNG.
Nutze den Vorteile der vereinten Rezertifizierung und erneuere deinen aktuellen Instructor Titel - welche in deiner Anmeldung enthalten ist. Die Tests werden während des Wochenendes durchgeführt