SFE Webinar: WindNinja - Modeling Near-Surface Winds for Wildland Fire

Thursday, December 8, 2016 from 1:00 PM to 2:00 PM (EST)
Event Details
WindNinja - Modeling Near-Surface Winds in Complex Terrain for Wildland Fire Applications
A free one hour webinar from the Southern Fire Exchange
Thursday, December 8, 2016 1:00 - 2:00 PM ET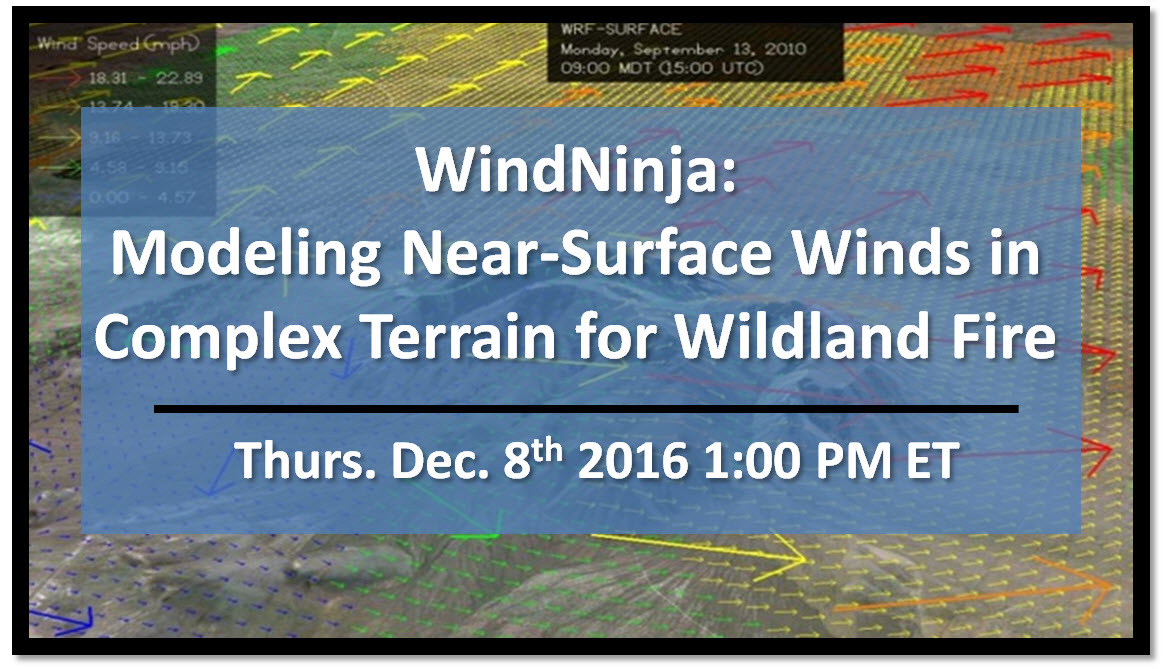 Presenter
Dr. Natalie Wagenbrenner, Research Meteorologist, Missoula Fire Sciences Laboratory, USDA Forest Service
Webinar Presentation Abstract
Near-surface wind is the driving environmental factor for wildland fire spread and behavior.  Local-scale terrain and vegetation can significantly alter wind over small scales that are not captured by standard weather prediction models and are not easily anticipated by even experienced fire managers.  The USFS Missoula Fire Sciences Lab has developed a fast-running, high-resolution, wind model called WindNinja for use by wildland fire managers.  In conjunction with continuous model development, the lab has conducted a number of field campaigns in different types of complex terrain aimed at collecting near-surface, high-resolution wind data that can be used to evaluate WindNinja and other high-resolution wind models.  This webinar will give an overview of the WindNinja model, the new mobile interface (WindNinja-Mobile) and future project plans.
Click here to check out our other upcoming Southern Fire Exchange fire science webinars.
Partners
This webinar is sponsored by the Southern Fire Exchange in cooperation with the USDA Forest Service Missoula Fire Sciences Laboratory.
---
Event Registration
Pre-registration for the webinar is required. Once registered, participants will receive an Eventbrite Ticket email containing the webinar link.  On the day of the webinar, click the link to join the meeting.
---
Webinar Requirements
If you have not previously used Adobe Connect, ensure that your computer and network connections are configured to provide you with the best possible experience by running a test. A reliable internet connection and speakers / headphones are required to participate.  Webinar audio will be broadcast directly to your computer via the Adobe Connect interface.  Participants do not need a microphone or video camera. Click here to test your browser and computer configuration / connection.  See the Adobe Connect Quick Start Guide (.pdf) for more information.
---
Webinar Recording
If you can't make the webinar, look for the recording to be posted on the Southern Fire Exchange YouTube Webinar Archive.
---
Contact Us
If you have questions about this webinar, contact the Southern Fire Exchange (contactus@southernfireexchange.org).
Organizer
The Southern Fire Exchange is a regional wildland fire science communication program and a member of the national Fire Science Exchange Network, funded by the Joint Fire Science Program. 

Representing 11 southern states, we work with numerous partners throughout the region to increase the use of available fire science, facilitate discussions about the relevance of research results and future research needs, and connect fire managers and researchers. 

We share fire science research results and information with natural resource managers, landowners, and scientists by offering a variety of resources and events: 
  • Newsletters, fact sheets, and research briefs 
  • Webinars, live and archived for viewing at anytime 
  • Workshops and field tours throughout the Southeast