SFE Webinar: The Path Back - Oaks Facilitating Longleaf Pine Seedling Success

Wednesday, August 23, 2017 from 1:00 PM to 2:00 PM (EDT)
Event Details
The Path Back: Oaks Facilitating Longleaf Pine Seedling Success on Xeric Sites
A free one hour webinar from the Southern Fire Exchange
Wednesday, August 23, 2017 1:00 - 2:00 PM ET
Presenter
Louise Loudermilk, Ph.D., Research Ecologist, US Forest Service Southern Research Station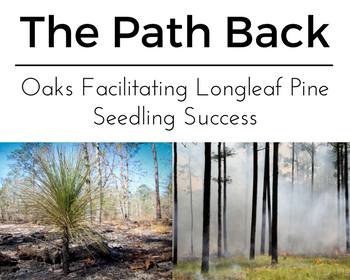 Webinar Presentation Abstract
Do deciduous midstory oaks on xeric sandhill sites hurt or help longleaf pine seedlings? Intuitive or blasphemy? New research (Loudermilk et al. 2016) suggests that the presence of midstory oaks on xeric sandhill sites can significantly improve microsite conditions for young (< 2 year old) longleaf pine seedlings by reducing soil temperature and lowering moisture loss due to evaporation. Over longer timescales, the authors suggest that understanding and managing for the facilitative roles of native midstory oaks may be important for longleaf pine forest sustainability during droughts, wildfires, and hurricanes. Join the webinar to learn more about this facinating research and chat with Louise Loudermilk, lead author of the publication.
Click here to check out our other upcoming Southern Fire Exchange fire science webinars.
---
Event Registration
Pre-registration for the webinar is required. Once registered, participants will receive an Eventbrite Ticket email containing the Zoom webinar link.  On the day of the webinar, click the link to join the meeting.
---
Webinar Requirements
A reliable internet connection and speakers / headphones are required to participate.  Webinar audio will be broadcast directly to your computer and may be available via a call in number.  See registration email for more details. Webinar participants do not need a microphone or video camera. See the Zoom Help page for more information about the Zoom webinar plateform requirements (https://support.zoom.us/hc/en-us).
---
Webinar Recording
If you can't make the webinar, look for the recording to be posted on the Southern Fire Exchange YouTube Webinar Archive.
---
Contact Us
If you have questions about this webinar, contact the Southern Fire Exchange (contactus@southernfireexchange.org).
Organizer
The Southern Fire Exchange is a regional wildland fire science communication program and a member of the national Fire Science Exchange Network, funded by the Joint Fire Science Program. 

Representing 11 southern states, we work with numerous partners throughout the region to increase the use of available fire science, facilitate discussions about the relevance of research results and future research needs, and connect fire managers and researchers. 

We share fire science research results and information with natural resource managers, landowners, and scientists by offering a variety of resources and events: 
  • Newsletters, fact sheets, and research briefs 
  • Webinars, live and archived for viewing at anytime 
  • Workshops and field tours throughout the Southeast