Description
The Ecology of Fuels
A free one hour webinar from the Southern Fire Exchange
Thursday, April 27, 2017 1:00 - 2:00 PM ET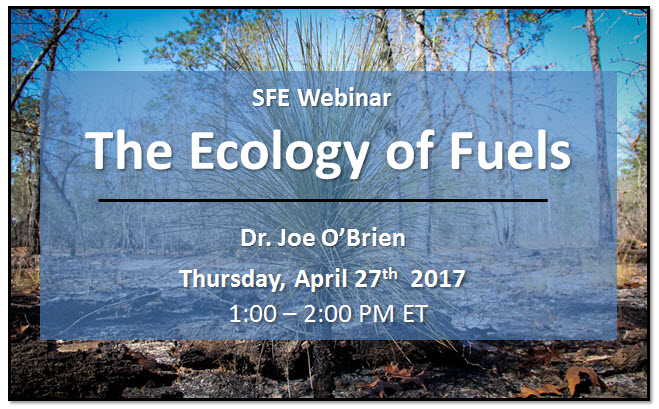 Presenter
Joe O'Brien, Ph.D., Research Ecologist, Southern Research Station, US Forest Service
Webinar Presentation Abstract
Fuels are one of the three elements of the fire triangle. In this webinar Dr. Joe O'Brien with the US Forest Service Southern Research Station will use examples from Southeastern US fire ecology to highlight the complex relationships linking forest structure, natural fuels and wildland fire. These interactions are frequently underappreciated and oversimplified in the wildland fire community. A better understanding of natural fuels can improve land management at multiple levels and fuels can act as a bridge linking the fire ops, forestry and ecology professional communities. Following the webinar there will be time for audience Q/A.
Click here to check out our other upcoming Southern Fire Exchange fire science webinars.
---
Event Registration
Pre-registration for the webinar is required. Once registered, participants will receive an Eventbrite Ticket email containing the webinar link. On the day of the webinar, click the link to join the meeting.
---
Webinar Requirements
If you have not previously used Adobe Connect, ensure that your computer and network connections are configured to provide you with the best possible experience by running a test. A reliable internet connection and speakers / headphones are required to participate. Webinar audio will be broadcast directly to your computer via the Adobe Connect interface. Participants do not need a microphone or video camera. Click here to test your browser and computer configuration / connection. See the Adobe Connect Quick Start Guide (.pdf) for more information.
---
Webinar Recording
If you can't make the webinar, look for the recording to be posted on the Southern Fire Exchange YouTube Webinar Archive.
---
Contact Us
If you have questions about this webinar, contact the Southern Fire Exchange (contactus@southernfireexchange.org).