SFE Webinar: Next Generation Fire Modeling for Advanced Wildland Fire Training

Thursday, February 23, 2017 from 1:00 PM to 2:00 PM (EST)
Event Details
Next Generation Fire Modeling for Advanced Wildland Fire Training
an Introduction
A free one hour webinar from the Southern Fire Exchange
Thursday, February 23, 2017 1:00 - 2:00 PM ET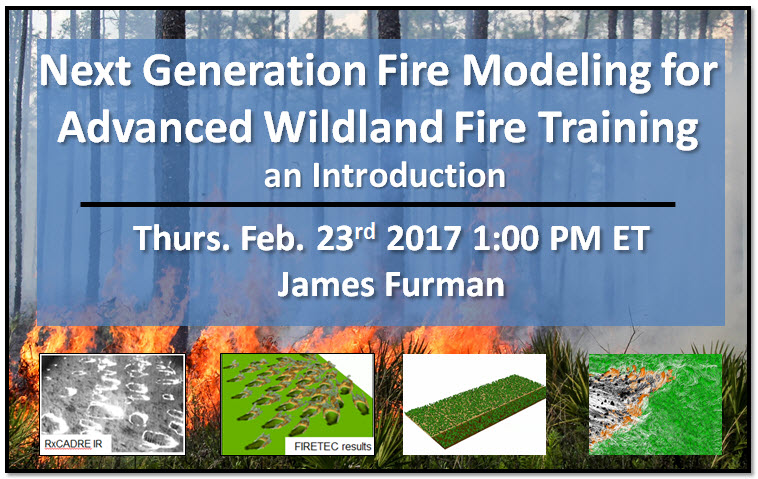 Presenter
James Furman, U.S. Forest Service Liason, Air Force Wildland Fire Center, Eglin Air Force Base
Webinar Presentation Abstract
Current fire spread models available to managers are inadequate for predicting the complex influences of atmosphere, forest structure, and different ignition patterns on fire behavior. The Air Force Wildland Fire Center at Eglin AFB, in collaboration with Los Alamos National Laboratory, have initiated a project to demonstrate the capabilities of a physics-based, fluid dynamics wildland fire spread model, FIRETEC, to simulate fire behavior from various prescribed fire scenarios in southeastern fuels. The FIRETEC simulations being produced in this project were specifically designed by fire managers to answer their most pressing questions.  These FIRETEC simulations, which will be highlighted in this webinar, represent the future of fire modeling and, as part of this project, will be used to develop advanced ignition techniques training materials for wildland fire managers.
Click here to check out our other upcoming Southern Fire Exchange fire science webinars.
---
Event Registration
Pre-registration for the webinar is required. Once registered, participants will receive an Eventbrite Ticket email containing the webinar link.  On the day of the webinar, click the link to join the meeting.
---
Webinar Requirements
If you have not previously used Adobe Connect, ensure that your computer and network connections are configured to provide you with the best possible experience by running a test. A reliable internet connection and speakers / headphones are required to participate.  Webinar audio will be broadcast directly to your computer via the Adobe Connect interface.  Participants do not need a microphone or video camera. Click here to test your browser and computer configuration / connection.  See the Adobe Connect Quick Start Guide (.pdf) for more information.
---
Webinar Recording
If you can't make the webinar, look for the recording to be posted on the Southern Fire Exchange YouTube Webinar Archive.
---
Contact Us
If you have questions about this webinar, contact the Southern Fire Exchange (contactus@southernfireexchange.org).
Organizer
Southern Fire Exchange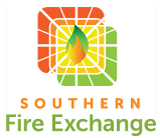 The SFE provides accessible fire science for resource and fire managers.
The Southern Fire Exchange (SFE) is a regional program for fire science delivery in the Southeast, funded by the Joint Fire Science Program in agreement with the United States Forest Service, Southern Research Station.
SFE Webinar: Next Generation Fire Modeling for Advanced Wildland Fire Training