SFE Webinar: Historical Fire and the Species that Coevolved with it in the...
Description
Historical Fire and the Species that Coevolved with it in the South: What Should We Be Doing with Fire Now?
A free one hour webinar from the Southern Fire Exchange
Wednesday, March 29, 2017 1:00 - 2:00 PM ET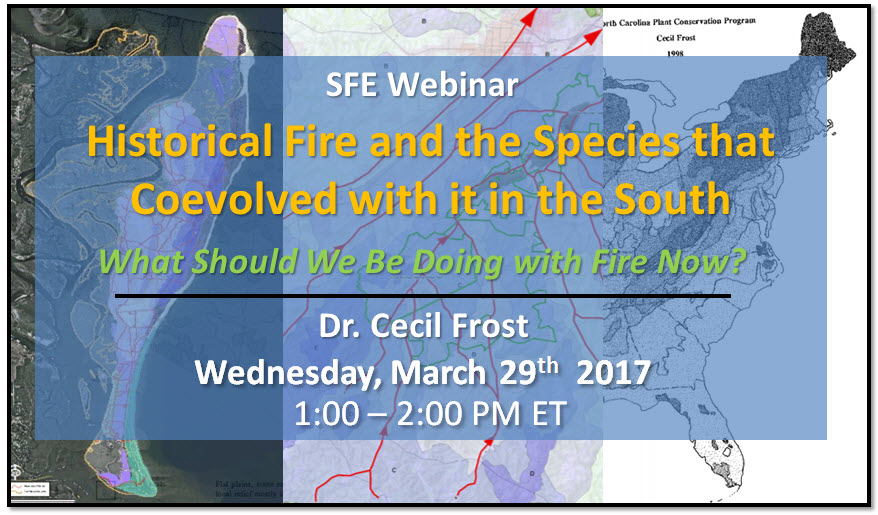 Presenter
Cecil Frost, Ph.D., Landscape Fire Ecologist, Research Collaborator, University of North Carolina
Webinar Presentation Abstract
Driven by unplanned economic growth and overpopulation, the Southeast is facing monumental changes in land-use that can ultimately result in two contrasting conditions: 1) lands converted to human use and production or 2) natural lands in which fire is restored in perpetuity at levels sufficient to maintain all of the species that depend upon them. Some estimate that this land-use change process will continue to play out over the next five decades. Challenged by regional land-use change and global climate change, these natural lands may be the "arks" for the survival of species diversity in the South. On these natural lands, the existence of many species of birds, plants and animals will depend upon the restoration and perpetuation of fire in its appropriate form and place. The critical role of the prescribed fire practitioner will be to apply prescribed fires to natural lands that mimic the evolutionary fire regimes that species coevolved with over the past 428 million years. Fortunately the Southeast is the world's best laboratory for understanding how to accomplish this daunting task.
In this webinar Dr. Cecil Frost will address this topic using some of his detailed maps of pre-colonial fire frequency for sites in the Southeastern US and discuss opportunities for regional fire management strategies now and in the future.

Click here to check out our other upcoming Southern Fire Exchange fire science webinars.
---
Event Registration
Pre-registration for the webinar is required. Once registered, participants will receive an Eventbrite Ticket email containing the webinar link. On the day of the webinar, click the link to join the meeting.
---
Webinar Requirements
If you have not previously used Adobe Connect, ensure that your computer and network connections are configured to provide you with the best possible experience by running a test. A reliable internet connection and speakers / headphones are required to participate. Webinar audio will be broadcast directly to your computer via the Adobe Connect interface. Participants do not need a microphone or video camera. Click here to test your browser and computer configuration / connection. See the Adobe Connect Quick Start Guide (.pdf) for more information.
---
Webinar Recording
If you can't make the webinar, look for the recording to be posted on the Southern Fire Exchange YouTube Webinar Archive.
---
Contact Us
If you have questions about this webinar, contact the Southern Fire Exchange (contactus@southernfireexchange.org).