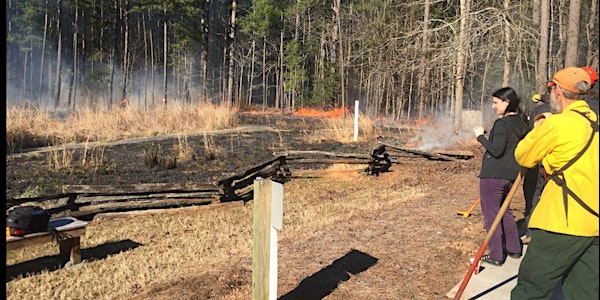 SFE Webinar: Fire Adapted Cities: Prescribed Fire Use in Urban and Communit...
Description
Fire Adapted Cities:
Prescribed Fire Use in Urban and Community Forest Management
A free one hour webinar from the Southern Fire Exchange
Thursday, November 10, 2016 1:00 - 2:00 PM ET
Approved for 1.0 hour Cat. 1 SAF CFE Credit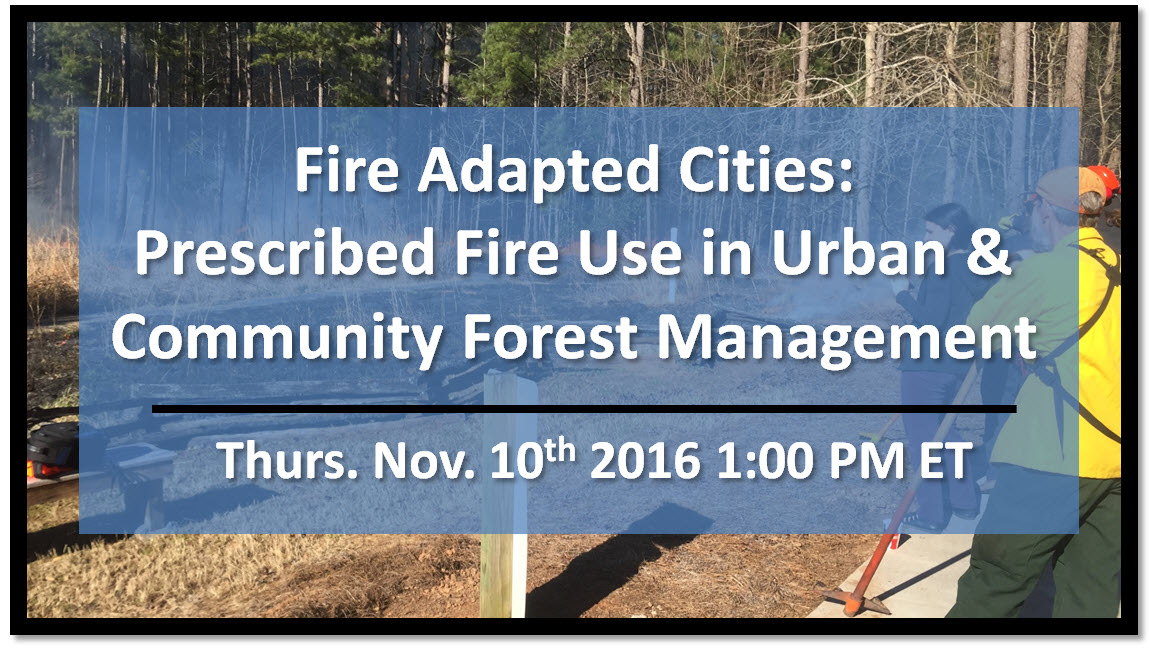 Photo by Scott Collins
Presenters
Justice Jones, Wildfire Mitigation Division Program Manager, Austin Fire Department, Austin, Texas
Mike Wharton, Operations Administrator, Athens-Clarke County Department of Leisure Services, Athens, Georgia
Webinar Presentation Abstract
Prescribed fire is an effective forest and range management tool used to reduce wildfire fuels, manage understory vegetation, and restore/ manage ecosystems. Despite its utility, it is less commonly utilized in urban and community forest management. This webinar will present two southern case studies that have successfully used prescribed fire within city limits. Speakers will outline project goals, ecological objectives, critical partnerships, community outreach and education, technology and training, and lessons learned essential to the success of utilizing prescribed fire in the Wildland Urban Interface (WUI).
Click here to check out our other upcoming Southern Fire Exchange fire science webinars.
Partners
This webinar is in support of the National Cohesive Wildland Fire Management Strategy and the eXtension Urban Forestry and Energy Conservation Community of Practice and is sponsored by the Southern Regional Extension Forestry and the Southern Fire Exchange.

---
Event Registration
Pre-registration for the webinar is required. Once registered, participants will receive an Eventbrite Ticket email containing the webinar link. On the day of the webinar, click the link to join the meeting.
---
Webinar Requirements
If you have not previously used Adobe Connect, ensure that your computer and network connections are configured to provide you with the best possible experience by running a test. A reliable internet connection and speakers / headphones are required to participate. Webinar audio will be broadcast directly to your computer via the Adobe Connect interface. Participants do not need a microphone or video camera. Click here to test your browser and computer configuration / connection. See the Adobe Connect Quick Start Guide (.pdf) for more information.
---
Webinar Recording
If you can't make the webinar, look for the recording to be posted on the Southern Fire Exchange YouTube Webinar Archive.
---
Contact Us
If you have questions about this webinar, contact the Southern Fire Exchange (contactus@southernfireexchange.org).