Description
We invite you to our 3rd annual Diversity Career Fair. Yes, YOU! Whether you're graduating from one of South Florida's fantastic universities and are looking to launch your career, or you've put in a few years at your job and are looking to try something new, we've got you covered. Students and professionals should bring their resumes, portfolios, clips and reels and get them in front of employers at this career fair event. You may also bring your computer and flash drives to present their work to the various recruiters. We'll also be hosting three panel discussions featuring local talent in the South Florida Community.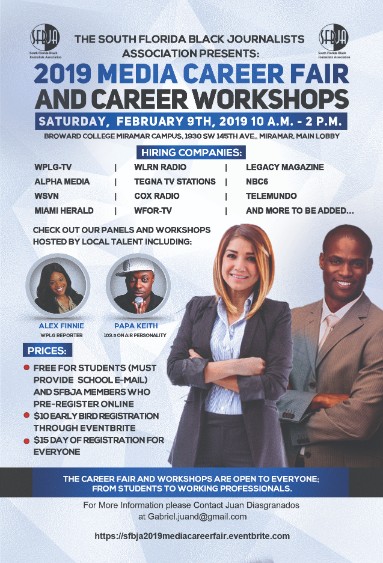 -SCHEDULE:
10 a.m. – Welcome and Opening Remarks
10 a.m. – 2 p.m. - Media Career Fair, Room #1
10:30 – 11:15 - Room #2
-HOW TO BREAK INTO THE BUSINESS
This workshop is your traditional "How to land a job after college" discussion, but much more focused on you. Whether you're a junior in college or stumbling through that first full-time position, our panelists will explain step-by-step what you should be doing to score a job or position yourself for a new position elsewhere. We break down the discussion into strategies for aspiring print, television, radio, web or photo/video journalists. We'll devote plenty of time to answering questions about your career, so come prepared. We'll also leave extra time after the discussion for the audience to have one-on-one conversations with the panelists.
Host: TBA
-Panel:
Alex Finnie-WPLG On Air Reporter
Jermell Prigeon-NBC6 Social Media Producer
Sabrina Aponte-CBS Assignment Editor
Cameron Wolfe-ESPN Reporter
11:15-12:00 - Room #2
-News Directors and Media Managers
Host: TBA
Migdalia Figueroa -NBC6 News Director
Ralph Renzi-General Manager of Cox Media Miami
Cari Hernandez- CBS Miami Executive Producer, Special Projects & Investigations
Nicole Hogensen-WPTV (West Palm Beach) News Director
12:00-12:45- Room #2
What if I don't want to do News?
Does covering hard crime bore you? Interested in Sports or Entertainment or blogging? These panelists all have drool-worthy, specialty jobs and love their careers. We hear from them about what steps they took as students and young professionals to land them these high-profile A&E positions.
Host: TBA
Panel:
Papa Keith-103.5 The Beat On Air Personality
Christian Portilla-Freelance Entertainment Journalist, Host of @MeetThemMondays
Jason Jenkins- Senior Vice-President of Communications & Community Affairs for Miami Dolphins
-WHAT TO EXPECT
Walk in and start interviewing, it's that simple. Save time, money and effort interviewing with multiple companies in one day at one location. Many of these companies have several openings and are eager to meet with you. You're no longer just a piece of paper. Attend the career fair and get infront of decision makers. If you're looking to explore new opportunities, or even if you're just looking to network and meet new people, we invite you to join us.
Be sure to bring at least 20 copies of your resume, including one for the registration table.
We'll be enforcing a dress code of professional attire only. This means no jeans, sweatpants, sneakers, flip flops, etc. You know the deal. Dress to impress! You'll meet face-to-face with hiring decision-makers from some of the areas top employers. Dress professionally and bring plenty of resumes, because they're here to hire.
*NEW THIS YEAR*
Resume Reviews! Bring your laptop along with your most up to date resume reels and we'll have our professionals review your tapes and offer on-site feedback free of charge!
-PRICING
Free for all students (must provide school e-mail) and student I.D. and SFBJA members who pre-register online
$10 Early Bird Registration through Eventbrite
$15 Day of registration for everyone
What are you waiting for? Let us know you're coming and register today!
For more information, please contact Juan Diasgranados at Gabriel.juand@gmail.com
-DIRECTIONS
Directions to Miramar West Center from Turnpike
Get on Florida's Turnpike
Continue on Florida's Turnpike. Drive from Florida 821 Toll S to Miramar.
Take exit 43 from Florida 821 Toll S
Take Red Rd and Pembroke Rd to SW 145th Ave
Slight right onto NW 111A/Red Rd
Continue to follow Red Rd
Continue onto S Flamingo Rd
Turn left onto Pembroke Rd
Turn left onto SW 145th Ave
Directions to Miramar West Center from Miramar Town Center
Head northeast toward Civic Center Pl
Turn left onto Civic Center Pl
Turn left onto Miramar Blvd
Take the 1st right onto Red Rd
Continue onto S Flamingo Rd
Turn left onto Pembroke Rd
Turn left onto SW 145th Ave