San Francisco Black Film Festival - Sunday, June 20th - Fillmore Heritage Center
About this event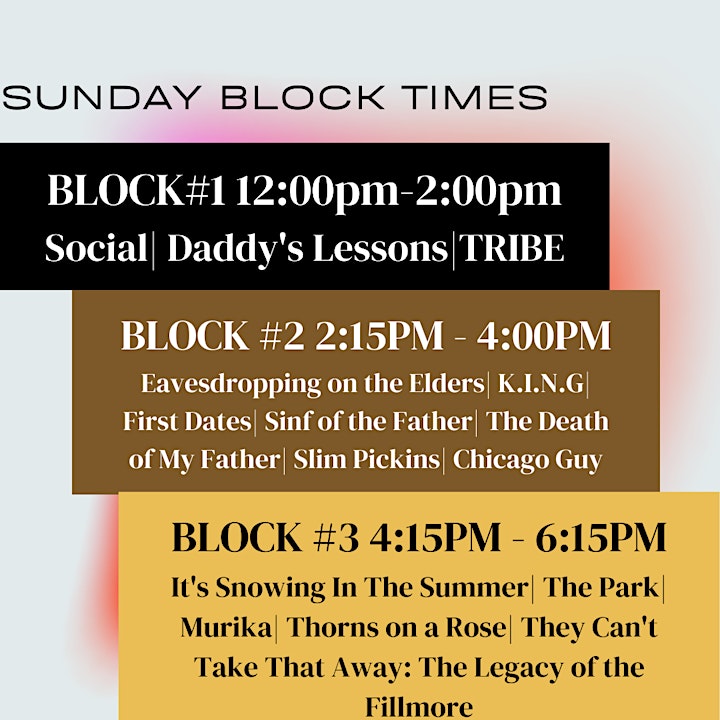 Social | Director: Miles Triplett Gary Miles Triplett Gary, who's been diagnosed with social anxiety, lives a lonely lifestyle suffering mild panic attacks. In a brash attempt to make a friend, he meets Alexis, who has been diagnosed with ADD. Thru a series of events, together they attempt to find the one person who Gary has never had anxiety around, his high school girlfriend Kayla.
Daddy's Lessons | Director: Richard O'Connor Arguster and Lebronze Davis Richard O'Connor Arguster and Lebronze Davis, along with their 15 siblings, grew up on their family's farm in Wetumpka, Alabama in the 1950s. They came to StoryCorps to talk about their childhood and remember their dad Ben Davis.
TRIBE | Director: Maceo Tendaji Singer, rapper, and poet, Akilah Divine sends a wake up call with the performance of her single "TRIBE."
Eavesdropping on the Elders | Director: Kiah Clingman, Robinson Vil A girl is unknowingly challenged with the task of bridging the gap between 2 generations. With a little help from her father, she's forced into another world where she's confronted with lessons from the past.
K.I.N.G. | Director: Rashad Frett A TROUBLED TEEN VENTURES INTO AN UNFAMILIAR CITY SEEKING A BOND WITH HIS ESTRANGED FATHER.
Raymond | Director: Oyebola O Ande Dating can be an overwhelming, expensive and long journey to finding that special someone. But for a young college student, all he is hoping for is to just simply get past the first date.
Sins of the Father | Director: Doug Jordan A seemingly ordinary morning in South Central Los Angeles proves to be anything but ordinary, as Derrick, a gang unit police officer, and Freddie, a high school student, are both caught up in the violent whirlwind of militarized policing and gang violence.
The Death Of My Father | Director: Lex Kimbrough An eerie, yet touching, tale of a son's unyielding love for his immobile father.
Slim Pickins | Director: Justin Jeffers On the corner of Main Street in Stephenville, Texas, sits 'SlimPickins Outfitters', the first Black-owned outdoor outfitter shop in the Country. Owned by Jahmicah Dawes and his wife, Heather, the shop has become a staple in the community that represents fellowship, allyship, and outfitting friends for their next adventure.
Chicago Guy | Director: Shahari Moore "Chicago Guy" poses the question, What would you do with your last 24 hours of life? This darkly comedic, day in the life, dance with spirituality against the backdrop of Chicago's city scape.
It's Snowing In The Summer | Director: Gladimir Gelin A thirtieth birthday forces two friends to wrestle with differing realities of the Black Harlem experience
The Park | Director: Frantzy Moreau Devin finally seeks therapy after being told to by his loving fiancé Nikki. Still denying his emotions, he revisits moments with Nikki which unveil a deeper side of him.
Murika | Director: Marchánt Davis, Fedna Jacquet Leya and Tyler are forced to grapple with their elation over Biden's win and the gut punching reality of the 74 million who voted the other way.
Thorns on the Rose: Black Abuse, Corruption & the Pasadena Police | Director: Dennis Denard Haywood 2020 shined a light on the social injustices afforded to Black people in America. Pasadena is no different and Thorns on the Rose takes a look at the relationship between the Black community and the Pasadena police. The Tournament of Roses and the Rose Bowl stand as a camouflaged backdrop to a growing problem in the Northwest Pasadena community, the death of Black men at the hands of the Pasadena Police Department.
They Can't Take That Away: The Legacy of The Fillmore | Director: Lubna Takruri Take a trip back in time to the jazz heyday of the Fillmore District in San Francisco in the 1940s and 50s, and this misguided urban redevelopment efforts that wiped away this once-vibrant African American culture scene. You will see archival photos and interviews with local characters who share their memories. We also talk to city officials and contemporary artists and musicians to explore what the city is doing to keep artists thriving today.
Organizer of SFBFF - Sunday, June 20th - Fillmore Heritage Center
SAN FRANCISCO BLACK FILM FESTIVAL's MISSION is to celebrate African American cinema and the African cultural Diaspora and to showcase a diverse collection of films – from emerging and established filmmakers. This is accomplished by presenting Black films, which reinforce positive images and dispel negative stereotypes, and providing film artists from the bay area in particular and around the world in general, a forum for their work to be viewed and discussed. SFBFF believes film can lead to a better understanding of and communication between, peoples of diverse cultures, races, and lifestyles, while simultaneously serving as a vehicle to initiate dialogue on the important issues of our times.
An early proponent of the global perspective, the festival has always been ahead of its time. Long before popular culture paid lip service to 'going global', we were walking the walk, presenting global motifs and topics from filmmakers around the world.