San Francisco Black Film Festival - Friday, June 18th
About this event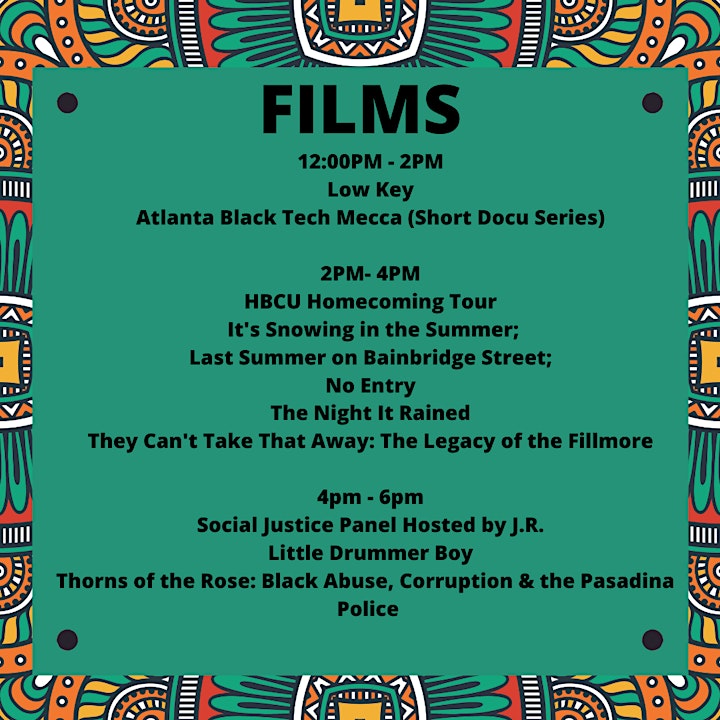 Low Key | Director: Rock White An unfulfilled salesman and his eccentric streetwise manager come together to navigate Dallas' underground music world for a chance at a record deal.
Atlanta Black Tech Mecca | Director: C'vonzell Dondrico, Vante' Gregory Taking a look at the emerging Black Tech Ecosystem in Atlanta, Georgia while highlighting leaders in the industry and celebrating diversity and inclusion.
HBCU Homecoming Tour | Director: Jon Wayne HBCU Homecoming Tour is an exploration of Americans cornerstone historical black colleges and universities; recanting their contributions and involvement across the diaspora. With Homecoming being our center focus, we visit each institution awaiting a deeper look into the rich and vibrant history at the epicenter of these institutions.
It's Snowing in the Summer | Director: Gladimir Gelin A thirtieth birthday forces two friends to wrestle with differing realities of the Black Harlem experience.
Last Summer on Bainbridge Street | Director: Jessica Q Moore Tyshawn, an Afro-Caribbean 12-year old boy, living in a changing Bed-Stuy enjoys living with his grandma and dad. Everything changes when his father is arrested and he faults the Caucasian neighbors. Tyshawn then plots his revenge.
Murika | Director: Marchánt Davis, Fedna Jacquet Leya and Tyler are forced to grapple with their elation over Biden's win and the gut punching reality of the 74 million who voted the other way.
No Entry | Director: Kaleb D'Aguilar Against the backdrop of the Windrush scandal, a Jamaican mother, Valerie Powell, struggles to keep her relationship with her son Eli intact. She suffers in silence as she battles with the government's hostile environment tactics, as she keeps the threat of deportation a secret, her psychological state begins to deteriorate as she grapples with the fear of losing her son and the country, she calls home.
The Night It Rained | Director: Lamont Lamar After losing his scholarship, a queer college student makes a life-altering decision in his hopes to stay enrolled.
They Can't Take That Away: The Legacy of the Fillmore | Director: Lubna Takruri Take a trip back in time to the jazz heyday of the Fillmore District in San Francisco in the 1940s and 50s, and this misguided urban redevelopment efforts that wiped away this once-vibrant African American culture scene. You will see archival photos and interviews with local characters who share their memories. We also talk to city officials and contemporary artists and musicians to explore what the city is doing to keep artists thriving today.
Social Justice Panel Discussion Hosted by J.R.
Little Drummer Boy | Director: Ellis Jamal Sutton A homeless drummer boy, who romanticizes over a neighborhood girl, fights the path of a changing, gentrifying city in his attempt to show his affection.
Thrones on the Rose | Director: Dennis Denard Haywood 2020 shined a light on the social injustices afforded to Black people in America. Pasadena is no different and Thorns on the Rose takes a look at the relationship between the Black community and the Pasadena police. The Tournament of Roses and the Rose Bowl stand as a camouflaged backdrop to a growing problem in the Northwest Pasadena community, the death of Black men at the hands of the Pasadena Police Department.
Organizer of SFBFF - June 18th- Fillmore Heritage Center
SAN FRANCISCO BLACK FILM FESTIVAL's MISSION is to celebrate African American cinema and the African cultural Diaspora and to showcase a diverse collection of films – from emerging and established filmmakers. This is accomplished by presenting Black films, which reinforce positive images and dispel negative stereotypes, and providing film artists from the bay area in particular and around the world in general, a forum for their work to be viewed and discussed. SFBFF believes film can lead to a better understanding of and communication between, peoples of diverse cultures, races, and lifestyles, while simultaneously serving as a vehicle to initiate dialogue on the important issues of our times.
An early proponent of the global perspective, the festival has always been ahead of its time. Long before popular culture paid lip service to 'going global', we were walking the walk, presenting global motifs and topics from filmmakers around the world.