SFAACC Annual Juneteenth Business Awards Gala "Together We Thrive" Thursday, June 17, 2021
About this event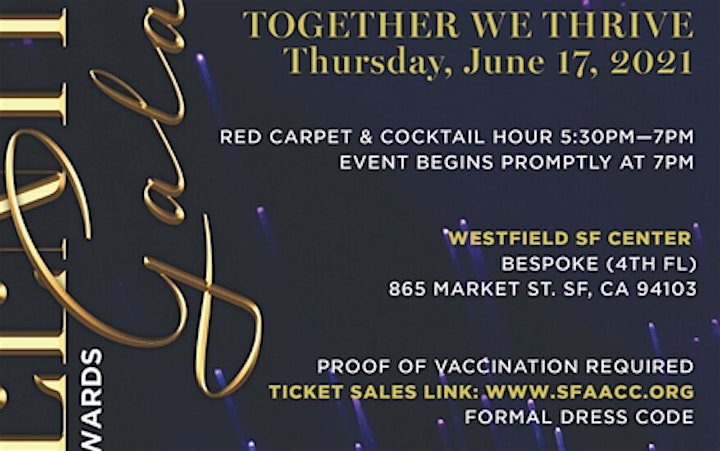 SFAACC Annual Juneteenth Business Awards Gala "Together We Thrive"
Thursday, June 17, 2021
Red Carpet & Cocktail Hour 5:30pm - 7pm
Event Begins Promptly at 7pm
Westfield SF Center
Bespoke (4th Floor)
865 Market Street, San Francisco
Proof of Vaccination Required
Formal Dress Code
San Francisco African American Chamber of Commerce (SFAACC) cordially requests your presence at our 2021 Juneteenth Business Awards Gala "Together We Thrive" on Thursday, June 17th from 5:30 p.m. - 9:00 p.m. at Bespoke located on the 4th Floor of the Westfield SF Center. All attendees are encouraged to dress in attire with a nod towards one's own culture! This is a black-tie affair; tuxedos and evening gowns are appropriate. Attendees must provide proof of vaccination and masks are mandatory.
We are thankful for your continued support and can't wait to celebrate this momentous milestone in our organization with you.
For sponsorship opportunities and table purchases (seating up to six people), please contact Juneteenth Committee Chair Lin Robertson at lin.tlcm@gmail.com.
Dinner Options:
Honey lemon ginger glazed chicken breast
Lemon pepper grilled salmon
Linguini pasta (Vegan)
Dessert Options:
The dirty south - Sweet potato with bourbon caramel sauce cheesecake
Roasted summer corn and blackberry cheesecake
Roasted Peach Crumble Cheesecake
Vegan Delight - Non-Dairy vanilla New York style cheesecake
Coffee will be provided by Red Bay Coffee
The San Francisco Department of Public Health, in partnership with event organizers, are working diligently to prevent the spread of COVID-19.
To protect the health of all staff and attendees at the SFAACC Juneteenth Business Awards Gala we will retain a copy of your COVID vaccination for up to three weeks for contract tracing purposes.
California's strict privacy laws protect all your information. Your health information not be shared with anyone who may have been exposed.
Only guests who are fully vaccinated may attend.
Organizer of SFAACC Annual Juneteenth Business Awards Gala
Questions?  Contact:  415-749-6400
The San Francisco African American Chamber of Commerce and its successor, the San Francisco Black Chamber of Commerce was founded in 1973 and has been a founding member of numerous other organizations, including the California Black Chamber and the National Black Chamber of Commerce.