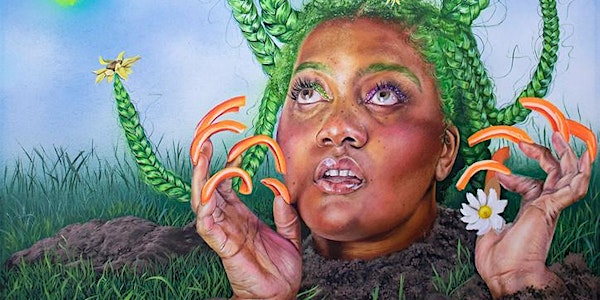 SFAA Spotlight | Kezia Harrell (BFA 2017)
For our April SFAA Spotlight we are featuring artist Kezia Harrell (BFA 2017).
Date and time
Monday, April 3 · 10 - 11am PDT
About this event
Kezia Harrell (born 1994 in Cincinnati, Ohio) is an interdisciplinary artist working in painting, illustration, and performance. A graduate of San Francisco Art Institute (Painting BFA '17) now living in Fresno, California, Harrell paints fantastical, hyperrealistic worlds of Black femme freedom. Her work draws attention to the histories of white supremacist and misogynoir violence while making space for herself and other Black people to heal and define themselves outside of the white gaze.
ABOUT
For Harrell, identity is a truth north, "what situates us in our lives and leads us through it. The most important aspect of my identity is my memory. I remember all of my selves, from my earliest memory to right now. When I remember, I see myself as infinite." Fueled by memory and lineage, Harrell artistically carves out a space for her voice and power as a therapeutic and world-building process. In a Western world and canon that continues to define human as white, Harrell's portraits and performances are radical humanizations of Black, fat, and femme people, in the face of the "massive lack in images of self-affirmation and representation for people of color in traditional figurative portraiture." Importantly, she also animates objects of care, like stuffed animals, painting them as "humanoid" and recategorizing human not by race but by who/what deserves care. Her work is elegy and futurity, a demand for revolution and an invitation into an intimate home for Black survivance. (source: Wikitia)
Follow Kezia Harrell here