Description
SF Station's local music showcase, The Lineup, is back for its second edition!
After nearly 10,000 votes for seven finalists, Rin Tin Tiger, Bonnie & the BANG BANG and Roosevelt Radio will perform at The Lineup, a local music showcase presented by SF Station.
GET THERE EARLY
for $2 Trumer Pils from 7:30 to 8:30pm
T-shirt screen printing from San Franpsycho
and a photo booth from SnapFiesta.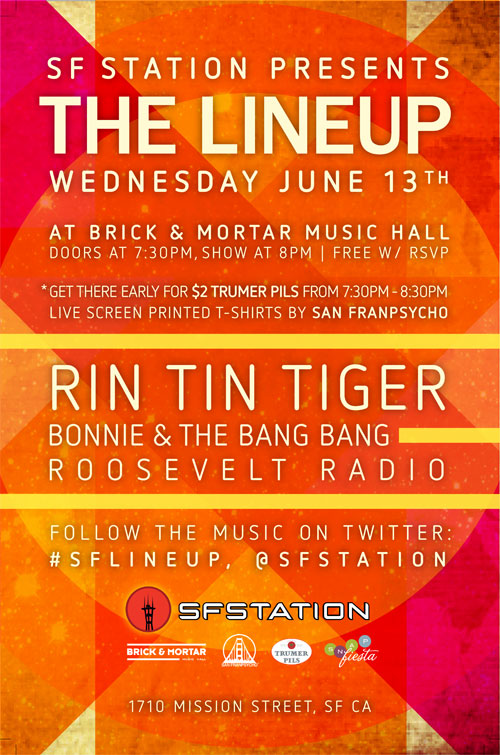 Live performances by:

Rin Tin Tiger

_

_
_


-------------------------------------

*In addition to headlining The Lineup, Rin Tin Tiger won a set opening O'Reilly's Oysterfest - which also features Young the Giant, Minus The Bear, Manchester Orchestra and Little Hurricane on June 30 at Sharon Meadow in Golden Gate Park.

-------------------------------------

Oysterfest:
https://www.facebook.com/SFOysterFest

SnapFiesta:
http://www.snapfiesta.com/

Trumer Pils
http://www.trumer-international.com/

San Franpsycho:
http://www.sanfranpsycho.com/
A little history...
SF Station introduced The Lineup up in fall 2011 in an effort to promote emerging local bands. The first showcase in November drew a capacity crowd to BAMM.TV's studio in SoMa with performances by Plastic Villians, Seatraffic and Outlaws & Preachers. See photos HERE.