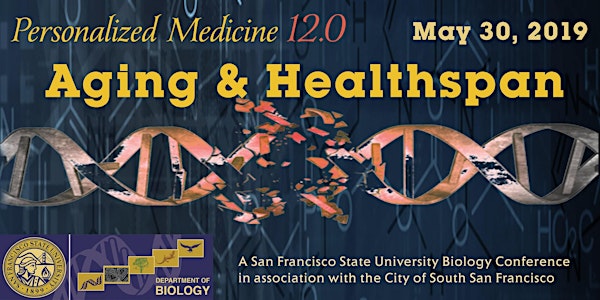 SF State - Personalized Medicine 12.0
When and where
Location
South San Francisco Conference Center 255 South Airport Boulevard South San Francisco, CA 94080
Description
Perhaps the ultimate goal of medical intervention and prevention in the developed world is the extension of healthy lifespan, minimizing the maladies of aging and limiting the time during which we are incapacitated at the end of life. Scientists studying the seemingly inevitable phenomenon of aging have shown that environmental, lifestyle and genetic factors are all involved in this complex process. In this year's conference, Personalized Medicine 12.0: Aging & Healthspan, we probe the fundamental science of aging, the expanding arsenal of therapies to help combat the ravages of age, the costs and benefits of an extended healthy lifespan, and the ethical issues involved in concierge healthcare and life extension treatments for the wealthy, while not effectively addressing the disparity among the less fortunate multitudes. Join us for a day of extraordinary presentations, thought-provoking discussion, and memorable networking in the heart of Biotech Bay.
TOPICS TO INCLUDE: Aging | Clinical Trials | Communication | Conference Coverage | Diagnosis | Disease Management | Drug Safety | General Prevention | Improve Health Outcomes | Treatment | Treatment Strategy | Personalized Medicine
Confirmed Speakers
Steven P. Braithwaite Alkahest, Inc.
Judith Campisi, Ph.D. Buck Institute for Research on Aging & Lawrence Berkeley National Laboratory
Xi Cen, Ph.D. University of Rochester
Anoshua Chaudhuri, Ph.D. San Francisco State University
Vera Gorbunova, Ph.D. University of Rochester
Matt Kaeberlein, Ph.D. University of Washington
James L. Kirkland, M.D., Ph.D. Mayo Clinic
Barbara Koenig, Ph.D. University of California San Francisco
Evaleen Jones, M.D., R.D. Stanford University
George M. Martin, M.D. University of Washington
Matthew "Oki" O'Connor, Ph.D. SENS Research Foundation
In partnership with San Francisco State University's Department of Biology, SF State Alumni and the City of South San Francisco, the conference will showcase world-class science and the latest and greatest in personalized, genomic and precision medicine. This annual event is a networking opportunity for students and accomplished professionals alike.