Description
Don't miss the cuddles, the costumes, and the cocktails!
Join us for our Spring cocktail party with open and premium bars, vegetarian food trucks, and enter for the chance to win the doggie costume contest!
- Bring your pet in costume and enter our live contest at 7:30 pm! Prizes will be awarded to the following categories: most original and most iconically San Francisco
- Enter our raffle to win prizes that include Beach Blanket Babylon tickets, SF Giants tickets and more!
- The new SF SPCA Companion Chronicles Pod, where you can step in and record your story on your phone
- Open and top shelf bars featuring animal themed cocktails
- Delicious vegetarian food from Firetrail Pizza, Curry Up Now, and delicious Smitten Ice Cream!
- Listen and dance to DJ Stevie Bumps
- Screen print your own limited-edition Bay to Barkers Cocktail Pawty t-shirt
- Paint a portrait of your pet night *Additional registration required: click here to register
- Enter the Parks Conservancy raffle and hear more about the great work they are doing
RSVP for this event is required.
Special thanks to The Life of Riley Fund, which is generously underwriting free adoptions for all qualified adopters 5/19 - 20. The Life of Riley Fund encourages people over 65 to easily adopt animals from the SF SPCA by underwriting adoption fees for seniors. Additionally, the fund will match adopters first year of enrollment in the Sido program.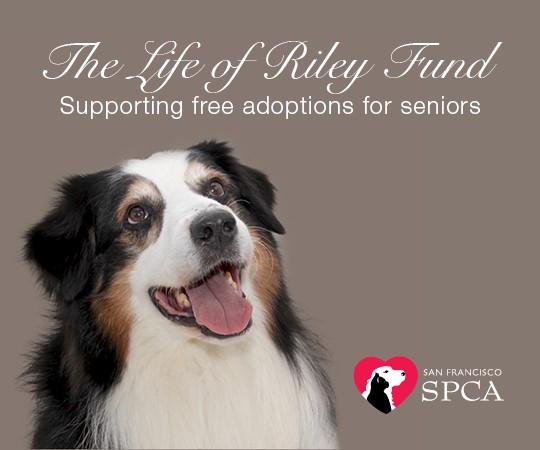 *San Francisco residents must pay $23 license fee with their adoption