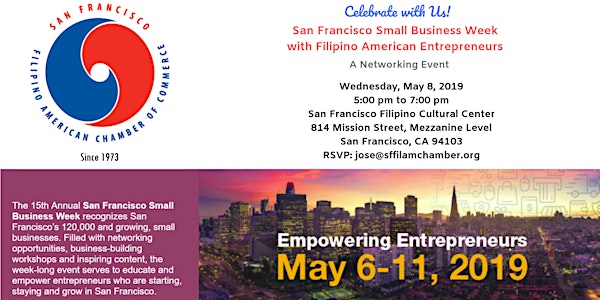 SF Small Business Week w/ Filipino American Entrepreneurs Networking Event
When and where
Location
San Francisco Filipino Cultural Center, Mezzanine Level 814 Mission Street The Bulletin Building (between 4th & 5th Streets) San Francisco, CA 94103
Description
Join the San Francisco Filipino American Chamber of Commerce on their 46th anniversary as they feature trailblazing Filipino American entrepreneurs such as Senor Sisig and its impact on the street food scene in San Francisco --- and beyond.
RSVP by May 6 since space is limited:
We'll be celebrating at the San Francisco Filipino Cultural Center! http://www.positivelyfilipino.com/magazine/the-fil-am-journey-continues-at-san-francisco-filipino-cultural-center
ABOUT OUR HONOREES, SENOR SISIG (https://www.senorsisig.com/)
EVAN KIDERA grew up in San Francisco. As he got older, he helped out at his Dads' sushi restaurant, but Evan wasn't just interested in learning how to make rainbow rolls. "I was interested in the whole process. I wanted to know both the business and the creative side of running a company," Evan says, "I always had a passion for food and business but where I found the most value was in creating experiences for people and making them smile." Evan double-majored in Asian-American Studies and business at San Francisco State, where he later returned to get an MBA. By 2007, he began to wonder why San Francisco didn't have a thriving street food scene. By 2009, when Twitter and other social media platforms were suddenly a force, Evan saw street food as a national phenomenon.
GIL PAYUMO was born in San Francisco and grew up in Daly City. On weekends and after school, he worked at his family's small, neighborhood grocery store, selling phone cards and plane tickets to the Philippines, Filipino desserts and special holiday dishes. After studying computers and realizing he had no passion for them, Gil turned to cooking—something, he says, that felt like life. He enrolled at the California Culinary Academy in San Francisco in 2003. After graduating, Gil cooked in hotels, working in restaurants kitchens, learning banquets. But Gil felt a growing urge to start a business of his own, and when high-school buddy Evan Kidera asked if he wanted to buy a truck and be part of San Francisco's new street food movement.
__
For more about San Francisco Small Business Week: https://www.sfsmallbusinessweek.com/
For more about the San Francisco Filipino American Chamber of Commerce: http://sffilamchamber.org/
To register for the San Francisco Filipino American Chamber of Commerce's "San Francisco Forum By The Bay," on November 13-17, 2019, go to http://SFForumByTheBay.com/.