Description
FP Construction LLC, No Stress No Mess Commercial Cleaning LLC and NDent Media Inc. have joined forces to create a monthly procurement event series for South Florida Business Owners. We are expanding our teams with qualified subcontractors in our respective fields.
All business owners and industry professionals are welcome to attend. Please bring your business tax, license and certification(s) if applicable.
Not yet certified with a government agency?
Still waiting on your recertification?
Don't have everything you need?
You're still welcome to attend and hear about our opportunities.
Event will start promptly at 6:15 PM.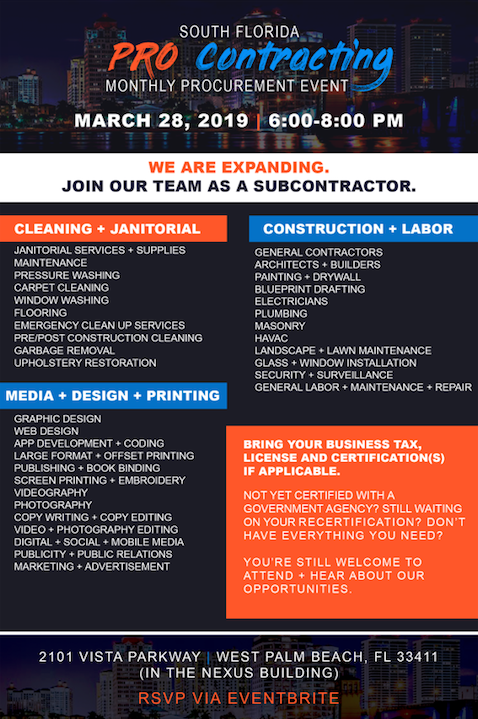 Organizer of SF Pro Contracting Procurement Event
NDent Media is a full service media company that specializes in innovative design, stress-free publishing, positive media and memorable events. We are a collective of creatives who pride ourselves on accurately and creatively telling the stories of our clients. Whether through a well-crafted professional bio, press kit, website, published manuscript or positive media placement, our team helps create and position brands that get noticed by the masses.
If you're ready to catapult your brand to the next level, NDent Media is your one stop shop!