Description


Welcome To The Fourth Annual She Said SF Gay Pride Weekend!
She Said SF Productions has joined forces for SF Pride 2016 with none other than Top Chef Celesbian Jamie Lauren, from LA Socialite Lesbian KENNEDY GRACE as your host with co host SF's Secret Gaygent Becca Jaye plus the beautiful Jenna D Simon who will be hosting Sunday nights charity event. Last year during SF Pride we had close to 2000 beautiful, hot, sexy queer women turn out to what was undoubtedly the most exciting ladies weekend of 2015.
This year will prove to be no exception.
WE WANT BIGGER BETTER AND WETTER!
With daily parties for Queer Women & always Trans-Inclusive.
At three beautiful venues in San Francisco, with the fiercest Female DJs, the HOTTEST dancers and futuristic designs matching a new theme for each party.
Three nights of sweaty fun, with Hot Queer Girls Galore from all over the world.
---


SAN FRANCISCO P R I D E 2016 SAN FRANCISCO P R I D E 2016
---
ARE YOU READY?!!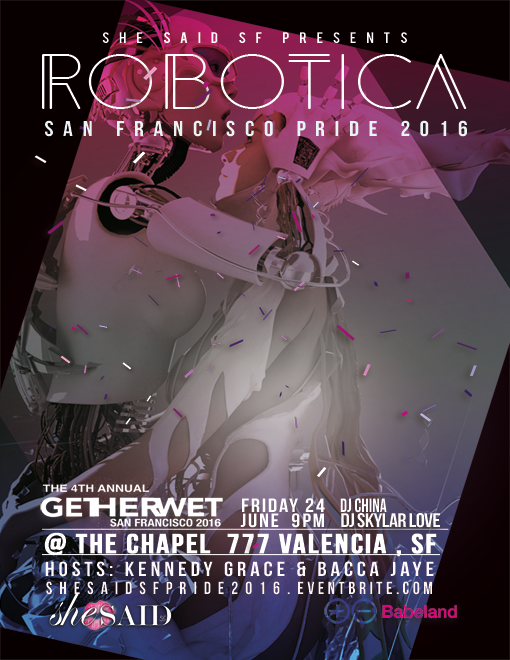 FRIDAY, JUNE 24TH
R O B O T I C A
Step in to The Chapel and Get Wet with The SEXIEST go-go's keepin your booties poppin all night long!!
The FRESHEST LESBIAN DJ's from VANCOUVER to THE BAY will be turning the place upside down with sick beats. Our go go girls will be be dressed to impress in futuristic costumes to whet your appetites for the party of the century + much more!
The Chapel

777 Valencia St, San Francisco, CA. 94110

HOST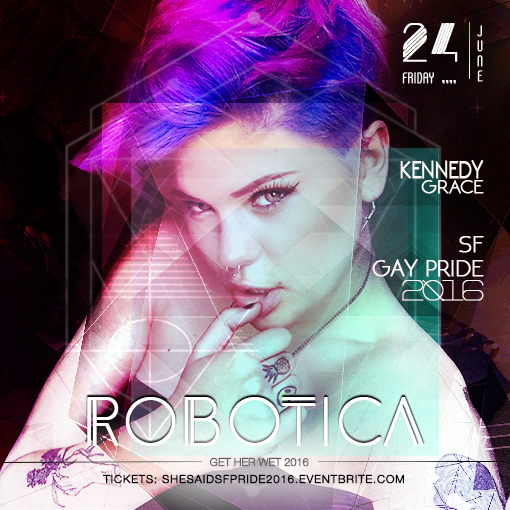 D J S K Y L A R L O V E (Vancouver)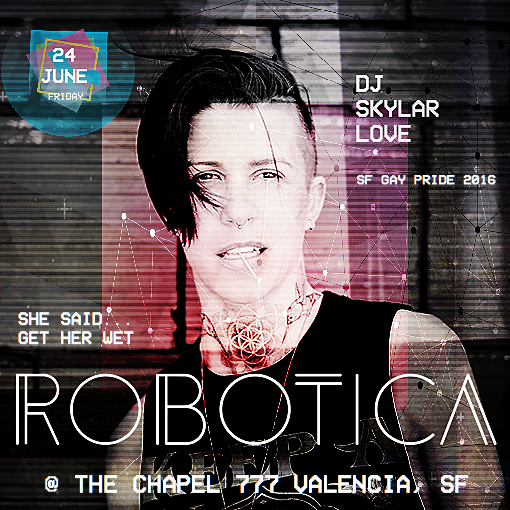 Dedicated to the beat movement Sky has no borders when it comes to delivering the hype. Trekking from the beautiful mountains of British Columbia this beat bandit has made their sound heard on a global intercom. With worldly music selection and innovative mixes Sky has brought every inner ear a dance rhythm and a floor sweep.
Inspired by underground rave parties they attended in the 90's, Sky picked up their first set of turntables at the age of 15. Since then, they've witnessed the evolution of DJing and electronic music for over a decade and bring in the elements of old school and new school to their DJ sets.
"My current style is an influence of my past and evolution of future music. I spin freestyle sets. I read the crowd and bring them on a journey through multi­genre basslines, rhythms and flow.. I like to expand the crowd's musical taste bringing in new sounds while mixing it up with something familiar to keep them connected."
Skylar is also the founder of world known female androgyny website and blog
D J C H I N A G (San Francisco)






She Said SF Introduces Mindy Suga!
From LA rapper and song writer Mindy Suga will be performing "Sweet Dreams" as well as her latest hits being heard first at Get Her Wet Robotica.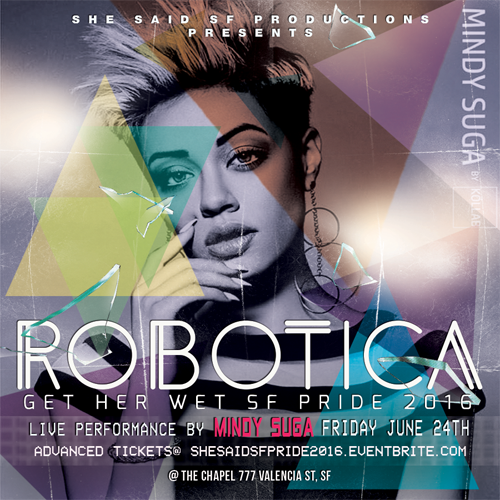 Influenced by hip hop artists such as Eminem, Dilated Peoples, MF Doom and many more underground artists, Mindy began writing her own music infusing her own edgy rebel underground sound. Growing up listening to a great deal of hardcore rock and being called the "punk rock chick" didn't phase her passion to write raps. For her 18th birthday she did her first performance at a bar Downtown San Jose where she grew up. Thats when she knew that was the beginning of a new journey. It was time for change. Mindy Suga is known to be very sarcastic in her lyrics as she states "It's better to laugh and move forward then it is to stay stuck dwelling." As she slips into character whether on stage or in front of a camera, she states that having connection with people is key. For more updates on Mindy Suga follow her on Social Media:
Instagram: @MindySuga
Twitter: @MindySuga

L E S B I A N P A R T Y L E S B I A N P A R T Y L E S B I A N P A R T Y L E S B I A N P A R T Y

---
SATURDAY, JUNE 25TH
F U R I O S A S
THE HOTTEST DYKE MARCH AFTER PARTY!!
Furiosas is an homage to the badass women that made films such as Cherry 2000, Mad Max & Terminator so much fun to watch. Here you will be able to live out all your post apocalyptic fantasies! Complete with scantily clad female warriors taking you on an adventure of a lifetime!

@ SLATE Bar in The Mission with more debauchery than you can handle! Drinks, damsels & dancing all night long!

2925 16th St, San Francisco, CA. 94110
If you get hungry before or after the event, not to worry, we got you covered. Come on next door to Starboard SF for some delicious, modern take on an American hof-brau style food.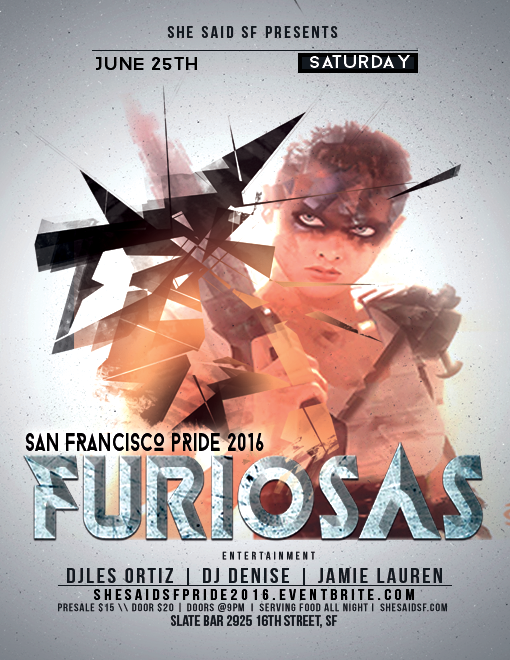 She placed seventh on the fifth season of Bravo's Top Chef, then returned for Top Chef: All Stars. Now Jamie Lauren is back on reality TV—this time behind the camera. Lauren is a culinary producer for MasterChef and Top Chef Duels and supervising culinary producer on The Taste. Her latest series, Man vs. Child: Chef Showdown .
From LA...
D J L E S O R T I Z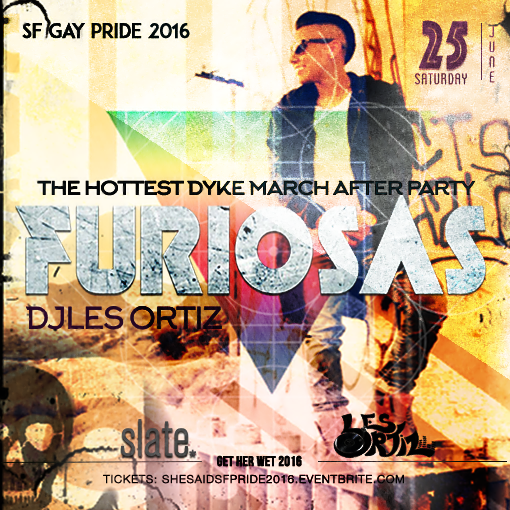 D J D E N I S E (San Francisco)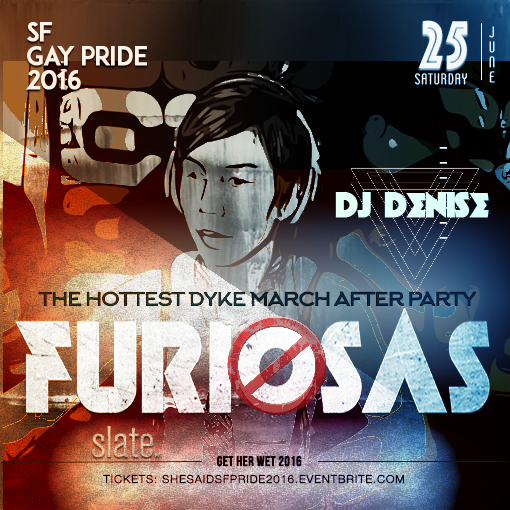 ---
SUNDAY, JUNE 26TH
S U R V I V A L OF T H E L I T-est
It's the last night of SF Pride, you know this party is going to be LIT. WeSURVIVED three INSANE days, lets shut SAN FRANCISCO PRIDE down like no one has before. We promise you that if you don't already have CRAZY pride stories to tell your coworkers on Tuesday, you will after this party. (Lez be real, you're calling in sick on Monday)… Want to know something even better? All of the door proceeds go to Astrea Foundation for Justice…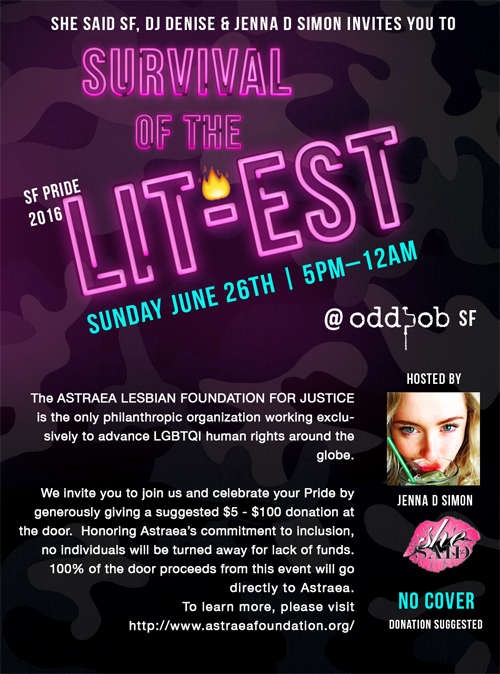 The venue is down the street from Civic Center, we have a SUPER BABE host Jenna D Simon, a DOPE-A$$ DJ's, and the door proceeds go to anAMAZING foundation…Sounds pretty LIT, Right ;)
NO COVER
Suggested $5 - $100 donation at the door
100% of door proceeds go to Astrea Foundation for Justice (See Details Below)
Odd Job
1337 Mission Street
San Francisco, CA 94103
DOWN THE STREET FROM CIVIC CENTER
5pm-12am
ABOUT ASTREA:
The ASTRAEA LESBIAN FOUNDATION FOR JUSTICE is the only philanthropic organization working exclusively to advance LGBTQI human rights around the globe.
Astraea was founded in 1977 by a small group of multi-racial, multi-class women to address the lack of funding for women - specifically lesbians and women of color. Today, Astraea honors that legacy through its uncompromising vision of rights for all and a strong belief in self-determination, community empowerment and movement building.
Astraea raises and disburse funds to support programs and initiatives that directly benefit diverse LGBTQI constituencies; expands the community of individuals and institutions that support lesbian and trans issues; promotes community-building, capacity building, and movement-building; and educates individuals about money, philanthropic giving, and the role of grantmaking in achieving common goals.
Astraea's mission is based on an enduring commitment to feminism, progressive social change and an end to all forms of exploitation and discrimination. The organization supports programs and policies that strive to eliminate oppression based on race, age, sex, religion, sexual orientation, gender identity, economic exploitation, physical and mental ability, anti-Semitism, and other such factors. .
She Said SF believes in and is fiercely committed to Astraea's mission of building action through community empowerment, to support a world of peace and justice for lesbians, and for society as a whole.

100% of the door proceeds from this event will go directly to Astraea.
We invite you to join us and celebrate your Pride by generously giving a suggested $5 - $100 donation at the door. Honoring Astraea's commitment to inclusion, no individuals will be turned away for lack of funds.
To learn more, please visit
http://www.astraeafoundation.org/who-we-are/about or check out this video!
If you would like to provide more support to Astraea and help make this event a success - please email shesaidsf@gmail.com to learn about the many volunteer opportunities available assisting with promotions, social media outreach and event logistics.

---
Tickets: After purchasing a ticket through Eventbrite, you will receive an email with your tickets attached as a PDF. Please PRINT out your tickets and bring them with you on the night of the event. By purchasing a ticket you agree to receive periodic email communication from SheSaid SF.
All events are 21+| Please bring valid Identification | NO REFUNDS
HAPPY SF PRIDE !!!!