SF Politics - What The Bleep Is Going On? A Crash Course for Newbies

Thursday, June 2, 2016 from 6:00 PM to 9:00 PM (PDT)
Event Details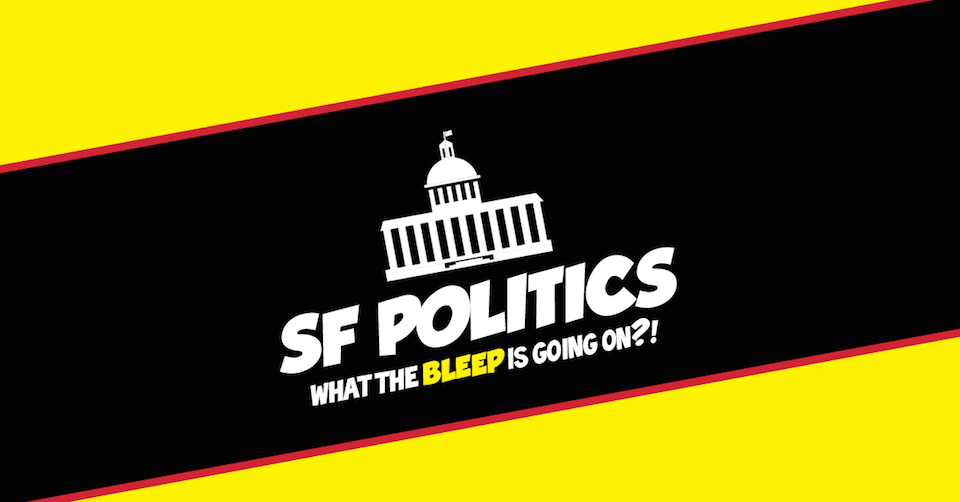 SF is one hell of a political spider web: Mayor, Board of Supes, Senate, Assembly, DCCC - what does it all mean and what's going on?

Join us for a fun evening of cheap beer and food as we learn the intricacies of the City, have a good laugh at the madness, and predict what's going to happen in the future.

Laughs. Cynicism. And hope. Come join!

---
Important Stuff and Whatnot

• YOU MUST RSVP TO ATTEND THIS EVENT
• Event: Free (bring a friend or two or five!)
• Drinks: $2 Anchor Steam beers + wine!
• Food: Something delicious NOM NOM NOM

FYI - open bar drinks for RFK Members.
Only $20 a year for membership! Join the club here: www.bit.ly/joinrfk

---
The Agenda! Educate Yo' Self
• Presentation (a funny one at that!): SF Politics Breakdown by Alex Clemens (see details below)
• Panel: Featuring local reporters, analysts, consultants, and others who live, work, and breath SF Politics. BRING YOUR BURNING QUESTIONS!

---
Presentation:
• Alex Clemens
Our town is undergoing a transformation, which is amazing and wonderful or wretched and incomprehensible, depending on where you stand. Alex will help put San Francisco's current politics and policies in perspective, take your questions, and probably crash and burn in an overzealous attempt to be funny.
Alex is founder of Barbary Coast Consulting, a media talking head, PR flack, coalition builder, and lobbyist. He also lectures about ethical advocacy at USF, but without a Bulleit Rye in hand (sadly) because accreditation has rules. Ask him to recite "Jabberwocky."


---
Panel Moderator:
• Alex Clemens
Founding Partner, Barbary Coast Consulting
Alex is a veteran political operative who has worked for four elected officials in San Francisco and Washington, DC. In 2003, Alex founded Barbary Coast Consulting, which the New York Times has named an elite public affairs firm.
Alex is a lecturer at the University of San Francisco's Leo McCarthy Center, where he teaches Masters candidates about advocacy and lobbying. He is a sought-after speaker at civic events, regularly breaking down and forecasting political trends and translating election results for Bay Area organizations including the Chamber of Commerce, SPUR, Leadership San Francisco, San Francisco Travel, the Coalition for San Francisco Neighborhoods and others. Alex is also regularly quoted in local media, providing political analysis and commentary for the San Francisco Chronicle and Examiner and Bay Area television and radio stations.
---
Panelists:
If there's something you want to know about politics or the law, Melissa Griffin Caen has the answer, and she'll tell you in an entertaining way.
In addition to her work with KPIX 5, Caen writes for San Francisco Magazine about politics and political figures like the America's Cup, billionaire activist Tom Steyer, and congressional races.
In addition, she frequently moderates debates and appears at the current affairs program "Week to Week" at the San Francisco Commonwealth Club.
A graduate of Cornell Law School, she serves as a political and legal analyst for KPIX, and can be found on Monday mornings and Sundays on Around the Bay.
Marisa reports for KQED's California Politics and Government Desk, where she focuses on state politics. Previously, she worked for nine years at the San Francisco Chronicle covering San Francisco City Hall and state politics, In 2011, she won a special award for extensive and excellent work in covering California justice issues from the National Council on Crime and Delinquency. She previously worked for the San Francisco Examiner and Los Angeles Times, and lives in San Francisco with her two sons and husband.
Born and raised in San Francisco, Joe Fitzgerald Rodriguez was the last staff writer at the former San Francisco Bay Guardian.
Now he writes the S.F. Examiner's political column On Guard, where he has a delightfully good time outing the dirty laundry of politicians in power and giving voice to the ornery progressive left in his beloved, foggy home.
He is also a transportation beat reporter covering pedestrians, Muni, BART, bikes, and anything with wheels.
David C. Latterman, M.S., M.P.P.
David has spent over twenty years analyzing scientific, public policy, corporate, and political data. He has worked in private, public, non-profit, and academic sectors, having developed a great deal of common-sense knowledge of how all of these worlds operate. He has especially come to learn how data analysis drives strategy. Latterman has the ability to translate complex quantitative data into actionable, useful applications and advice for clients. He and Fall Line see the many business sectors as similar, since many of same analytical methodologies can be used to guide strategy, no matter how different the data.
Randy is the Editor of Beyond Chron and the Director of San Francisco's Tenderloin Housing Clinic, which publishes Beyond Chron. Shaw has written a wide range of laws and ballot measures expanding protections for San Francisco tenants. He is the author of five books on activism, including The Activist's Handbook: Winning Social Change in the 21st Century, Beyond the Fields: Cesar Chavez, the UFW and the Struggle for Justice in the 21st Century, and The Tenderloin: Sex, Crime and Resistance in the Heart of San Francisco
Evette is a veteran communications professional with extensive experience in politics, public relations and public affairs. A former journalist and congressional press secretary, Davis co-manages the firm's public affairs activities with her partner Jessica Berg. She also oversees the firm's campaign consulting services.
Davis is a skilled communications professional with relationships that extend well beyond San Francisco. Davis manages lobbying, grassroots outreach, coalition building, media relations, labor relations, crisis communications and litigation support for clients in cities across Northern California and beyond. She is known for her strategic messaging advice and her ability to help steer public conversation to meet her client's needs.
When & Where

Laborers Local 261
3271 18th St.
San Francisco, CA 94110


Thursday, June 2, 2016 from 6:00 PM to 9:00 PM (PDT)
Add to my calendar
Organizer
A San Francisco based chartered Democratic Club that is inclusive of all Democrats. We come together as a diverse group of Democrats across San Francisco.

www.rfkdemocrats.org
www.facebook.com/rfkdemocrats