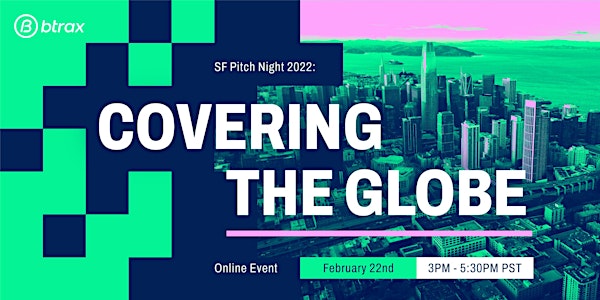 SF Pitch Night 2022: Covering The Globe
Check out some of the best startups coming out of the US, Southeast Asia, and Japan.
About this event
Join us online February 22nd, 2022 from 3:00 pm - 5:30 pm PST, via Zoom Webinar for an evening to watch our next generation of global-leading startups pitch their ideas.
If you are a startup interested to pitch, please apply here. Application deadline: February 20, 2022.
We will feature insights from a fireside chat with seasoned entrepreneurs and showcase 8 promising early-stage startups joining from all over the globe: the US, Southeast Asia, and Japan.
The goal of the event is to learn about new ideas and build a community of like-minded thought leaders with a global mission for startup growth in the world. If this is something that you are interested in, register now as we search for the next best startup across the globe.
Stay tuned as we update this page with the Startup bios.
Register and get your tickets today.
Program
3:00 Event Starts
3:00-3:01 Welcome Message by Brandon Hill, CEO at btrax
3:01-3:15 Insights from Entrepreneurs
3:15-3:20 Announcement of Judges, Prize, and Judging Criteria
3:20-4:00 Startup Pitches Part 1
4:00-4:05 Intermission
4:05-4:55 Startup Pitches Part 2
4:55-5:20 Startup Demo PR Video and Judge Discussion
5:20-5:30 Winner Announcement and Closing Notes
5:30 Event Closes
Judges
Jason DePerro — Associate Design Director at Frog Design

Jason is a design leader with over a decade of hands-on work building innovative digital products at companies such as Apple, Samsung, Capital One, and Silicon Valley Bank.
He builds new ventures and enterprise teams across a wide array of industries from robotics to financial services.
Jason is now at Frog Design as an associate design director and lead sustainability for their studio.
Kate Karniouchina — Dean of Lorry I. Lokey School of Business and Public Policy.

Dr. Kate Karniouchina holds a PhD in Marketing, an MBA, and a BA degree in Finance from the University of Utah. She has judged SF Pitch Night for 3 years and also judged at the International VinFast case competition.
Her work has been widely published in academic and industry journals including the Journal of Marketing, Strategic Management Journal, International Journal of Research in Marketing, Journal of Product Innovation Management, Cornell Hospitality Quarterly, Marketing Letters, Journal of Service Management, and European Journal of Operational Research.
Kate has extensive consulting experience and is a marketing research expert who carries out projects for a number of small business, corporate, and government clients. She also served as the principal advisor in the sponsored research project for the City of Emeryville, CA, where Mills College provided outreach and education for various labor standards including Minimum Wage, Paid Sick Leave, and Fair Work Week ordinances.
Casey Lau — Co-host of RISE, Collision, and Web Summit

Casey is a startup founder, investor, speaker, and community leader. As part of Web Summit, he is the co-host of the largest technology conferences in the world.
He spends his time across Hong Kong, Toronto, Lisbon, and Vancouver, and is passionate about design, social media, and digital entertainment.
Startups
PORTA (from Indonesia)
PORTA is a digital gate that can detect anomalies in a smart home's activities. It is a new, secure solution to a safer smart home and smarter living. PORTA automatically terminates wifi connection once an anomaly is detected and uses the backup data to run the devices. It also utilizes a voice-based password that once it recognizes it isn't you, it will deactivate.
AirGO.Ai (from the US)
AirGO.Ai exists to protect your and our children and parents when they get behind the wheel of a motor vehicle and drive. Formed by a group of ex-Microsoft engineers and managers with over 100 years of experience developing products worldwide that make life and work easier but didn't make a difference where in really matters, our families. With the Soteria Vision platform of easy to install, self-contained, smart, and connected devices we can enable the life-saving advanced safety features of new vehicles, like DMS and ADAS, in nearly any vehicle.
SpaceHub
We are a team of experienced professionals from US, Israel, Japan, UK and Romania that help national and local governments and private corporations create high-technology environments to drive economic growth. We work with ministers, policymakers and key personnel to bring about the necessary changes to establish a tech-development ecosystem.
Daiko (from Japan)
Daiko is a designated driver service. In Japanese, Daiko means designated driving service and is popular in Japan, because the law became very strict regarding DUI.
We drive your car home on your behalf so you can enjoy drinking without worries. The problem is if you drive to the bar yourself, you have to call an Uber to get home that night and come back to pick up your car the following day.
Another situation; if you wanted to go drinking with your colleagues after work, you have to go home first and then call an Uber from there, right? Seems time consuming to me.
We will arrive after about 20 minutes of your order, ready to safely take you and your car to your home. The driver returns by Uber or own electric scooter.
DREAMSPARK (from Japan)
DREAMSPARK is a "social media about dreams". You can learn how to treat and handle your dreams, and experience your dreams coming true. You can also find lifelong supporters.
Nyonyamart (from Japan)
NYONYAMART is a pioneer of Halal Vending Machine Network. We want to increase awareness of Halal situation in Japan and the number of Halal Japanese products. When you think Halal, think Nyonyamart!
Tenatch (from Japan)
To create an impactful platform that supports local small business entrepreneurs by combining complementary businesses, and expanding their business opportunities to create a more sustainable economy.
The BEATS (from Japan)
The Beats, the meaning of a rhythmic unit in music or poetry, is our message and a core product concept of our service. In our daily lives, there are countless human emotions. The human mind could be so complex, but when we listen to music, the music heals and empowers our soul.
Our new service "The Beats" is a born-global Generation Z friendly emotion sharing app. Where we live in the midst of social media and the attention of "likes", the problem we focused on was the need of realizing the authentic self. People who struggle with mental illness are significant, especially among youth. We believe that we embrace every emotion for a reason. While the already existing meditation apps are popular among older generations, we found hurdles for younger users. Here, we use music as a starting point to get connected through our authentic selves and dig out our inner selves, like for music. The Beats allows both self-reflection, and worldwide connection to help them find their subconscious values.
Don't miss out on this fun night!
See you on SF Pitch Night 2022 👋