SF National Sales Network Presents: The Personal Brand Called You Workshop
Description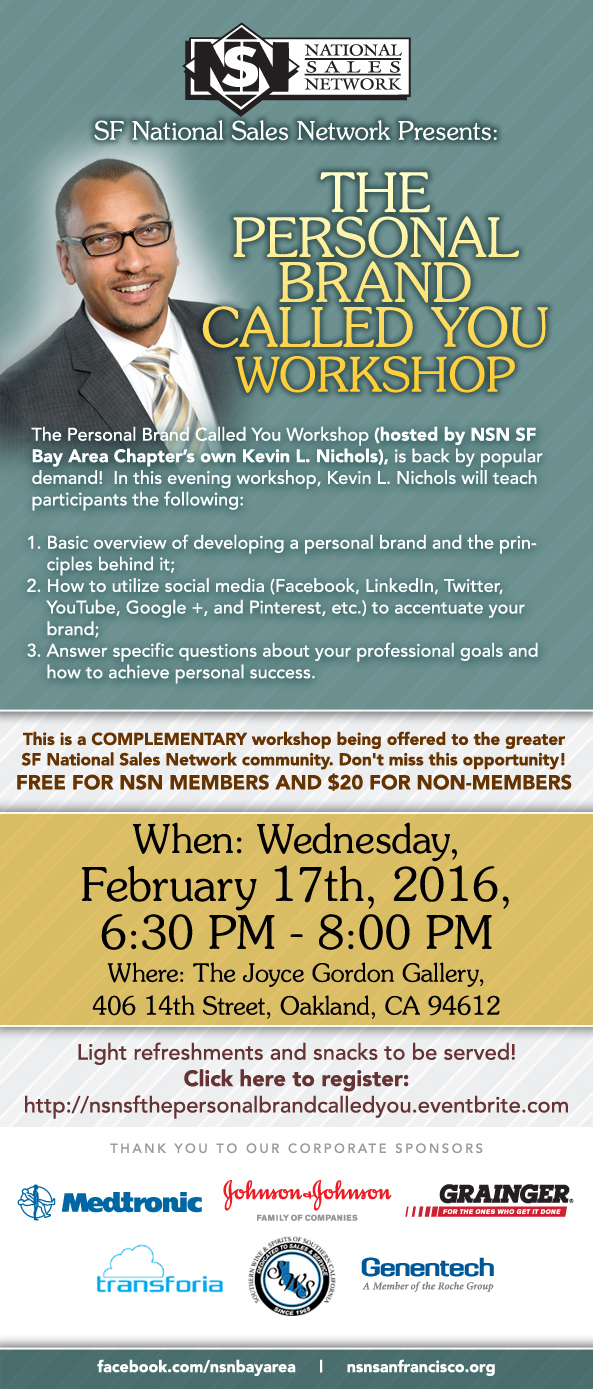 The Personal Brand Called You Workshop
When: Wednesday, February 17th, 2016, 6:30 PM - 8:00 PM
Where: The Joyce Gordon Gallery, 406 14th Street, Oakland, CA 94612
Cost: FREE for NSN Members/$20 for Non-NSN Members
For information on National Sales Network Membership, click here: http://www.salesnetwork.org/membership
Light refreshments and snacks to be served!
UPDATES - JUST ADDED!:
* Christina Vo owner of Gather Designs, will give an opening presentation on resumes, the Dos & Don'ts on a resume and why you should have a professionally written resume.
* Photographers at Large will be on-site from 6:30 - 7pm to take professional headshots at no extra charge!!!
About the Speaker:
Kevin L. Nichols has become a social networking expert. He is the founder of two professional networking LinkedIn groups in the Bay Area with roughly 7,000 members combined, that meet regularly to identify business goals and objectives and facilitate referrals to achieve same. He organizes monthly and quarterly events to bring the Bay Area business community together and creates career-networking opportunities for those who he encounters. Mr. Nichols's social networking prowess and capabilities have been featured on LinkedIn's Hall of Fame, Yahoo's Blog, in the Examiner, CNN Money, MarketWatch and theWall Street Journal. Millions saw Kevin for 2 years when they logged into LinkedIn. For more information, please visit www.klnconsultinggroup.com or http://bit.ly/KLNport.