Description
TICKETS ON SALE TUESDAY MARCH 21ST AT 10:00AM!!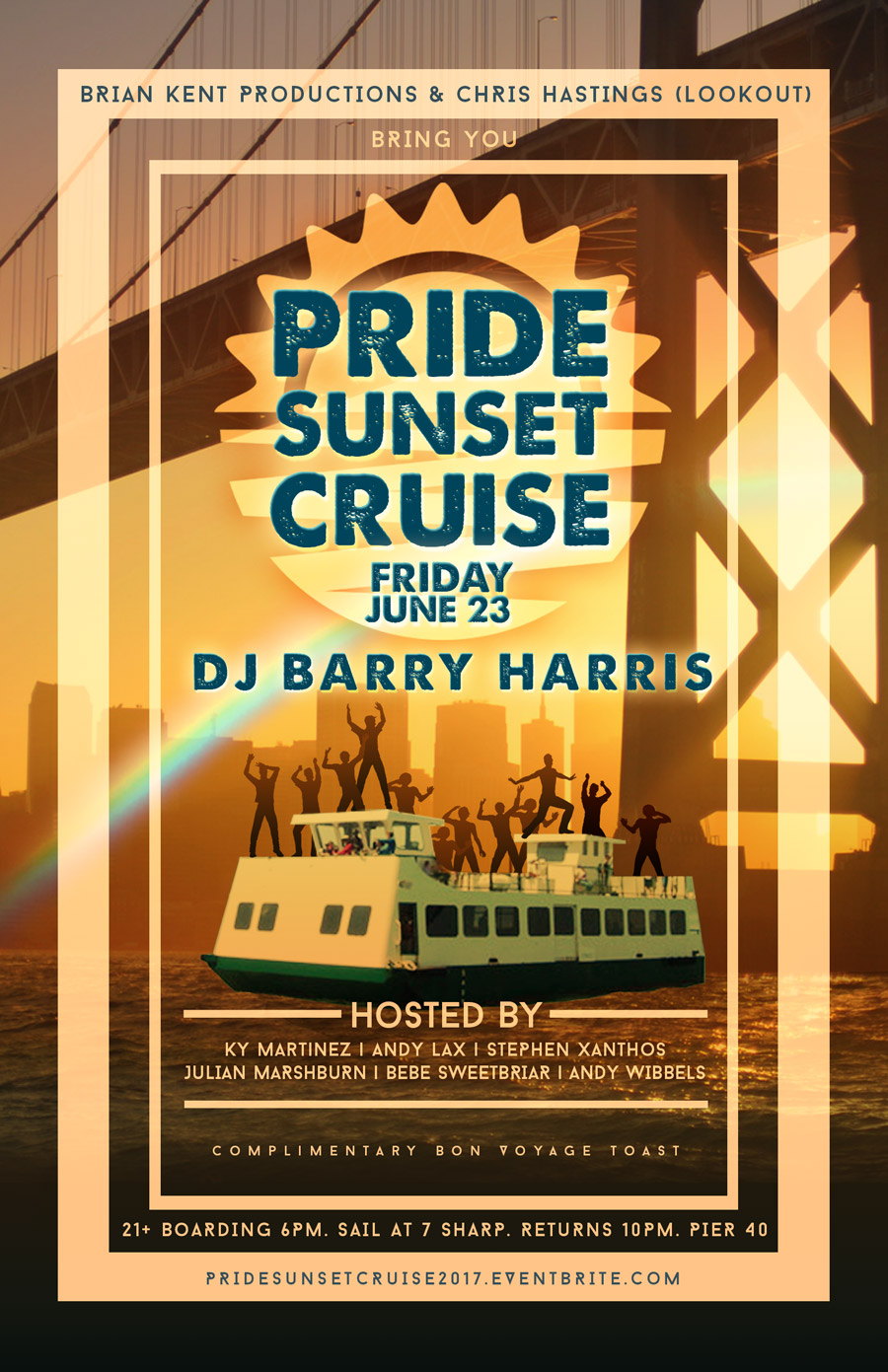 "A sunset is like seeing the edge of the earth burning with the last light of the day. The evening sky is pulling the fire under the water and as the fight continues, the sun submits to tranquility."

On Friday evening, June 23rd at 6:00pm Brian Kent Productions and Chris Hastings of Lookout team up to bring back this unique SELL OUT San Francisco Gay Pride experience that will uplift your soul and enliven your spirit. From Pier 40 we board a one of a kind passenger ferry with an open air top and experience all that the SF Bay has to offer.

Sailing past and under the Golden Gate Bridge, Alcatraz, The Bay Bridge, and the San Francisco City Skyline all while the sun sets into the Pacific Ocean as to the music of one of the hottest producer/DJ's in the business…Thunderpuss' BARRY HARRIS!

Barry Harris co-created Thunderpuss to win 2 IDMA Best Remixers awards 2 years in a row & create more than 40 #1 Billboard Dance Charting Hits.

Barry also won IDMA award for "Best Underground Dance Single" for writing & producing the classic "Dive In The Pool (Let's Get Soakin Wet)" which also garnered an ASCAP Rhythm & Soul Music Award

Over the years he's DJ'd around the world at many of the hottest clubs in Tel Aviv, Miami, San Francisco, Montreal, Sydney, Sao Paulo, Mexico City, Los Angeles, NYC, Chicago, Atlanta & Seattle just to name a few.

We're very excited to have him back with us on our cruise bringing us hands in the air, big vocal, feel good tracks that will keep us going till the sun goes down and beyond. So get on board and join us for what will prove to be an unforgettable experience.

COMPLIMENTARY BON VOYAGE TOAST
Drink Specials during the entire event

Hosted by Ky Martinez, Stephen Xanthos, Andy Lax, Julian Marshburn, Bebe Sweetbriar and Andy Wibbels.

21 and over only, Full Bar on Board

THIS EVENT WILL SELL OUT! GET YOUR TICKETS BEGINNING TUESDAY, MARCH 21ST @ 10:00AM!!

6:00pm BOARDING BEGINS @ Pier 40
7:00pm SHARP SAIL (Don't miss the boat!)
10:00pm RETURN TO PIER 40

IMPORTANT NOTE: Please be sure to go to PIER 40 at 6:00pm for registration. PIER 40 is near ATT park. Odd numbered piers are on one side of the bay bridge and even on the other, so it IS NOT by Pier 39. We sail rain or shine.


NO REFUNDS