SF EXPO China 2017 - The 12th Guangzhou International Surface Finishing, El...
Description
Name: SF EXPO China 2017 - The 12th Guangzhou International Surface Finishing, Electroplating and Coating Exhibition
Date: May 17-19, 2017
Venue: Guangzhou · Poly World Trade Center
ADD: No.1000, Xin Gang Dong Road, Haizhu District, Guangzhou, China
Concurrent Events
The 4th International Summit on Surface Finishing Industry Development
2017 China (Guangzhou) Automotive Surface Anti-corrosion Seminar
2017 Asian Surface Finishing New Products & Technology Promotion Conference
2017 Investigation Mission to South China Surface Finishing Market
The 12th Guangzhou (China) International Coatings Exhibition
Exhibition General
As one of the biggest surface finishing exhibitions in China, SF EXPO is deemed as the most professional and rapid expanding surface finishing exhibition in China, organized by Wise Exhibition (UFI member), China Electroplating Association and China Surface Engineering Association Painting of Branch. It alternates annually between Guangzhou and Chongqing and has approved by UFI.
By taking advantage of manufacturing industry transformation in Pearl River Delta, and its superior location adjacent to Hongkong, Macao and Taiwan and ASEAN Region, the 12th session will integrate resources of associations, media and organizations to hold a series of conference, seminar and industry events concurrently. SF EXPO will develop in front of the industry to combine Internet + Surface Treatment of intelligent manufacturing, so as to build an influential platform.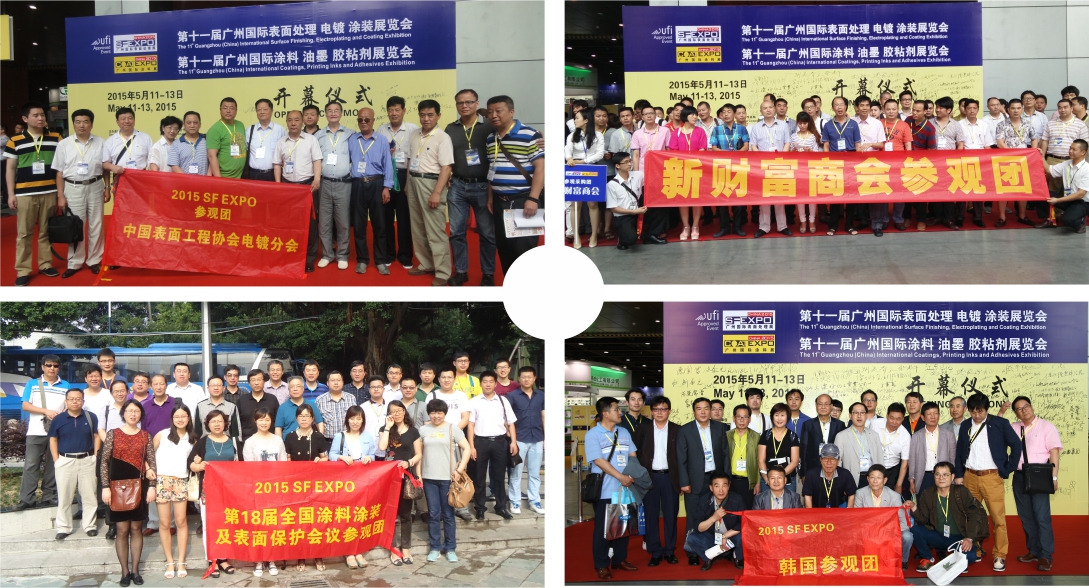 Exhibition Review
SF EXPO Guangzhou 2015 
SF EXPO 2015 was held in Guangzhou Poly Word Trade Center on May 11 to 13 in 2015. It concurrently held several conferences including the 7th General Council of China Electroplating Association, the 3rd International Summit on Surface Finishing Industry Development, 2015 Automotive Surface Anti-corrosion Technology Seminar, the 18th National Paint & Coating and Surface Protection Conference, Surface Finishing New Products & Technology Promotion Conference, 2015 Summit on Pre-treatment Technology for Coating, Internet Assistance in Electroplating Industry Forum, etc. The three-day exhibition has attracted 13748 visitors and 289 exhibitors from 38 countries and regions. It was the largest and highest level of SF EXPO ever.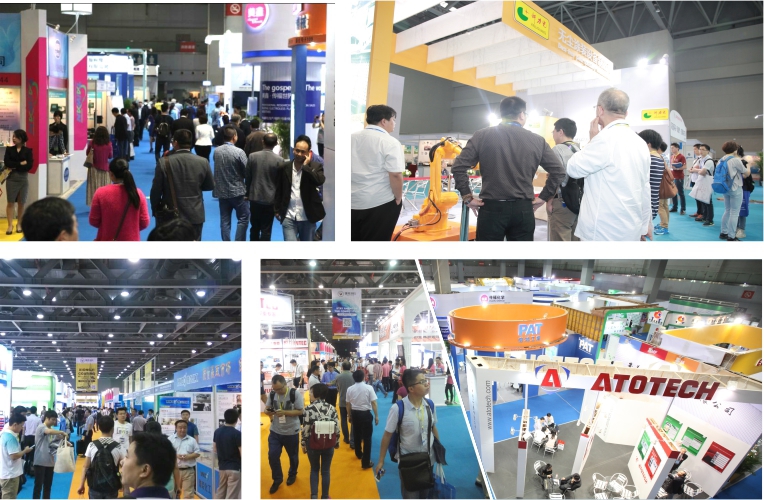 Exhibitors
Highnic Group, Xinliguang, Jade Chem, EPP Coatings, Huali, HTE, JCU, Xinqiu, Xinyi, Norilsk Nickel, Chingfeng, Nippon, CETC, Chuanfu Chemicals, Ontop, Huanan Pumps, Pingcheng, Lidao, Potencer, Nordson, Langtech, Pentatomic, Liyuan
Exhibit Scope
Electroplating
Paint & Coating
Mechanical Finishing
Vacuum Evaporation Coating
Other Surface Finishing Process
Key Visitors
Electroplating , Coating, and other industrial surface finishing processing factories.
Manufacturing enterprises of hardware, fastener, aluminum profile, metal plate, plastic products, steel structure, etc.
Automotive and auto parts, motorcycles and parts manufacturing enterprises.
Military products, aerospace materials, railway and locomotive industry, shipbuilding, pipeline, mechanical parts and mold manufacturing enterprises.
Communication, digital, IT, home appliance, bathroom, watch enterprises.
Scientific research institutions, coating/electroplating engineering and supporting, society/association leaders and experts, etc.
Organizing Committee Contact:
Wise Exhibition (Guangdong) Co., Ltd (UFI Member)
Add: Room A & B, 3rd Floor, Wanyihuaxuan Building, No.10 Jinju Road, Haizhu District, Guangzhou, China
Tel: +86-20-29193506 Fax: +86-20-29193591
Contact: Ms. Bella Lau Email: sfexpo@hotmail.com
Mobile: +86-13533794770 Website: www.sf-expo.cn/en
Date and Time
Location
Poly World Trade Center
No.1000, Xin Gang Dong Road, Haizhu District
Guangzhou, Guangdong 510300
China