Description
SELECT Entertainment, SET, and Konnekted present SF DAYCLUB // Brunch. Music. Party
SF DAYCLUB is brand new day party in San Francisco inspired by limited capacity, invite-only events in hotspots like Mykonos, Ibiza, and NYC. SF DAYCLUB will always put music first, bringing in world renown house music artists who know how to set the perfect vibe. Our first one in September was incredible, we haven't seen a vibe like that in a very long time so we had to make this a regular thing. On December 9th we welcome dj duo from Paris, Ofenbach, who have burst onto the deep house scene. It's their first SF show so lets welcome them with good vibes, we know they're going to kill it!
About the Venue
Bergerac was on the top of the list to host this event because of its comfortable setting, good sound and intimate feel. Located in the heart of the entertainment corridor of San Francisco's SOMA district, Bergerac is known by its regulars as a killer restaurant in the evening that turns into a full out, anything goes - yet classy party late night. But for this party there's a twist... We're taking that anything goes - yet classy attitude an implementing it in the middle of the day. We'll be offering VIP table reservations, a brunch menu, specialty drinks served by the pitcher, and a full bar. For the best experience possible, reserve one of only 5 VIP tables.
TABLE RESERVATIONS - E-mail infoselectsf@gmail.com or call 650.274.5736
Event hours are 1pm-6pm.
Music by Ofenbach, Foreign Language, and Justin Milla
21+ event.
Dress code: Style it up and be yourself. No sports gear, baggy clothes or baseball hats.
TABLE MAP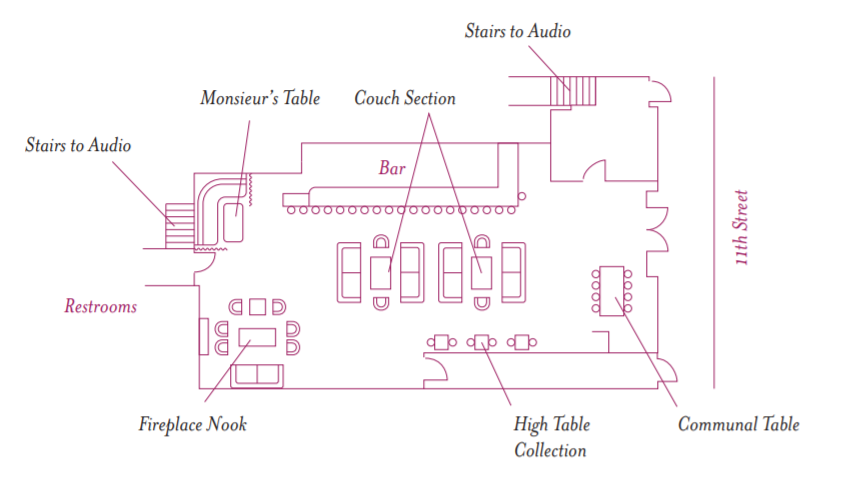 Menu (Subject to change)