SF Cutters: North Beach Digital's "Adult Beginner Ballet", Mark Spencer: Apple's Motion: Explore the Camera, Bruce Sharpe: PluralEyes, AJA & Adobe Updates

Thursday, September 23, 2010 from 6:30 PM to 10:00 PM (PDT)
Event Details
SF Cutters Meeting Hosted by Adobe Systems in San Francisco
601 Townsend at 7th - free validated parking at 650 King - use your ticket for reentry - validate with security
Everyone must purchase a ticket online and arrive on time!
Business Card drawing for an AJA I/o HD
Fillout Form drawing for Adobe Production Premium Suite
Business Cards and Fillout Forms become the property of the prize sponsor, you may be contacted for business purposes
ONE prize per attendee for this meeting
AGENDA
Thurs Sept 23 If you arrive early there is a safe and comfortable waiting area at Adobe, and there are numerous coffee shops and cafes on the block, we cannot allow entry to the meeting area prior to start time. Let us know if you require more assistance, Adobe is physically accessible.
__________
6:30 PM Doors open to Attendees -
Pizza,  courtesy of Singular Software - makers of PluralEyes
Cookies and Drinks courtesy of Pixelflow
Networking, Refreshments and TABLES:
at the Tables SF Cutters welcomes:
AJA: Tery Williams Sr. Engineer AJA
Ninth St. Screening Room: Skye Christensen + one more
Peachpit Press: Damon Hampson and Jackie Hill
Singular Software: Bruce Sharpe CEO and Inventor of PluralEyes
Pixleflow: CEO Patrick Sculley
Cinemasports: Founder Jin Joo
and more!
7:00 Welcome and Presentations by ( Final schedule of speakers to be determined )
9:30 Raffle- everyone gets one ticket as you enter, if there is a confusion on that, see Claudia as soon as possible, we do not sell extra tickets, and if you miss one at entry, it make take some patience to fix that in post!
10:00 Close - we really appreciate everyone attending, and safe journey home - however if you want to continue the conversation, please make plans for continuing on to a late night establishment, we do need to clear the area at 10!
________________
Mark Spencer: Apple's Motion:
( Brian Gary and Mark Spencer: MacBreak Studio)
Mark will take us around some of the cool things he has been working with in Apple's Motion - check out 3D,
camera in Motion, and  Custom Shape Styles. Can't wait - check out tutorials on Mark's website:
or buy his books from Peachpit.com, or his dvds from Rippletraining.com
________________
PluralEyes demo and Q&A, Bruce Sharpe, President and CEO at Singular Software Inc

PluralEyes™ saves hours in post-production for multi-camera edits, dual-system audio or multi-take workflows such as music videos. It automatically synchronizes all your audio and video clips without the need for timecode, clappers or any special preparation.
more info and free trial download:
http://www.singularsoftware.com/pluraleyes.html
"PluralEyes... You have saved me many hours of audio syncing. Thank you."
chrisgruggen via Twitter
________________

Adobe Updates:  Karl Soule with  news from IBC: Premiere Pro and After Effects
 New 5.02 release for Premiere Pro, with new improved RED support. Grade in RedCine-X, and now Premiere Pro reads the metadata!

More in-depth in After Effects, covering more features of the Freeform plug-in and Mocha for AE
________________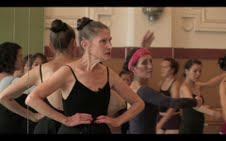 ( Ballet Instructor Kathy Mata makes magic)
Jason LaBatt and Michelle Ortega
"Adult Beginner Ballet" documentary by North Beach Digital Video Productions, SF Cutters Michelle Ortega, and Jason LaBatt provide an inspiring peek into the instruction of adult ballet - many students starting for the first time in mid-life to retirement. As long as there is breathe, there is still time to pursue your dreams.
'Adult Beginner Ballet' is about adults of various ages, shapes and sizes who take a beginning ballet class at the renowned Alonzo King LINES Dance Center in San  Francisco.  The film features Kathy Mata, a 60 year-old dedicated instructor, who is determined to teach her students (ranging in ages from 16-80) the beautiful and technically challenging art of ballet.
"Adult Beginner Ballet" is an Official Selection of the 2010 Heart of Gold International Film Festival

For more information, previews, and opportunity to support the production check the website:
http://www.northbeachdigital.com/ABB.html
________________

Connect with AJA at the September SF Cutters Meeting!

Join Tery Williams, Field Sales Engineer for AJA Video  for an overview of the company's latest tools from IBC 2010. 

The KONA 3G is an exciting next generation upgrade of AJAs flagship KONA 3!

 KONA 3G has the unparalleled features top of the line video professionals expect from A JA Desktop solutions. KONA 3G features 10-bit Uncompressed video I/O, the newest HDMI 1.4a support for 3D workflows, 16-channel SDI embedded audio I/O, and up to 16-channel AES digital audio I/O. 

and

The most powerful and affordable 3D mini converter has arrived! 
3D practitioners and those wanting to enter the field have been hobbled by cost and complexity to this point. No Longer! 
AJA is proud to introduce the Hi5-3D. 
The Hi5-3D is a 3D video multiplexer Mini-Converter that combines two 3G-SDI or HD-SDI Inputs into various multiplexed 3D formats for output on true stereoscopic ("stereo") HDMI 1.4a as well as HD-SDI.
Tery will also be there at 6:30 at a table - bring your questions about the Ki Pro, I/o HD, Kona cards and more. If you are upgrading or building a system find out how instrumental these products are in your workflow.
________________
________________
RELATED EVENTS and Discounts:
Silverado 3D Class
 "3D for Independent Cinema" class being held on October 2nd:
http://silverado.cc/shop/pages.php?pageid=33
________________
dvExpo Discount

dv Expo  Sept 28-30 in Pasadena, CA: apply Discount Code at check out

http://www.dvexpo.com/

@DigitalVideoXpo

SFC10

This will give you $50 off the Digital Video Conference  (prices vary see website  and post cards ) and/or  Free entrance to the exhibit hall floor
Check out DV Expo for new seminars on Tues for "RED Post the Easy Way"
save money - use customer code RED when you register
HDSLR Filmmaking Bootcamp: Canon Training with Richard Harrington
  plus Digital Cinematography Training  with Gary Adcock
Certification Training with Diana Weynand
additional fees apply to take Tues seminars and Certification Training
________________
Adobe 15% Software Discount
Adobe is delighted to offer SF Cutters members special pricing on Adobe software. Members can now save 15% on all Adobe products in the North American online Adobe Store.
As a member of SF Cutters you qualify to save 15% off your next Adobe Store order. Some key benefits of getting your software through this program include:
•      All standard commercial Adobe products are eligible for the savings. See terms and conditions below
•      The more you get, the more you save, since you receive a percentage discount off your total order
•      Save on shipping by ordering the downloadable version, and benefit from instant registration as well
Here are the simple steps required to get your discount:
•      Visit www.adobe.com/go/cspartners
•      You will be required to provide your name, e-mail address, association code DVUG, and validation number 72360
•      The Adobe Store URL with the embedded coupon code will be e-mailed to you. The email may take up to two hours to arrive. If it doesn't arrive within that time period, please check your spam folder. If you have any problems receiving the Adobe Store coupon email, you may also contact Adobe Sales at 800-585-0774 from 5am to 7pm Pacific Time Monday through Friday. You will need to identify yourself as an association member and let the Adobe rep know that you are eligible for the 15% savings as part of your association membership benefits.
•      The coupon code–embedded URL-- can be requested and used only once per three month time period
•      Full terms and conditions are detailed at the URL referenced above.
__________________

Keep up to date: Here is the 17th annual Mac Computer Expo Oct 2, 2010
Click:
http://www.maccomputerexpo.com
and our speaker line up ( top people in Mac disciplines today )
http://www.maccomputerexpo.com/speakers/
________________
Propville Dog and Pony
Call Teri for 10% off - only a few tickets remain - so don't wait
The schedule is here:
http://www.propville.com/dnpschedule.php
Cutters can get 10% off by calling 415 454-1260 and just saying. "Cutter here"
________________
________________
RAFFLE
NEW and ONLY on Sept 23!
PluralEyes
RedGiant Software:
Magic Bullet Grinder $49 -
DigiEffects Depth
_________

Magic Bullet Colorista II $299
Business Card drawing for an AJA I/o HD
Fillin Form drawing for an Adobe Production Premium Suite
Noise Industries:  "Phyx Keyer 1.0" by PHYX (Retail Value $199).
Imagineer: Mocha for FCP
GenArts:  3 month Rental certificate
Dixie Unlimited: dxFx:Nvirons, a Visual Instrument for Final Cut
MotionVFX: $200 gift certificates for motion certificates
Pond5: Two $100 gift certificats Royalty Free Audio and Video
Pixelflow: Gift certificates
Divergent Media: Clipwrap
Divergent Media: Scopebox
Coremelt: Image Flow FX V2
Peachpit Press
Focal Press
Classondemand Training DVD: Snow Leopard OSX by Tom Wolsky
GeeThree: PhotoMotion
and Wiley Press 
Have questions about SF Cutters: North Beach Digital's "Adult Beginner Ballet", Mark Spencer: Apple's Motion: Explore the Camera, Bruce Sharpe: PluralEyes, AJA & Adobe Updates?
Contact SF Cutters: http://www.sfcutters.com
Attendee List
Sort by:

Date

|

Last Name
When & Where
601 Townsend Street
San Francisco, 94103


Thursday, September 23, 2010 from 6:30 PM to 10:00 PM (PDT)
Add to my calendar
Organizer
SF Cutters is the World's first Apple Final Cut Pro User Group forming in March of 2000. We have evolved to cover NLEs on the Mac, including but not limited to FCP, PremierePro, After Effects, Resolve, AVID, Lightworks, related plugins, VFX software and more. We also focus on the business, aesthetics, and life of the postproduction professional.
That's right, the concept of a DV User Group, complete with networking, screenings and tech info centered around Apple Final Cut Pro was born right here in San Francisco. Currently there are over 100 chapters of Creative Pro User Groups based upon our model. We are proud to be the founders of this exciting movement, dubbed in 1999 as "The DV Revolution". Viva!
SF Cutters meets regularly in San Francisco and the Bay Area Jan thru Nov, the schedule may vary from year to year.