SF Cutters Aug 21, 2019 Welcoming Lumberjack Team, Builder for Premiere Pro
Description
Note for Aug 21 - we will not be honoring duplicate signups - we need one real person per admission. We recommend creating or using your own Eventbrite login to track all Eventbrite tickets, or check the name on our Event page to keep track of your registration. If you are bringing guests - provide their names and emails or just send the event url to them to signup. All our welcome to SF Cutters - we do not have a formal membership requirement.
On WEDNESDAY Aug 21, SF Cutters RETURNS and welcomes Philip Hodgetts, Dr. Gregory Clarke of Lumberjack Systems, and our Founder and Adobe Host Kevin Monahan, Support Product Manager, Digital Video and Audio Applications at Adobe
We will have some major giveaways - One will be a draw, and one will require a one page essay for a pass to Keyframes Conference in Boston, Nov 15-17 , 2019 https://www.keyframesconference.com/
The conference was so popular this Spring it returns. Featuring Motion Design and VFX - this will step up your career. SF Cutters who signup will receive more info on how to apply for the pass. Everyone may use this discount code The discount code for Keyframes is SFCUTTERS19, for a 15% discount.

Also coming up the FCPX Creative Summit in Cupertino, discount for FCPX Creative is SFCUTTERS10 for a 10% discount. https://www.fcpxcreativesummit.com/

SPEAKERS AND PRESENTATIONS
Philip Hodgetts, Co-Founder and CEO of Lumberjack System, will present in detail the updated Builder 2.0, one of the most popular and widely-used text-driven video editing applications within the non-scripted production community. Lumberjack System family's Builder 2.0 now enables round-tripping from either Adobe® Premiere® Pro, part of Adobe Creative Cloud®, or FCPX into a stand-alone NLE designed for rapid and efficient keywording, low-cost transcription and unique story building.
http://lumberjacksystem.com/builder.html
Key features and capabilities of Builder's Adobe Premiere Pro version include:
• Stand-alone text-driven NLE (edit text, edit video and audio)

• The ability to drag and drop the transcription text into a script, watch a preview in Builder's media window, and, when satisfied, output a first cut for the editor

• Support for AV clips

• Support for Multicam Sequence clips

• Batch import function for XML, including Multicam Sequence clips

• Import story/sequence to Premiere Pro as a live multicam

• Automatic Lower Thirds (based on the speaker's first appearance)

• Low-Cost Transcriptions directly from within Builder into Builder's Transcript Mode


KEVIN MONAHAN will be presenting Adobe Premiere RUSH - the new solution for our Video Nomad lifestyle And have an extensive Q and A time for YOUR questions about Adobe Premiere Pro and how to have your best video editing experience with the software

Adobe Premiere RUSH gives you video editing capabilities on your mobile phone or device - and easy upload to social media. Great for VLOGS or Behind the Scenes, Interviews, Create BUZZ for the final project, Engage your audience and supporters.
https://www.adobe.com/products/premiere-rush.html
Check this page for free trial info, more info, how to purchase as a standalone App. If you have a current Adobe Subscription Adobe Premiere Rush is included in your package.
PAY PARKING LOTS IN THE AREA: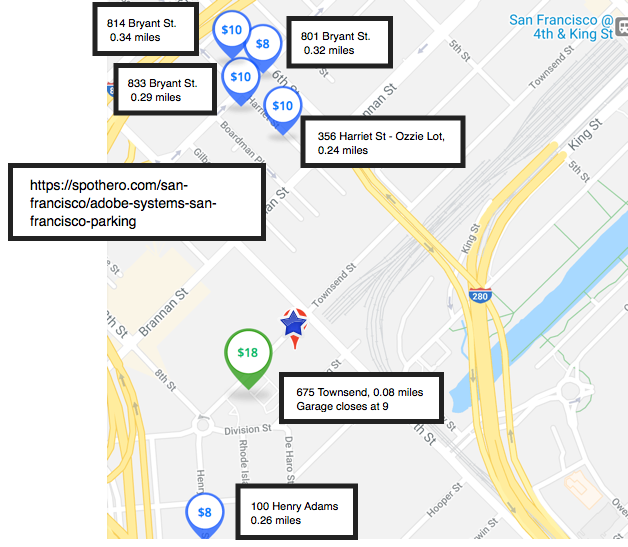 FAQs
Are there ID or minimum age requirements to enter the event?
Each attendee must have legal ID, and anyone under 18 must be with parent or guardian. The content level is focused for professionals and professionals in training for post production.

What are my transportation/parking options for getting to and from the event?
Adobe in San Francisco is on the MUNI Townsend and #19 routes. Use 511.org for transit planning. BART connections at Embarcadero and Civic Center can make MUNI bus or train transfers. It is a few blocks from the 4th and King MUNI train and Caltrain Station.

Parking map is abouve for paid parking lots, otherwise there is on street parking, PLEASE OBEY SIGNS and Meters to AVOID a Parking Ticket. Do not leave humans, pets, or valuables in your vehicle.

What can I bring into the event?
We recommend traveling light - we are not responsible for lost items. No alcohol is permitted. We will not be serving food nor drink, and Adobe would prefer we did not bring trash into the room.

How can I contact the organizer with any questions?
Email sfcuttster@gmail.com with questions and using SF Cutters Meeting in your heading will be helpful. For a response email on or before Aug 20 at noon.

What's the refund policy?
The event is free, no refunds. Please do not seen cancellations on Aug 21. We will miss you but no special action can be taken at that point to change registrations. We hope to see you at a future event.

Can I update my registration information?
The best way to control your registration is to create or use a free Eventbrite Account before you register - you can change names, update an email or cancel on your own. Otherwise email sfcuttster@gmail.com with the change before Aug 20, 2019

Is it ok if the name on my ticket or registration doesn't match the person who attends?
NO - the name on the registration must match the attendee to be admitted to the event. DUPLICATE TICKETS WILL BE CANCELLED.