SF Cutters Anniversary: Bob Sarles "Sweet Blues", Marco Solorio BMD Ursa 4K...
Description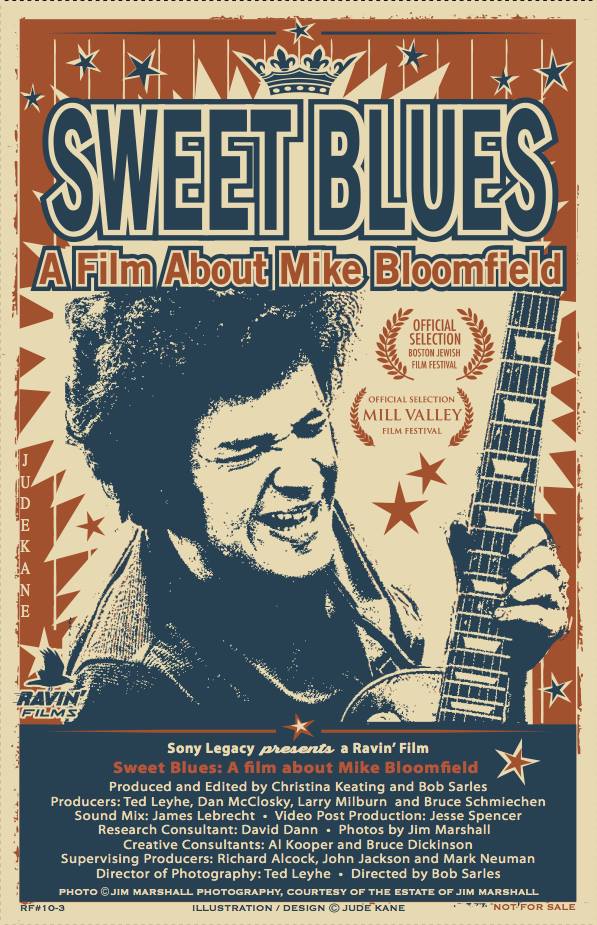 SF Cutters Welcomes
Bob Sarles Screening and Q and A "Sweet Blues, A Film About Mike Bloomfield " 2013
Kevin Monahan "Tips for Switching to Premiere Pro"
Marco Solorio Blackmagic Design Ursa 4K Camera and Resolve 11 Workflows
"Sweet Blues, A Film About Mike Bloomfield " 2013
"You know, I like sweet blues... I want to be singing. I want to be sweet," said music legend Mike Bloomfield of his searing, lyrical guitar playing. His awesome instrumental prowess is on full display in this raucous documentary celebrating the legacy of a hard-living, finger-fretting renegade. Described by fellow icon Al Kooper as "not just another white boy [but] someone who truly knew what the blues were about," Bloomfield drew on African American tradition while burnishing his licks with a radical compositional approach reflecting the social and cultural upheaval of the 1960s. Bloomfield passed away in 1981, but his sterling musicality as the embodiment of Chicago blues lives on through the work of acolytes such as Carlos Santana, B.B. King and Charlie Musselwhite, all of whom testify to the master's enduring influence in Bob Sarles' lovingly crafted film. Sweet, indeed.

- Written by Steven Jenkins
SF Cutters Meeting DATE IS THURS FEB 19, 2015 SanFrancisco

Don't miss
Bob Sarles, career editor - 
Bob Sarles will be showing "Sweet Blues, a film about Mike Bloomfield" in its entirety.

Kevin Monahan will provide PREMIERE PRO TIPS FOR Switchers w Q & A


Marco Solorio, owner of OneRiver Media, author of the book "Rigging Your Cinema Camera", and director, cinematographer, and editor of the BMW documentary feature film, "10/10ths" will share his real-world experiences using the Blackmagic Design URSA and tips for people interested in shooting with this camera. Marco will also share some of his URSA workflow integration using DaVinci Resolve and what to look for when shooting with the URSA's various 12-bit RAW and ProRes formats.


At TABLES
Blackmagic Design: Pres. Dan May, Stephanie Hueter, Chris Cusimano: URSA 4K CAMERA and RESOLVE 11
OneRiver Media: Marco Solorio and Suzette Mariel: 24 Years of Profession Video Services for over 170 clients : www.onerivermedia.com
Bay Area Video Coalition: Natalie Teter: FREE TRAINING : Motion Graphics Bootcamp and a Full Schedule of Classes and filmmaker Support ServicesApply online at www.bavc.org/register-techsf.
Pixelflow: CEO Patrick Sculley: SECURE File/Footage Approval Review with Creative Team and Clients PLUS newest version of iPixelFlow that includes mobile video upload and sharing right from your iPhone. www.pixelflow.com

Register for NABSHOW LAS VEGAS
April 11-16
NABSHOW gave SF Cutters discount CODES JUST FOR US!
 Register and use these codes

DF118 will provide a free Exhibits-only registration.

DF142 will provide a discount of $100 USD off a SMART or Conference Flex Pass.

DK01 will provide $100 USD discount for this year's Post|Production World

courtesy FMC Training and NABSHOW

Register here: http://nabshow.com/
Las VEGAS Supermeet April 14
www.supermeet.com



25% off Discount code for Focal Press: FOC25

http://www.focalpress.com/
 Free ONLINE Tutorial for MONTAGE EDITING:

http://ow.ly/J6GIM
check out http://masteringfilm.com/



•1 Year Adobe Creative Cloud - YES ALL THOSE APPS and SERVICES!

‪www.adobe.com/creativecloud.html‬


•1 X Blackmagic Design Resolve 11
( the last one for 2015 )
https://www.blackmagicdesign.com/products/davinciresolve


• RED Giant Software http://www.redgiant.com/

1 X of Universe Premium Lifetime ($399) https://www.redgiant.com/store/universe/


1 X of Shooter Suite ($399) http://www.redgiant.com/products/shooter-suite/

• 1 X TiffenDFX Video/Film Plugin http://software.tiffen.com/products/dfx-products 

• Rampant Design NEW Products http://rampantdesigntools.com/

• 3 Xs "That Studio Atmospheres" http://thatstudio.com/

• Imagineer Systems:
1X Mocha Plus 
http://www.imagineersystems.com/products/mocha-plus/


• DigiEffects 1X DigiSuite : Damage, Phenomena, Tweak, Aura
http://www.digieffects.com/products/damage-phenomena-tweak-aura

Check out these TUTORIALS:
http://www.digieffects.com/blogs/tutorials/


• Divergent Media: http://www.divergentmedia.com/
2 Xs of EditReady:
Quickly transcode any QuickTime file


• Noise Industries http://fxfactory.com/ 
 XEffects Tech Transitions (
XEffects Tech Transitions has been designed for Mac OS X Mavericks / Yosemite and will work exclusively in FINAL CUT PROX only FCPX


• 1 X Compression Preview courtesy Niclas Bahn compressionpreview.com
 AFTER EFFECTS ONLY

• 1 3mo. Moviola Training Pro Membership http://moviola.com/ 

• Focal Press: 2 books http://www.focalpress.com/

Filmmakers and Financing by Louise Levison http://www.focalpress.com/books/details/9780240820996/

After Effects and Cinema 4D Lite by Chris Jackson http://www.focalpress.com/books/details/9781138777934/


• Larry Jordan Training: http://www.larryjordan.biz/

2X Larry Jordan Webinars Gift Certificates
1X Larry Jordan Subscriptions Gift Certificate 



Cheers,
SF Cutters: www.sfcutters.com
 

Organizer of SF Cutters Anniversary: Bob Sarles "Sweet Blues", Marco Solorio BMD Ursa 4K and Resolve, Kevin Monahan Tips for PremierePro
SF Cutters is the World's first Apple Final Cut Pro User Group forming in March of 2000. We have evolved to cover NLEs on the Mac, including but not limited to FCP, PremierePro, After Effects, Resolve, AVID, Lightworks, related plugins, VFX software and more. We also focus on the business, aesthetics, and life of the postproduction professional.
That's right, the concept of a DV User Group, complete with networking, screenings and tech info centered around Apple Final Cut Pro was born right here in San Francisco. Currently there are over 100 chapters of Creative Pro User Groups based upon our model. We are proud to be the founders of this exciting movement, dubbed in 1999 as "The DV Revolution". Viva!
SF Cutters meets regularly in San Francisco and the Bay Area Jan thru Nov, the schedule may vary from year to year.